'Two guys (Vijay and Pujara) have played very well for India, but there is still a lead of 250 (to catch up), and as you see in this part of the world the game can accelerate when the ball is spinning'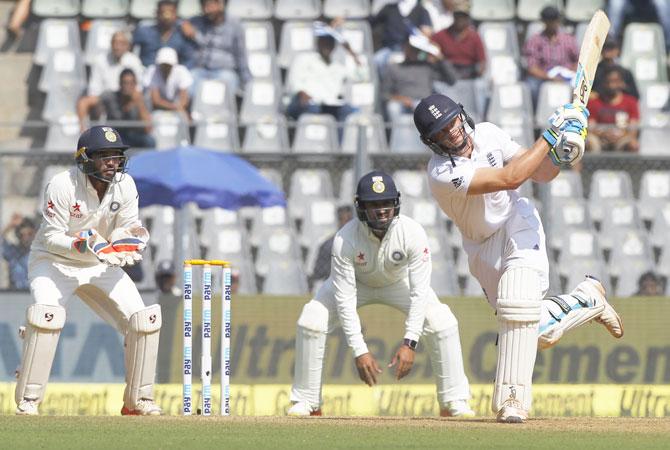 IMAGE: England's Jos Buttler struck a half-century and propelled England's score to 400 on Day 2 of the fourth Test match against at the Wankhede Stadium, in Mumbai on Friday. Photograph: BCCI
The dry Wankhede Stadium pitch on which Indian spinners claimed all the 10 wickets in England first innings in the fourth cricket Test, was still good enough to bat on after two days of play, said England's Jos Buttler.
- India gain upperhand after Vijay, Ashwin shine
- PHOTOS: India make strong start in reply to England's 400
"It's still a good wicket for batting. The majority (of balls) are quite consistent (in behaviour) barring one with extreme turn. If you put that out of your mind and play, it's still good to bat on," said Buttler at the media conference after second day's play in Mumbai on Friday.
Buttler, not among the first-choice Test batsmen for the tourists, played a crucial knock of 76 in 137 balls, the second best score in England's score of 400, and was the last batsman out after putting on 54 runs with number 10 Jake Ball to frustrate the home team bowlers.
"Firstly, very pleasing -- the knock was against quality bowlers in their conditions. I felt the team needs them and that's really satisfying. I really enjoyed the time in the middle and getting ourselves to what we feel is a good score on the board," he said about his innings.
Buttler felt that England need to bowl a consistent line and length to reap rewards from the turning track when play resumes tomorrow with India on 146 for 1 in 52 overs with Murali Vijay (70 batting) and Cheteshwar Pujara (47 batting) at the crease.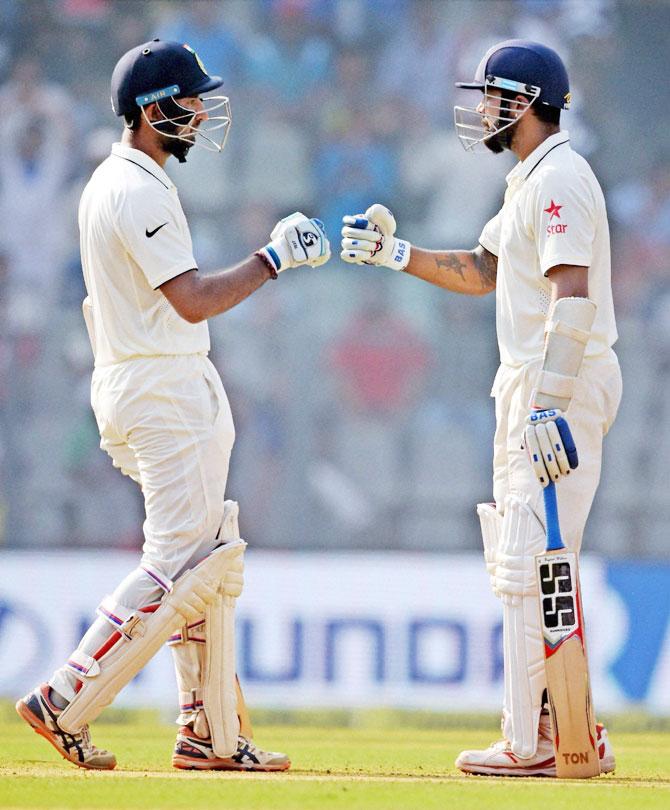 IMAGE: Cheteshwar Pujara and Murali Vijay en route their unbroken 107-run second wicket stand against England on Friday. Photograph: Shashank Parade/PTI
"Two guys (Vijay and Pujara) have played very well for India, but there is still a lead of 250 (to catch up), and as you see in this part of the world the game can accelerate when the ball is spinning. When we build up pressure there are definitely wicket-taking balls on that surface. We need to land the ball a bit more consistently and get a string of dot balls, that's when things seem to happen," Buttler said.
Buttler, who has been considered more as a limited overs batsman before this series, said he has learned to remain optimistic when he has not been picked for Tests.
"I feel, the last year I probably learnt the most about myself and about cricket in my whole career. I was still confident coming back and getting picked gives you confidence. I really worked hard during the time leading into the Tests."
He said his experience of having played in the IPL for Mumbai Indians has been an advantage.
"Having experienced IPL, you get used to the noise and chaos going around. You sort of learn to deal with that and focus on batting and not get distracted by that stuff. So I think familiarity is good and it definitely helps," said Buttler.