'Kane's still there and Corey coming off a good first-innings total'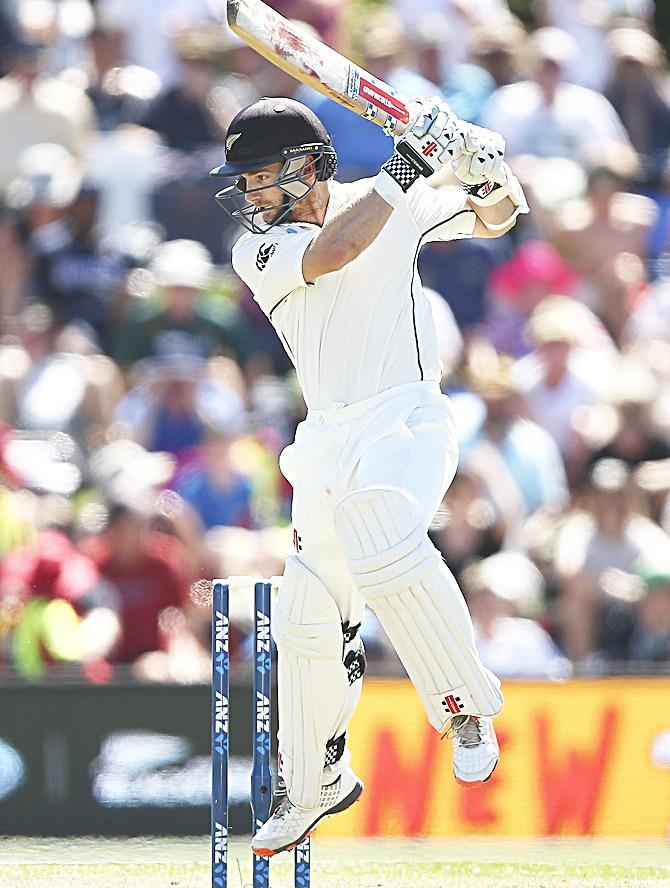 IMAGE: New Zealand's Kane Williamson bats during the second Test match against Australia. Photograph: Ryan Pierse/Getty Images
Kane Williamson was looming as the difference between a comfortable Australian win in the second Test against New Zealand and a match situation that could tip the scales either way, according to both sides.
Christchurch Test: Pattinson bowls Australia into position to win
Williamson was on 45 not out at stumps with Corey Anderson on nine with the hosts 121 for four, still 14 runs away from making Australia bat again.
1. The 25-year-old Williamson has looked out of sorts throughout the series against a disciplined Australian attack, who have strangled his scoring options and bowled a nagging off-stump line.
The right hander, however, could also anchor a fightback for the hosts as they try to post a target their bowlers can defend at Hagley Oval, with wicketkeeper BJ Watling expecting him to build on his innings on Tuesday while others helped.
2. "We've definitely got a few players in the shed left to try and get a total for us," Watling told reporters. "It's obviously great that Kane's still there and Corey coming off a good first-innings total.
"We're definitely backing what we have left to put a total on the board. However many that is, we're just going to have to come out with the ball and try and win it."
3. Australia batsman Adam Voges said Williamson would be a 'huge' wicket for them to take on day four, though they were also pleased that Josh Hazlewood had sent New Zealand captain Brendon McCullum into retirement already.
The 34-year-old McCullum, who scored the world's fastest century on the first day off 54 balls, belted a six off Hazlewood over square leg to move to 25 then was dismissed on the next.
"It was a good time to obviously get him out," Voges said. "He is a dangerous player and we're certainly happy to see the back of him in his final game."