Former India captain Anil Kumble says New Zealand's coach John Wright has his heart on his sleeve and is ensuring his team fights till the last ball.
On Tuesday, both Sri Lanka and New Zealand will be thanking themselves for having made "The Other" semifinal. Frankly, apart from people in Lanka and New Zealand, no one's really concentrating on the first semifinal, which is probably to their advantage.
Players from both India and Pakistan will be emotionally drained after a week of constantly being reminded of the circumstances of the second semifinal and then playing that game itself, and two days to recover from an emotional wringer is not much time.
But for the rest, the 'first' semifinalists have received the short end of the stick as fast as the schedules go, especially New Zealand. Remember, they are not from the subcontinent. They played in very humid conditions in Mirpur, in a high-pressure match against South Africa, pulled off an upset and have then had to travel a fair distance to Colombo, to more humid but very different conditions, against a team that is sublime on its own turf.
And they have only two days in between from the time they land to a World Cup semfinal. Unlike, I might add, India or Pakistan, who've had a much longer break. In Sri Lanka's case, while I don't think two days is enough either, at least they're playing at home, and with Dilshan and Tharanga doing the job against a shell-shocked England, the nine other members of the playing XI played only half a game.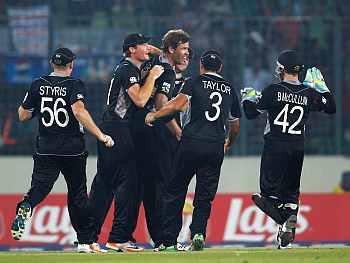 The next two days will see their openers being given constant fluids to prep them ahead of the semifinal, and Lanka will need them fit, given how much of a difference their form has made to the team's fortunes.
 While Dilshan, with his flamboyant on-field persona, has grabbed attention, it's been a pleasure to watch Tharanga, who's been involved in the most number of double century stands in world cricket and most, at the top of the order.
He doesn't hit across the line, looks to play straight and down the ground whereas Dilshan's like a revolving door. But they complement each other.
Unfortunately for the Kiwis, who played some very solid cricket to upstage South Africa, I think the odds are stacked against them in Colombo, given the hosts terrific home record. The Kiwis will have to play even better than they did against South Africa and it will still be tough. Sri Lanka, meanwhile, will be looking to Muralitharan to play a big role, which he's always done against New Zealand.
Though the Kiwis have a stellar record in making it to the semifinals of big events, they haven't really won anything major apart from when they beat India in the Champions Trophy final in Nairobi 10 years ago, but somehow, I don't see a repeat in the offing.
Their beating the Proteas though was a combination of very smart and focused playing by them and South Africa drowning in the baggage of their own history. I don't remember the Proteas pulling off anything on the world stage, though I vaguely recall their becoming Commonwealth Games champions in 1998, when cricket made a rare appearance at the Games. That wasn't a trophy though!
This time around, their over-dependence on Kallis showed, he got out at a wrong juncture and they more or less folded. They keep saying they have depth, but if you see the way things have gone down, nobody else seems to take the pressure and once he fails, they go. I understand when people say many of these players weren't in teams that had lost in previous World Cups, but their collective mindset is obviously the same.
The most difficult part in a mental game is to ignore things that have been drilled into your head and I also think South Africa might have over-emphasised the chokers tag to the extent that players focused too much on it and put themselves under pressure. It's not a skill-based problem. What we tend to forget in a skill-based game, is that if you start paying too much attention to mind games, you'll get into all kinds of avoidable issues. It's not easy to ignore them, but you have to try.
It also boils down to your leader. Smith has struggled with personal form throughout the event and that would have made it tougher for him to tell the rest to ignore stuff.
But all credit to the Kiwis for sniffing blood and going for the kill. Unlike the Proteas, they are not dependent on any one player, haven't really been since Richard Hadlee, and their campaign has been strikingly similar to India's in 2003. The Kiwis lost badly to Bangladesh and India when they were in the subcontinent, India, you might remember, lost to New Zealand and even to Natal B in the lead up. New Zealand even have the same coach, in John Wright. Knowing John, he would have worn his heart on his sleeve and worked to ensure they fight till the last ball. Against Lanka, we hope they'll do that.
HAWKEYE COMMUNICATIONS