'Ramchandra Guha has sent down an express delivery at Sunil Gavaskar, the great batsman who seldom wore a helmet while facing the fastest of fast bowlers.'
'Gavaskar may have easily ducked the delivery and Guha would have receded in solitude.'
'But by hitting back at Guha, Gavaskar may have started a barrage of unplayable deliveries,' says Sudhir Bisht about his cricketing hero.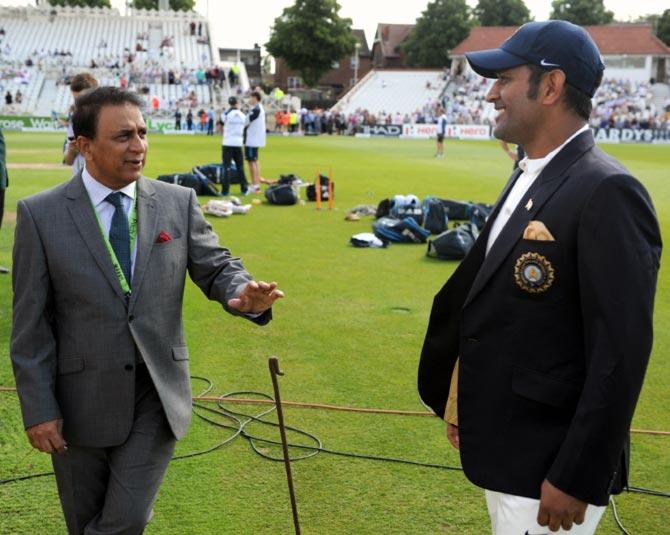 Ramachandra Guha describes himself as a 'Historian and Columnist, lapsed Marxist, failed cricketer.' This is the opening line of his Twitter bio.
I respect Guha's achievements. He is a giant of an intellectual, an eminently readable author, a historian with high emphasis on research.
As far as ideology that Guha is committed to, I know he is staunchly anti-Right. I don't agree with the theories of Karl Marx and I am very apprehensive of his followers, the Marxists. I am even more apprehensive of former Marxists, but I don't know what exactly is meant by a 'lapsed' Marxist.
Does it mean a Marxist whose time has lapsed? Or someone who is just hibernating and could bounce back?
But the purpose of this article is not to write a piece on Guha, but to look at the accusation he made in his recent resignation letter, on several cricketing superstars.
Guha cited cases of conflicts of interests against Sunil Gavaskar and Rahul Dravid. I like the idea of a lapsed Marxist getting influenced by the capitalist world's code of conduct that is aimed at minimising the conflict of interest situations in business.
Guha alleges that Sunny Gavaskar is making hay while the sun shines by being a BCCI paid television commentator and at the same time working as co-founder director of PMG, a sports marketing and content syndication company.
This, as per Guha, is a clear case of conflict of interest. Gavaskar hit back at Guha almost immediately. He is 'baffled,' he said.
'I am very, very disappointed if anyone is doubting my integrity,' Gavaskar said. 'I do not have a conflict of interest. It's baffling to find my integrity has been questioned.'
Sunil Gavaskar is my Hero.
There are only five sportspersons in the world who I adore. Steve Waugh and Sunil Gavaskar are the only cricketers on that list, Jimmy Connors, Rafel Nadal and Prakash Padukone complete the list.
I have posted a PPT titled '5 reasons why Gavaskar remains the greatest Indian Test batsman' (external link)
And yet in the duel between Ram Guha and Sunny Gavaskar, I have to support what Ram has said.
Let us first examine the concept of conflict of interest. It is a case of simple common sense.
A father can't be on the selection panel when the son is among the list of probable players to play for the Indian cricket team.
Was Roger Binny not in the selection committee when his son Stuart was selected to represent India?
It is said Roger Binny left the room when his son's name came up for selection. This means Roger declared a conflict of interest situation.
Was Roger able to fully extricate himself from the conflict of interest situation? Maybe not. But he followed some process of not being a part of the selection panel when his son's candidature was being discussed.
The Cambridge dictionary describes conflict of interest as 'a situation in which someone cannot make a fair decision because they will be affected by the result'. I take an excerpt from my former company's Web site to illustrate the explicit meaning and import of 'conflict of interest':
'It is the policy of Exxon Mobil Corporation that directors, officers, and employees are expected to avoid any actual or apparent conflict between their own personal interests and the interests of the Corporation.'
'A conflict of interest can arise when a director, officer, or employee takes actions or has personal interests that may interfere with his or her objective and effective performance of work for the Corporation.'
'For example, directors, officers, and employees are expected to avoid actual or apparent conflict in dealings with suppliers, customers, competitors, and other third parties.'
'Directors, officers, and employees are expected to refrain from taking for themselves opportunities discovered through their use of corporate assets or through their positions with the Corporation.'
Let me now examine the case of my all-time favourite batsman. Does it or does it not involve conflict of interest?
As a commentator, Sunil Gavaskar is paid by the BCCI to provide running commentary of various matches organised by BCCI.
On the other hand, PMG is Gavaskar's company and among other things it deals with the career management of players.
The PMG Web site proudly proclaims it manages the talents of players like Shikhar Dhawan, Sarfaraz Khan and Rishabh Pant.
If you click on the picture of any player, say Shikhar Dhawan, it talks about Dhawan's cricketing achievements.
If you click on the icon 'View Brand Shikhar', it takes you to this link (external link) and it is here that PMG (owned by Sunny Gavaskar) talks about Shikhar being a 'Team man, go-getter, fearless, stylish, youth icon' and goes on to add many other adjectives to BRAND Shikhar.
My purpose is to show that while Sunil Gavaskar -- the co-founder of PMG -- manages Shikhar Dhawan's brand image, the commentator Sunny Paaji (as he is often referred to) provides the commentary on the way Shikhar plays the game.
What if Shikhar gets out to a rash shot? Would Sunil, the commentator, not find himself in a conflicting role with Gavaskar, Shikhar Dhawan's brand manager?
Sunil Gavaskar is a very good commentator and of late has won many more followers by adding Hindi humour in his commentary.
He is a university as far as cricketing knowledge is concerned.
His commentary is enjoyable and stimulating, but can he ever criticise Shikhar, Sarfraz Khan or Rishab Pant as severely as he criticises other players?
In IPL 10, Gavaskar was very critical of Virat Kohli. When the Royal Challengers Bengalore lost to Kings XI Punjab, Gavaskar declared that 'Kohli should look at himself in the mirror.'
Can Gavaskar say the same thing about Sarfraz Khan whom he reportedly signed for Rs 2 crores (Rs 20 million)?
To put things in perspective, I would say Gavaskar is very defensive about Shikhar Dhawan when he airs his opinion about the southpaw.
In IPL 9, when Dhawan fell cheaply, Gavaskar attributed it to slow footwork but reminded NDTV (the television channel interviewing Gavaskar) that 'People forget the runs he (Dhawan) has scored.'
'He has 9 centuries and around 17 scores of over 50 in limited overs cricket,' Gavaskar pointed out.
PMG had signed a three-year contract with Dhawan by then or was on the verge of doing so.
So Ramchandra Guha's criticism of Sunil Gavaskar of being a commentator and managing the careers of players at the same time is fair.
Gavaskar has taken it as a personal affront. He believes Guha is questioning his integrity.
If it were not Gavaskar -- a widely traveled man who has inked so many contracts with so many organisations in all parts of the world -- I would have assumed that Gavaskar didn't understand that integrity is intricately linked to following a code of conduct.
Being a man of integrity means understanding the various conflicting interests involved in carrying out multiple roles.
Such people should drop out of one of the conflicting roles or wear a big disclaimer on their commentator's hat that reads, 'This commentator also manages some of the players out there'.
Ramchandra Guha has sent down an express delivery at Sunil Gavaskar, the great batsman who seldom wore a helmet while facing the fastest of fast bowlers. But this delivery from Guha is fast and has an element of spin too.
Gavaskar may have easily ducked the delivery and Guha would have receded in solitude.
But by hitting back at Guha, Gavaskar may have started a barrage of unplayable deliveries.
I think Gavaskar should retire from the commentary box. Or he could exit from the PMG group and let someone from the family run that outfit.
Sudhir Bisht, author and columnist, tweets at @sudhir_bisht
IMAGE: Sunil Gavaskar, left, speaks to then India Captain Mahendra Singh Dhoni. Photograph: Gareth Copley/Getty Images