'He may be a scientist, a poet and a brat. And in addition to all this, Virat Kohli is also cricket's No 1 Rollerblade-Artist,' says Sreehari Nair.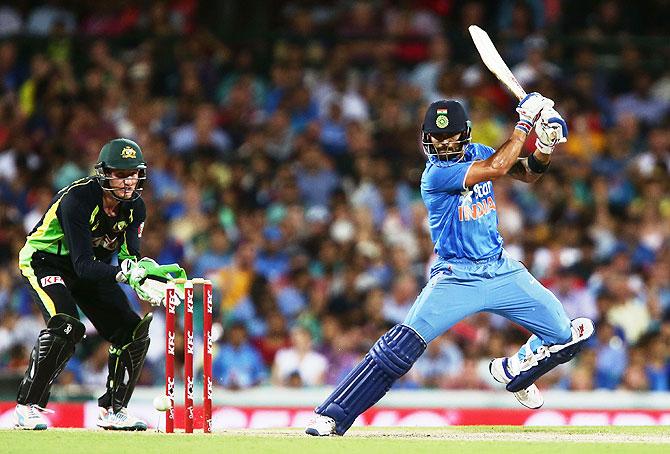 IMAGE: Virat Kohli: Sheer majesty! Photograph: Matt King/Getty Images
Sachin Tendulkar isn't a suitable parallel for Virat Kohli. Neither is Brian Lara, Rahul Dravid, Ricky Ponting or Kumar Sangakkara. Going two or three decades back in time, Vivian Richards seems to pale in comparison. And if I may be deliberately fancy, even Don Bradman and Gary Sobers wouldn't quite measure up.
These men may be equally great -- maybe even greater -- but they were also too 'neat' to be compared with Virat Kohli.
Kohli is greatness minus neatness. By which I mean that while he possesses the highest level of sophistication in the game right now -- an unmistakable combination of beauty and brute force -- Kohli's instincts are essentially that of a tribal warrior.
And in that sense, he is less like any other cricketer and more like the greatest heavyweight of all time: Muhammad Ali.
The comparison also fits because, like Ali, every match for Kohli is more than just a duel to be won on the cricketing field.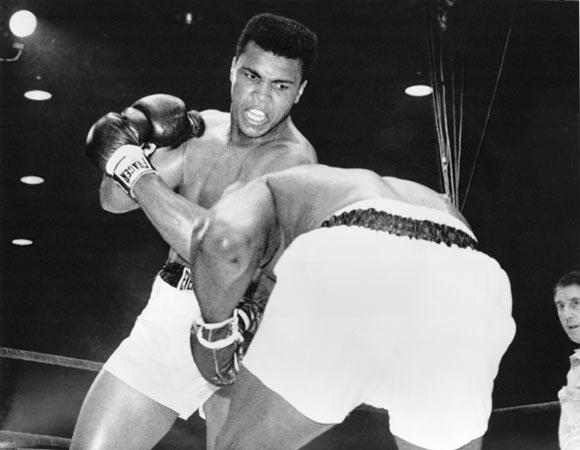 IMAGE: Kohli is less like any other cricketer and more like the greatest heavyweight of all time: Muhammad Ali. And what really binds them both is their ability to dramatise their successes.
For Kohli, every match is 'A Project'; a project that starts hours, days and sometimes months before the actual match -- metrics for which are visible not just at focussed Training Sessions but also at Press Conferences where he taunts the opposition to bring on their deadliest artillery; on Social Media where he replies to snide remarks with equal venom; and in Short Quips where he reveals, conceals and essentially teases out his strategies.
I suspect if Kohli does all this to unsettle the opposition. The Kohli we know surely wants the opposition to start out with their bearings completely in place -- nothing less than a 'fight of equals' will satiate him. Plus, anyone who's privy to the inner mechanics of cricket would know how the sport has today become a venue for top mental fitness.
This means that 'Mind Games' can't really be one of your preferred weapons for combat.
So, then, why does Kohli do what he does?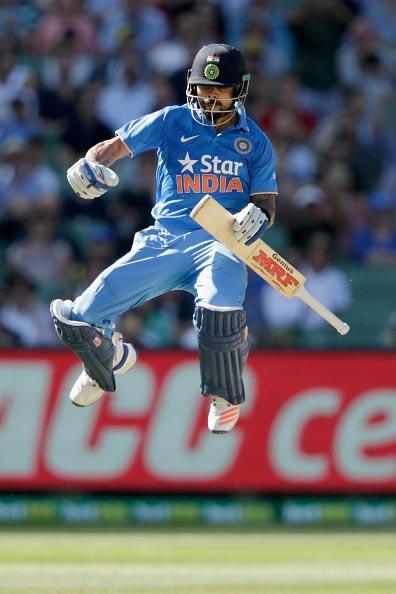 IMAGE: Airborne after another brilliant knock!
My guess is Virat Kohli, very much like Muhammad Ali, is just someone who is genuinely interested in crafting the mythology of a game as much as winning the game itself.
He wants to make the game an event and then go onto stamp his authority over the event.
This makes him the game's biggest promoter, talisman and champion; its biggest better and also its biggest draw.
Part of our memories of Ali and Joe Frazier's 1975 'Heavyweight Championship of the World' held in Manila, is linked to all the paraphernalia it came studded with. Most memorable is the image of Ali at a pre-match conference holding up a Plastic Gorilla -- a stand-in for Frazier -- and brandishing it with punches, chanting all the way: 'It's going to be a killa and a thrilla and a chilla, when I get that gorilla in Manila.'
Once in the ring, however, Ali was a master at mixing such pre-match tics with a sportsman's total commitment to any given match-moment. Ali's reflexes were never affected by his hatred for Frazier; he could 'Rope-a-Dope' and take punches just to tire out his punisher; he was floating even as Frazier went all ballistic; and his muscle-memory concentration never seemed to amble off, even at his showiest best.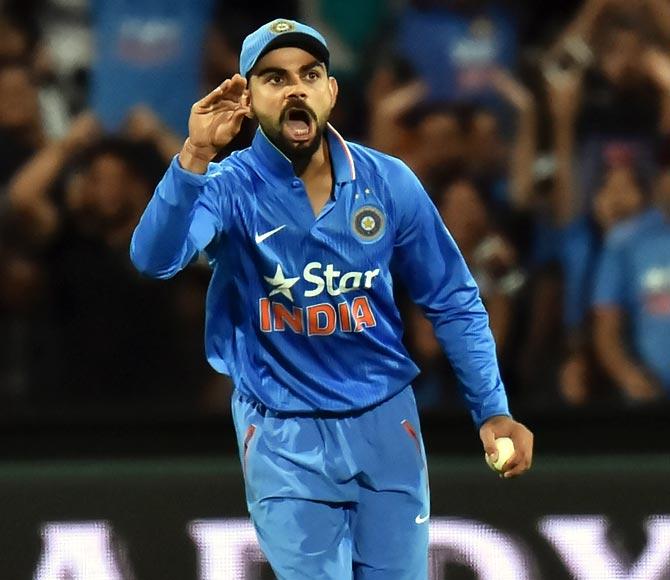 IMAGE: Before the Australia game, Virat said the Aussies would make a grave mistake of adding 'fuel to fire' if they needled him, asserting he is good enough to excel without provocation.
Similarly, Kohli at a cricketing pitch knows that aggression must wait for the most opportune moment; he achieves targets by steering clear of absolutely all risks; he often wears out his prey before subduing them; and he smiles cockishly at those he had gotten into pre-match tiffs with.
Ali played the game to win it. Kohli plays the game to win it too. But what really binds them both is their ability to dramatise their successes.
The entire discourse, here, seems to obviously come back to the subject of whether this approach conflicts with Cricket's definition of being a 'Gentleman's Game.' Boxing, it can be argued has its roots in 'Street Games' -- where rule-breaking was okay as long as it was passionate rule-breaking; where chest-thumping was fine as long as it brought in the crowds; and where even 'taking a dive' could be forgiven as a sign of weakness.
Except the 'taking a dive' part, the question of whether the aforementioned silent street rules apply to 'The Gentleman's Game' leads us to an even bigger question: Is the term 'Gentleman' itself up for redefinition?
And I think it is.
The Gentleman of today, in pursuit of a goal, possibly cares less about maintaining his heart in its proper anatomical place.
The Gentleman of today while being well-aware of his duty as a 'Role Model' is also hyper-aware of the 'Slob' part of him; he is still in touch with his childish side and understands that even that side is saleable.
The Gentleman of today may fall with a thud, but he may very well risk that fall than walk the primrose path.
The Gentleman of today reads Amar Chitra Katha not to revel in its stories, but to create his own versions of those stories.
And the Gentleman of today -- like Virat Kohli now and Muhammad Ali in the past -- understands that it's when artistry, box-office, trash and refinement shade into each other, that sporting events become spectacles and athletic achievements turn into feats of glory.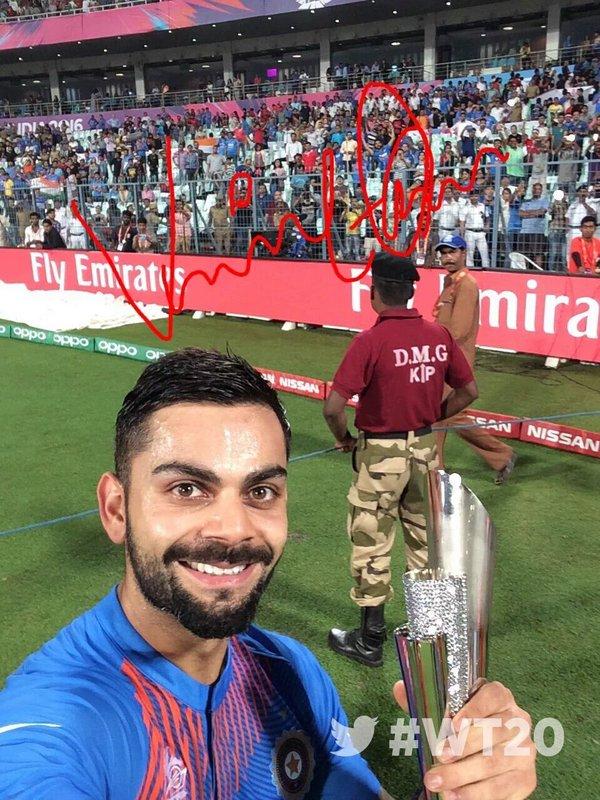 IMAGE: Virat with his man-of-the-match trophy against Pakistan at Kolkata. Photograph: BCCI
Kohli's astounding success that comes fused with his flamboyance assumes greater importance in a country like India where it is expected that 'greatness' and 'modesty' must overlap; where it's mandatory to usher in the 'usual platitudes' when describing your match-winning performance; and where your 'special talent' is considered to be of no great use if you are not 'respectful' of it.
Virat Kohli -- the soloist who wouldn't back down -- betrays these conventions. And as they are cheering him on, there are people in that very cheer-group waiting for the world's finest batsman to go through a serious rough patch so that they can baptise him as, say, 'The next Vinod Kambli.'
Kohli, more than anyone else though, is awake to this 'very human' tendency. He perhaps knows that if you Google ("Virat Kohli", "Overrated") it throws up 16,900 results. There'll be a time when one of these search results will seem valid. And so he trains hard -- not just to strengthen his competencies, but also his resolve and so that he is successful without being discoloured.
I won't be surprised if he has a scrap-book entry of his every match-winning innings, with the first bits describing the background of the match -- the pop-mythology of it, the things that were said and later corrected, and the challenges that were presented and later surmounted.
Maybe he is writing his autobiography as he is playing the game.
I always have a niggling feeling that if tomorrow Virat Kohli were to silently and humbly go play a great knock, he wouldn't enjoy it as much as a knock whose greatness he announces beforehand. The apothegm for his tribe seems to be: Say it and then Do it.
For the Virat Kohlis of the world, the drum-rolls are perhaps as important as the fireworks.