Not Out! is a brilliant analysis of the IPL that explains why it alternates between thrill and scandal, says Dhruv Munjal.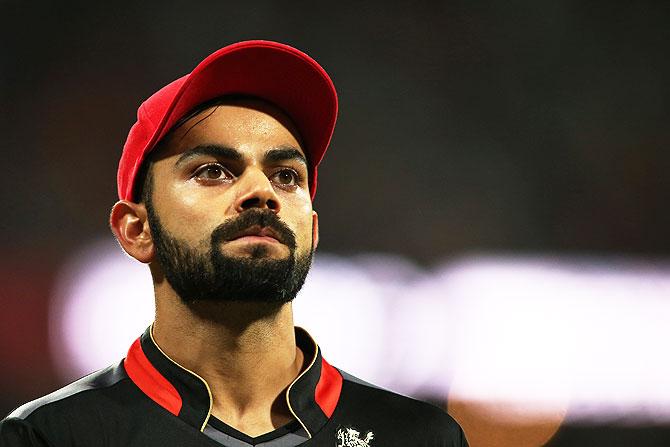 IMAGE: Royal Challengers Bangalore skipper Virat Kohli. Photograph: BCCI
The summer of 2008 saw the unveiling of a ritzy sports league that would go on to revolutionise Indian cricket; a multi-team cricket carnival that brought together the best cricketers from around the world.
At the time of its inception, the Indian Premier League was an unprecedented show of power and strength; a parallel universe symbolised by extravagant amounts of money and spurious glamour.
For cricket fans, it was an intoxicating amalgamation of Bollywood glitz, entertainment, cheerleaders, swank team owners and, of course, a little bit of cricket. It thrilled and shamed, and then thrilled again.
The IPL, now in its ninth season, is still a bewildering paradox; one that is viewed with admiration by some, with consternation by others.
Desh Gaurav Sekhri's debut book, Not Out! The Incredible Story of the Indian Premier League, delves into the intriguing story of Indian cricket's wild child.
Sekhri, a Delhi-based sports attorney, carefully examines the complexities of the IPL business model and highlights the countless controversies that the league has been plagued by throughout its tumultuous existence.
There is little doubt that the IPL has stormed the Indian psyche unlike anything we've seen before. It has blended beautifully with the Indian cricket fan who has merrily devoured this charming infusion of sports and entertainment. But IPL's share of troubles has meant that it has frittered away the chance to establish itself as a robust global brand.
Sekhri not only raises pertinent questions but also provides some captivating answers.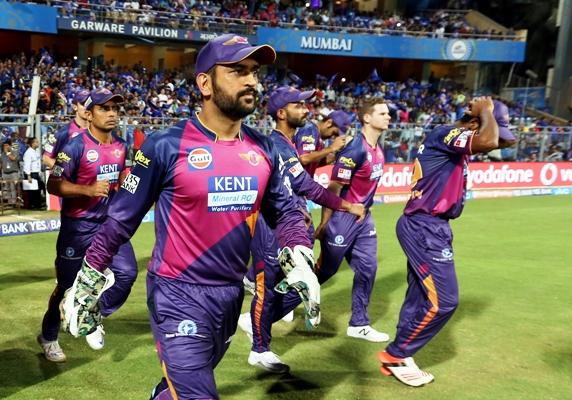 IMAGE: Rising Pune Supergiants Captain M S Dhoni. Photograph: BCCI
In the book's first chapter, The Great Indian Roadshow: The IPL Today, Sekhri brilliantly elucidates how the league has fizzled out after the runaway success it enjoyed in its first few years.
More worryingly, he shows how it has stagnated in the last couple of seasons.
'The parity between teams is nonexistent, the veracity of results is constantly questioned, the quality of play is solid but nowhere close to exceptional, barring some rare occasions... and the watching of live IPL matches is less of a novelty now than it was when the league first started,' he writes.
True. After the initial curiosity wore off, the IPL has been in steep decline. Television viewership numbers remain stellar as ever, but the quality of cricket on show has astonishingly slumped. The number of top international players competing has also dwindled.
With light, engaging, prose, Sekhri lists out why IPL's endeavour to manifest itself as a commercial behemoth akin to the English Premier League -- its original objective -- has met a cruel halt.
The league's unflinching desire to portray itself as an endearing entertainment spectacle has meant that the cricket is no longer at its forefront, if that was ever the intention.
'It is the focus on making the IPL a general entertainment event that could give it a shorter shelf life and lead to a much quicker saturation point,' says Sekhri. Amid incessant politicking and abominable corruption scandals, the game itself has become a mere subplot in this dreadful circus of money and flashiness.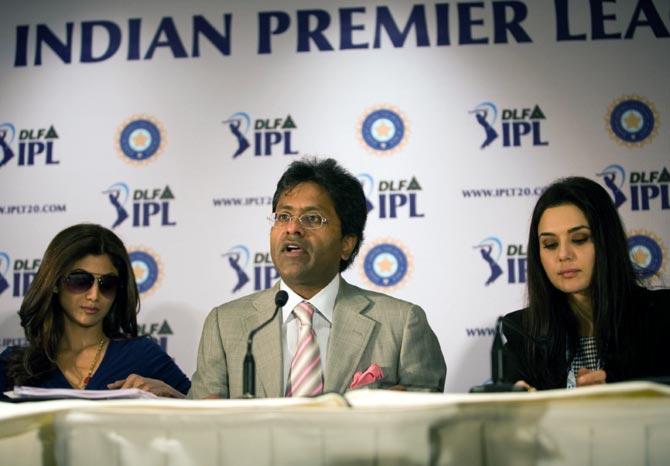 IMAGE: Former IPL commissioner Lalit Modi, centre, during the 2010 Players Auction with then Rajasthan Royals co-owner Shilpa Shetty, left, and Kings XI Punjab co-owner Preity Zinta. Photograph: Ritam Banerjee/Getty Images
T
Sekhri's take on the IPL spot-fixing scandal of 2013 and other cases of conflict of interest, though, are simple reiterations of what we've known all along. These chapters fail to shed any new light on issues that have so tragically shattered the league's reputation.
Sekhri's view on replacing the ludicrous auction process with a more systematic draft system, however, is an intelligent idea. He outstandingly describes the advantages of having a draft system to ensure greater parity among teams.
Sekhri deftly touches upon the IPL's lack of sophistication in player selection, retention and transfers. 'If there is one aspect of the IPL that requires immediate change, it is the IPL's much-maligned player auction... the problem with the existing auction system is that it resembles a "fantasy league" in terms of how it operates,' he rightly points out.
IMAGE: Manish Pandey and Gautam Gambhir of the Kolkata Knight Riders after defeating the Sunrisers in Hyderabad. Photograph: PTI
So often in the past, cricket fans have wondered about the authenticity of the IPL's existence as a 'league.' Can a hasty, cramped 45-day affair every year actually be considered a league? Sekhri confronts that very question in Not a Real League, the penultimate chapter of the book.
He draws comparisons with the National Football League and Major League Baseball in the US -- sometimes unfairly -- to cull out the true image of IPL. He raises several important questions associated with the tournament format, team ownership, merchandising, the non-existence of a second-tier league and player salaries; solutions to which, at least in the current scheme of things, are almost impossible to find.
But Sekhri deserves special praise for making some shrewd observations.
Not Out! is an extremely readable story of a league that has so handsomely captured the conscience of cricket fans from around the globe; of its rapid ascent and mighty fall, gargantuan impact and flagrant misdemeanours.
Sekhri's is an incisive, balanced and well-researched account of what has made the IPL such a raging success, highlighting along the way the areas where it has horribly stumbled.
Despite its murky underbelly, the IPL is here to stay. And, Sekhri's book perfectly explains why.