An airline's birth is a result of passion and enterprise, often not without its challenges and ordeals. And, Tata-run airlines are no exception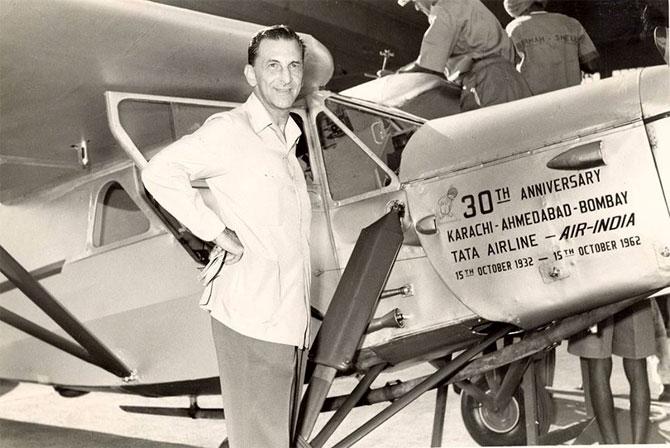 Image: "Growing organisations in any field must constantly evolve, accept or even seek new ideas, new visions, and new enthusiasms." - JRD Tata. Photograph, courtesy: Vistara/Facebook.
On the afternoon of October 15, 1932, the Postmaster of Bombay and other dignitaries assembled in the city's Juhu area to welcome a tiny Puss Moth aircraft carrying post from Karachi.
Piloted by J R D Tata, the flight had a historical significance — it was the first such mail service by an Indian company, and it laid the foundation of Air India.
Eight decades later, it will be another historic event when the Airbus A320 aircraft of Vistara, the full-service joint venture of Tata Sons and Singapore Airlines, takes off on its maiden flight — from Delhi to Mumbai — on Friday afternoon. This will mark Tatas' re-entry in the airline business after over six decades. Though the Tatas own a 30 per cent stake in AirAsia India as well, they are far less involved in its operations.
An airline's birth is a result of passion and enterprise, often not without its challenges and ordeals. And, Tata-run airlines are no exception.
In the mid-90s, the Tata group made many unsuccessful attempts to launch an airline in partnership with Singapore Airlines.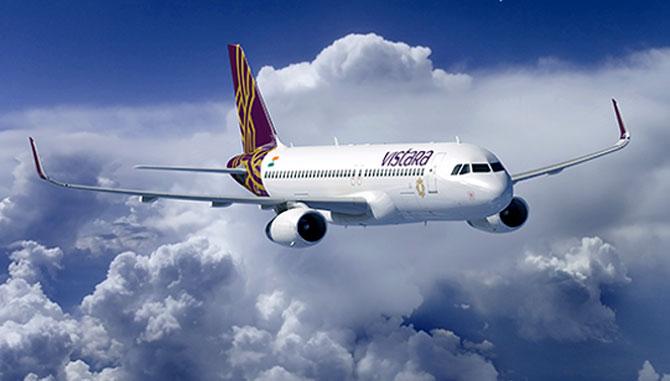 Vistara, too, encountered a few minor bumps in its pre-launch stage, with private airlines lobbying against its approval, and delays in securing permit. The Federation of Indian Airlines, which represents almost all domestic airlines, went to court saying the new policy allowed foreign airlines to invest in existing carriers, while Vistara was a start-up. The government rejected the opposition.
For their airmail service, the Tatas had sought a subsidy of Rs 125,000 from the government but received none. In 1932, after three years of negotiation, a contract was signed between the group and the government that the Tatas will only be paid a fee on the basis of weight and distance flown.
Sixteen years later, Air India's first long-haul flight to London was launched on June 8, 1948; that was three years after the end of the second World War.
In his book 'Beyond the Last Blue Mountain: A Life of J R D Tata', R M Lala writes the airmail service was to originally begin from September 15 of 1932 but the launch had to be postponed as mud flats of Juhu were under water due to heavy monsoon — there was no proper runway or airport back then. J R D Tata flew in from Karachi with 55 pounds of mail, and thus heralded a new beginning of civil aviation in India. The mail service was launched by the aviation department of Tata Sons, and Tata Airlines was formed later.
Despite getting little support from the government, the airmail service made a profit and was extended to cover other Indian cities like Kolkata, Chennai and Thiruananthapuram. In 1937, a service between Delhi and Mumbai was rolled out and the company began carrying both mail and passengers.
After the second World War, J R D Tata gave a proposal to the government to start an international airline, with the government owning a 49 per cent stake, Tatas 25 per cent and the public the rest. For domestic operations, there was Indian Airlines.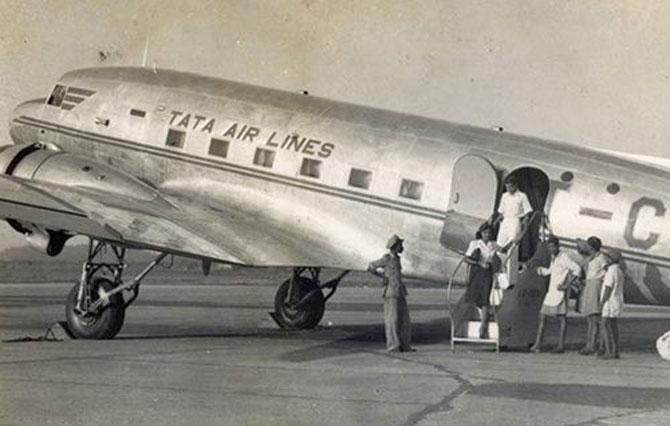 Tata Airlines became a public company in 1946 and was renamed Air India. Its first flight, a Bombay-Cairo-Geneva-London flight, used a Lockheed Constellation plane. In 1948, Air India became the first Asian airline to start a regular service between Asia and Europe. The tickets for the inaugural Bombay-London flight were priced at Rs 1,720 each.
Air India was nationalised five years later but J R D Tata remained its chairman until 1978, when he was removed from the post by the Moraraji Desai-led Janata Party government. Almost a decade later, Ratan Tata was named the chairman of Air India. He held the post for three years, from 1986 to 1989.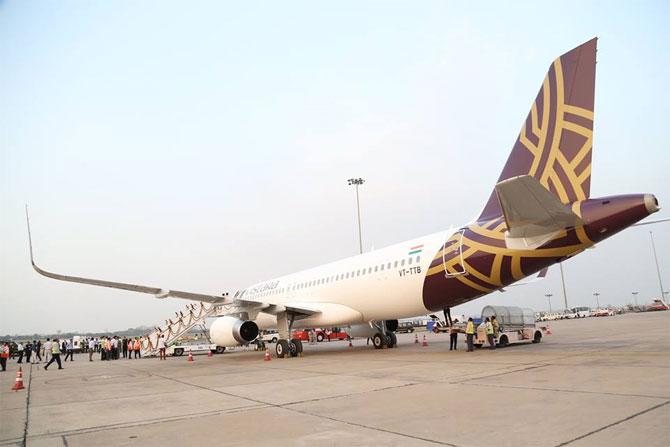 There also are other examples of Tata's association with aviation. The group had in 2007 taken a six per cent stake in SpiceJet which it sold over the years.
It had also evinced interest in teaming up with an entrepreneur to bid for Air Sahara. But a deal did not work out and Jet Airways eventually purchased that airline.
Photographs, courtesy: Vistara/Facebook