One of the major advantages of buying Iran crude is the additional credit period of 90 days that the country gives to India, compared to 30 days by other countries.
Illustration: Uttam Ghosh/Rediff.com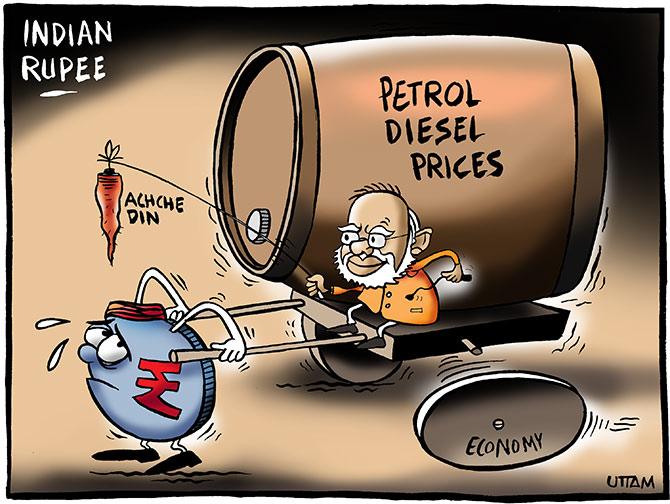 Indian oil importers received temporary reprieve when eight countries including India got conditional waiver from the US to buy oil from Iran.
So what does the waiver mean for India and what problems it might face if Iran imports dry up in future? Read on...
What was the reason for the conditional waiver given to eight countries by the US?
The eight countries that got a waiver from the US are India, China, Italy, Greece, Japan, South Korea, Taiwan and Turkey, after they agreed to opt for a "significant reduction" in oil purchases from the Persian Gulf country.
The reasons for this waiver were evident from US President Donald Trump's words, when he said that Iran oil exports coming down to zero immediately would cause a shock wave in the market and lift oil prices.
The speculation about sanctions with effect from November 4 had pushed the prices up - above $80 a barrel for a brief period.
Reports said that India has already agreed to curb imports from Iran to 300,000 barrels a day, compared to 452,000 barrels a day last year.
Why did the waiver come as a relief to India?
The average crude oil prices for the July to September quarter were was seen at $72.46 a barrel this year, compared to $52.7 a barrel during the same time last year.
This has pushed up the expected crude oil import bill for India by $37 billion to $125 billion during the current financial year, compared to $88 billion for the financial year 2017-18.
This will have a huge impact on the country's trade deficit and fiscal deficit, while foreign exchange (forex) reserves will continue to deplete.
For every $1 increase in crude oil prices, the impact on the current account deficit (CAD) is likely to be $1 billion.
On the other hand, every dollar increase is expected to lead to an increase of 63 paise per litre on petrol and diesel prices.
Any further rise in international crude oil prices would have added to the pressure on India.
According to industry experts, the prices would have gone up further in November and December had Iran crude been out of the market.
The crude oil price fluctuation is a frequent market phenomenon and the prices of crude are determined by many factors, including geo-political situation and demand and supply situation in the global market.
Had India not got the waiver, it would have affected the financials of companies such as Mangalore Refinery and Petrochemicals, Indian Oil Corporation, Hindustan Petroleum Corporation Ltd and private sector players like Nayara Energy (earlier Essar Oil).
Why is Iran crude so important for India?
One of the major advantages of buying Iran crude is the additional credit period of 90 days that the country gives to India, compared to 30 days by other countries.
Iran also gives India the option to import crude oil on cost, insurance and freight (CIF) basis, as against a free-on-board (FOB) model followed by other countries.
Under the CIF model, the seller pays freight and insurance charges.
Under the FOB model, the buyer has to charter its own vessel and manage the cost of shipping.
What is the share of Iran crude in India's oil purchases?
India was supposed to import around 21 MT crude oil from Iran during the current financial year.
In comparison, it imported 13.04 MT and 9.8 MT of crude during the financial year 2016-17 and 2017-18 respectively.
For the month of November, two companies - IOC and MRPL - had together placed orders of around 1.25 MT.
India was expected to continue this in the month of December also, for which orders will be placed this month.
What are the concerns for India going ahead?
If the Trump administration takes away the waiver in the foreseeable future, securing insurance for crude and refineries, payments and finding alternative crude sources would be the major concerns for India.
Experts say India can opt for a partial rupee or euro payment model, like in the case of previous sanctions.
The government has already lined up alternative plans of payment in rupee terms through Iranian private lender, Bank Pasargad, that has a branch in Mumbai.
As far as alternative sources are concerned, India will have to look at increased imports from Saudi Arabia and also look at more supply from countries like Qatar.