'I have been managing people since I was very young. I really enjoy it.'
'For me, age is only a proxy for experience,' Nitin Prasad, Shell's 40-year-old chairman, tells Jyoti Mukul.
Illustration: Dominic Xavier/Rediff.com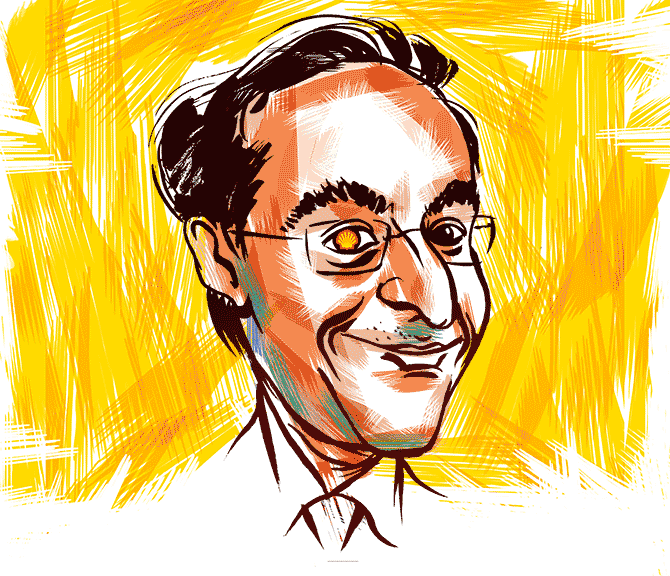 I am late and apologise profusely as I enter The Grill at the Taj Mahal Hotel, Delhi. Nitin Prasad, chairman, Shell group of companies in India, is sitting patiently, with a glass of sparkling water. "No issues," he says softly. "We are here now."
This is my first meeting with the 40-year-old Prasad, who was placed among the Fortune 40 under 40 last year, and considers turning around the company's lubricant business in India as his defining assignment.
Before we realise, we are discussing Shell's new strategy in India.
That was in late 2011, and he started out by changing every aspect of the lubricant business systematically.
There was a portfolio shift away from low-grade products to products that added more value to the chain.
A considerable amount of time was spent on distribution channels, focussing on OEM partnerships and building the business' technological capability.
"We worked at the topline to generate more sales and volume. The big thing was building a strong team, we put together a robust HR strategy."
"So you got the chairmanship as reward," I hazard. "Obviously, they wouldn't have considered me if I had failed."
He smiles, and adds, "You have to be a high performer, but the way we work at Shell is a lot about building capabilities and skills. I have worked on strategy, portfolio, commercial, operations, chemicals, lubricants... you name it..."
Prasad joined Shell in 2004, working with the strategy and portfolio vertical. Twelve-and-a-half years later, he became the youngest India chairman of the oil major, which had in 2016 taken over British Gas in a global deal.
I am curious to find out what is that quality that catapulted this soft-spoken guy to the helm of the oil major.
But before the discussion gets more serious we decide to order the food. We wave at the server. Prasad settles for a steamed sole with golden garlic vegetable fried rice and steamed vegetables on the side. I ask for a tofu. Our attendant suggests we share the rice.
"Everything is probably too much," he says and I can see Prasad is not a prolific eater.
Shell is not Prasad's first job. He was previously with Altera, a semiconductor firm in Silicon Valley. "I had a lot of fun there."
In 2003, Prasad, an engineer by training, felt he needed some excitement, a bigger challenge. "Having been through the boom and bust, I saw I needed to understand economics and business. So I decided to pursue an MBA from INSEAD."
Did his decision have something do with the bust? "I still had a job. The company was, in fact, starting a new business," he says matter-of-factly.
So how did he get into Shell?
"I had not even planned to attend a Shell presentation at the campus, but it so happened that I had a Dutch and a French roommate. The Dutch roommate wanted to go for the presentation and spoke very highly of Shell, a British-Dutch multinational."
All three went for the presentation. "The irony is that the French guy and I got selected, but the Dutch guy did not get the job. But he's still a good friend."
Prasad chose to join in Singapore since it was a business hub for China, Indonesia, Malaysia and India.
His first project was to come up with a strategy to turn around the China lubricant business. The company was not performing as per expectation, though it was No 2 among the foreign companies based there.
"We took a look at what needed to be done both organically and inorganically for a period of six months. We then came up with a strategy that proved quite successful. We became No 1 and today we are the largest international oil company in China with a highly profitable business. It is now starting to rival all of the European business and has become the second largest globally, next only to the US."
The team on the ground did a fantastic job, he adds emphatically.
The turnaround was just one piece. Soon he had to work on several country exits. Which is more difficult -- turning around a business or exiting a country, I ask.
They both have different flavours, he says. Take exiting. There are six to seven businesses that are tied to and draw synergies from each other.
The questions when you think of moving out of a country are: Should you shut down, sell off or license them out? Who are the possible partners and where all could we do asset swap?
A turnaround, on the other hand, is intensive and has more to do with cultural change.
"It is not simply about the right idea and vision. The ways of working have to change also. A turnaround to me is a lot about culture change," he says as we dig into the clear vegetable soup.
Shell has 600 people in India, which makes the country the third largest in the Shell group in terms of employees.
"That's a significant talent base," he says. How difficult or easy is it to deal with older colleagues?
"I have been managing people since I was very young. I really enjoy it. It's probably right that for the better part of my life I had people older than me reporting to me. For me, age is only a proxy for experience."
"The main thing is what you bring to the table, the depth of knowledge. Do you add value to the people and can you mentor them? I am lucky to have deep experience in a number of areas."
"When Mr Mehta (Vikram Singh Mehta, the ex-chairman of the Shell Group of Companies in India who retired in 2012) was there, we were establishing ourselves. It was an entry into a heavily regulated market."
"Then Yasmine (Hilton, his immediate predecessor) brought in a lot of focus on the market and launched the IT hub. It was the growth and expansion phase."
"I hope I am the right person for the job entrusted to me."
Shell, which has two strong business -- retail and lubricants -- is looking to bring more businesses into the country.
The main course arrives. My tofu dish is nicely done with vegetables in mild flavour. He seems to like the sole. I notice that the adjoining tables have some known faces.
I ask Prasad whether Shell prefers a country head to be from the same country. "Shell takes into consideration the ability of a person to work with the society," he tells me.
"In countries like those in Africa, it is important to have the same nationality especially if there is a partnership with national oil companies. In West Asia, countries are very relationship-oriented. It is good to have an individual who can speak Arabic. It is important for them to understand the cultural sensitivities," he elaborates.
Globally, the company is conscious of the energy transition taking place.
Shell is already the largest biofuel manufacturer in the world, thanks to its Brazil joint venture with Cosan. It is now moving towards solar and wind opportunities available in India.
Another new track is the company's involvement with start-ups.
It recently launched the Make the Future Accelerator in India programme, which, according to the company Web site, 'aims to support anyone with a bright energy idea in action... the programme will help the businesses to build a strong value proposition and enable them to access funding to scale.'
Prasad took over as chairman of Shell in October 2016, almost two months after entering a new phase in his life, becoming a father to twins Myra and Neel. "I value my time with my family. Weekends are sacrosanct."
His wife is a partner with Shardul Amarchand Mangaldas, an equally demanding job. "It was intense for a few months, but my family is here. My wife and I took turns in the night, but I am still trying to learn how to change a diaper with one hand and respond to an email with the other."
He keeps a straight face for a minute before letting loose with a loud guffaw as we wrap up the lunch with rose tea.