'A heavy tanker takes time to move, but when it starts rolling, it's difficult to stop it,' Indian Hotels CEO Puneet Chhatwal tells Shyamal Majumdar.
Illustration: Dominic Xavier/Rediff.com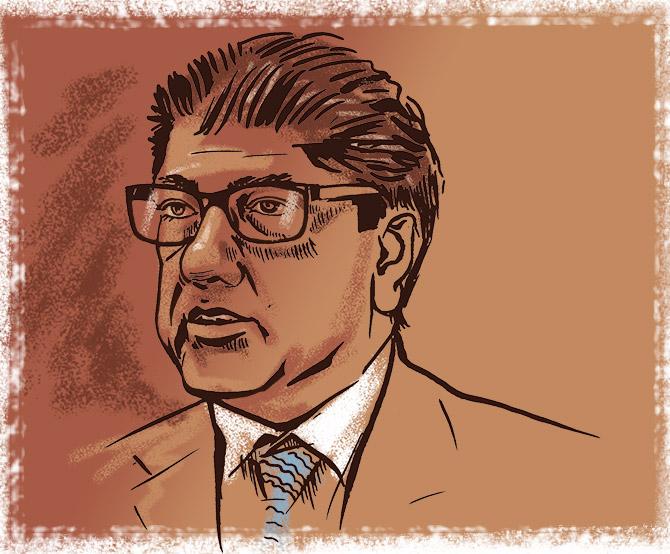 Puneet Chhatwal says he was and remains a "naughty boy".
That has extended to his management style, which includes frequent teasing and pulling his colleagues' legs.
"If you have any doubts about my naughtiness, ask my mother who is 82 now. She, a retired principal, retains the commanding tone in her voice. But I didn't listen to her earlier and I don't listen to her even now, though she hasn't stopped trying," the 54-year-old Chhatwal says with a smile, as we settle down at the Grill Room of the Chambers at Taj Mahal Hotel, Mansingh Road, Delhi.
He was a late starter and spent most of his time in school in the company of a group called Orange Bar, which consisted of three girls and two boys, including himself.
The boy in the group took the responsibility of brushing up Chhatwal's maths skills so that he could pass somehow. And his inspiration for taking up hotel management as a career was simple: He wanted to study something that can be finished fast.
Like any middle-class household, his parents wanted him to pursue medicine or engineering, but their "world fell apart" when he defied them.
That discomfort with his choice of profession took a long time to go, and it certainly didn't help that he was cleaning the lobby floor when his parents visited his workplace for the first time. That was at an ITDC hotel, which he joined after passing out from IHM, Pusa Road.
The corner table gives us a breathtaking view of Lutyens Delhi, and Chhatwal, a Delhi boy, looks wistfully at the greenery outside.
The steward and a couple of his aides are in attendance with an elaborate menu, and Chhatwal jokes they want to impress me, as they know the MD does not care too much about elaborate lunches.
"I have stayed too long in Europe and am used to pick up a bite on the go. I even iron my own shirt," he says. The steward refuses to give up and explains everything in detail before serving.
The first serving is called Chilled Masala Pot, which is a typical old Delhi signature chaat served with yoghurt, and the second is called Fresh Morel Mirch Malai. Chhatwal quizzes the steward about the "smoke" coming out from one of the dishes.
As the steward explains, it's nothing but Dahi Bhalla and the "smoke" has taken inspiration from the California mist. It's difficult to figure out the link between Californian mist and Dahi Bhalla, but the dishes look good and the taste is superb.
Chhatwal says people talk about the 4Ps of marketing, but the formula that played a pivotal role in his career is the 3Ps -- Patna, Paris and Pune.
His first posting was in Patna where he learnt how to run a coffee shop and how to escape unhurt after getting kidnapped.
He was once riding his Royal Enfield on his way to office and made the "mistake" of overtaking a Maruti car.
Within seconds, he was pushed into the car and taken to a place he had never been before.
Chhatwal doesn't get into details, but says everything ended well as he was allowed to leave after a few hours of captivity.
The "naughty boy" perhaps became a fearless man after that incident.
He was called back to Delhi's Ashoka hotel after an 11-month stint in Patna, and launched ITDC's first Japanese restaurant.
Chhatwal says the exposure he got in ITDC was "priceless" and proceeds to explain why.
The employees at the Samrat hotel once went on strike and the management trainees had to run the hotel all by themselves for close to two weeks.
Then the Kanishk hotel staff went on strike and he had to run the Palm Court coffee shop for 30 days.
It's a different matter that he was kidnapped again -- this time by the Kanishk staff.
Once again, he escaped, and once again, Chhatwal doesn't give the details.
The second P in his life is Pune.
During a break in his college days, he was in that city and learnt German at the Max Mueller Bhavan there. It was a life-changing move as his expertise in the language took him places later in life.
The third P was, of course, Paris.
He did his master's in hospitality administration from the Essec Business School and then spent a majority of his working career in the French capital.
Chhatwal says he went to study at Essec on a scholarship and wanted to come back to India, which he did. But the way ITDC was handled didn't excite him any longer.
Meanwhile, the hotelier family of one of his German classmates had applied for a working visa for him. After it was approved, he just packed his bags and left.
Two visiting professors at Essec changed his life forever. He was till then good in sales and marketing and had language skills, but shied away from anything remotely to do with numbers.
One of the professors taught him why numbers were important to justify business strategy; the other taught him the importance of cost and profit analysis.
It is because of them, Chhatwal says, he is now a totally numbers-driven person.
The steward has perhaps figured out by now that the boss is scarcely interested in the food and makes himself invisible. We are served Pepper Prawn with Black Rice Pulao. Chhatwal returns to the third P.
After running a few dorms-turned-hotels, his first break came from his German friend's family, who wanted to restart their hotel.
Chhatwal rebuilt the group, known as the Feuring chain of hotels, and then moved to The Rezidor Hotel Group-Carlson Hotels Worldwide. Carlson exposed him to the American way of doing things: German discipline and quality coupled with American packaging and marketing is a great combination to learn from.
He then shifted to Steigenberger Hotels AG-Deutsche Hospitality, where he was CEO and board member till he got the Indian Hotels offer.
His phone rings and Chhatwal says he has to leave immediately for a meeting with the tourism minister.
I ask him about his less than a year's experience at the Taj group.
Within about 100 days of joining the Taj, Chhatwal went back to a multi-brand approach that was overturned by his immediate predecessor who wanted to have all the hotels under a single brand -- Taj.
That's because India is too diverse a country and it didn't make much sense to spread the Taj brand too thin.
"We had a Taj in places like Chikmagalur and Ranchi. These properties will never make money. It wasn't a practical approach," he says.
Big plans are on the anvil for Ginger, which will be the group's fastest growing property.
His aide reminds him once again about the next meeting, but Chhatwal is in a mood to speak more.
One of his pet peeve is the Indian hotel industry's obsession with occupancy at the cost of profitability.
The other problem typical of India is everyone is looking for discounts.
Even before he joined the Taj group, requests came pouring in from so-called celebrities, including well-known CEOs asking for steep discounts for weddings or long holidays abroad.
Chhatwal says one possible reason for the hotel chain's problems in the past was spending too much money on properties all over the world.
It would have perhaps been better to consolidate and then move to other geographies.
But such analysis is easy in hindsight, he adds, as one should not forget that his predecessors also established a great platform in two of the largest lodging markets of the world -- the US and the UK.
"A heavy tanker takes time to move, but when it starts rolling, it's difficult to stop it," he says.
Just before he rushes out, Chhatwal says he has had a blessed life so far, except that his marriage didn't last beyond 22 years.
He got divorced from his wife, a former air hostess with Air India, in 2014.
"It was a classic case where one partner gets ahead and the other gets left behind. I tried really hard. But I suppose everything doesn't work in everybody's life."
One could almost feel and touch the disappointment in his voice.