One third of faculty positions vacant.
One per cent seats empty.
New IITs lag in infrastructure, research.
Abhishek Waghmare and Sahil Makkar report.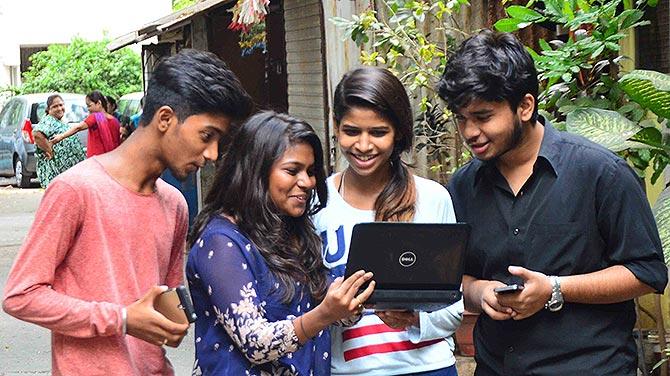 Indian Institutes of Technology are struggling to fill vacant faculty positions and seats, despite efforts by the ministry of human resource development (MHRD) to provide more autonomy and resources to these institutions.
The shortage of full-time teachers at IITs was 34 per cent at the end of 2017-2018, up from 25 per cent in 2007-2008, according to data tabled in Parliament.
Ten years ago, there were only seven IITs, now there are 23.
In 2014-2015, the vacancy was 38 per cent.
"The government is not taking care of the IITs because it is in favour of privatisation of higher education," says Bhalchandra Mungekar, member of the Rajya Sabha's standing committee on higher education.
In its report, the committee has noted demands for grants for 2018-2019. It has also noted that increasing the retirement age of teachers from 60 years to 65 years has not resolved the issue.
'Either our young students are not attracted to the teaching profession or the recruitment process is a prolonged one and involves too many procedural formalities, or both,' the committee said.
MHRD officials say filling up positions in the IITs was a continuous process.
"People with good academic and professional records are hired. It takes time, but it does not mean classes are not being taught. In fact, teachers compete with each other to take classes," points out an MHRD official responsible for overseeing the functioning of the IITs.
Abhay Karandikar, dean of faculty at IIT-Bombay, who is in line to become the director at IIT-Kanpur, says the institute is making every effort to fill vacant faculty positions.
"We have to ensure cabins, laboratory space and research equipment," he says. "These require funds and time, since infrastructure support cannot be provided instantly.".
One solution is hiring adjunct and visiting faculty as well as post-doctoral researchers.
Another solution suggested by the Rajya Sabha committee report involves raising the age of superannuation, encouraging faculty to undertake consultancy, hiring contract, adjunct and visiting faculty.
But with a large number of professors likely to retire soon, there would be a crunch, some of them say.
Funding is another area of concern.
At present, the Centre is the only source of funding for the IITs.
According to revised estimates for 2017-2018, the government spent Rs 82 billion on the IITs, up 50 per cent from Rs 54 billion in 2016-2017.
However, for 2018-2019, the Centre has budgeted only Rs 56 billion, although the institutes had sought Rs 115 billion.
This is likely to affect the newer IITs which are facing a severe shortage of funds for infrastructure, according to Mungekar.
As a result, the quality of research and job placements for students are trailing those of the older IITs.
"If we remove old IITs from the IIT universe," says Mungekar, "then the new ones do not paint a good picture."
The MHRD official quoted above says the government had set up the Higher Education Funding Agency to provide loans of up to Rs 1 trillion.
HEFA has disbursed Rs 21 billion in loans to six institutions: The IITs in Mumbai, New Delhi, Chennai, Kharagpur and Kanpur, as well as the National Institute of Technology, Suratkal.
The institutes will have to repay the principal while the Centre will return the interest.
The institutes are also being encouraged to generate revenue through research and patents.
For the next round of HEFA loans, the government plans to repay both the principal and the interest.
Funding and teacher vacancies are not the only two pressing problems at the IITs.
Some of them are also unable to fill seats.
In 2017, the number of vacant undergraduate seats rose to 121, compared to three in 2014, though it is a minuscule fraction of 11,000 new seats added last year.
Traditional programmes such as civil engineering and highly specialised ones such as biochemical and pharmaceutical engineering are facing difficulties in attracting students.
Students are opting for branches that directly relate to new technologies and job prospects.
Professors said most students preferred computer science or related branches.
"This year, the last round of student counselling at the IITs ended before the last round at the National Institutes of Technology. Some students who secured admission to future-ready programmes such as computer science at the NITs left their pharmaceutical engineering seats at BHU (IIT-Banaras Hindu University)," says a professor.
It was not possible, he adds, to fill seats falling vacant after the admission process was completed.
However, only the new IITs are facing this issue.
At IIT-BHU there are 32 vacant seats, 23 at IIT-ISM (Dhanbad) and 13 at IIT-Jammu.
'Some disciplines may be considered for being shut down or suspended for a few years,' Satya Pal Singh, minister of state for human resource development, said in a written reply to a question in Parliament.
Kindly note: Lead image posted only for representational purposes. Photograph: Sahil Salvi