Alnoor Peermohamed & Raghu Krishnan find out why the new CEO is said to be the perfect man for turning around Flipkart's fortunes.
Illustration: Dominic Xavier/Rediff.com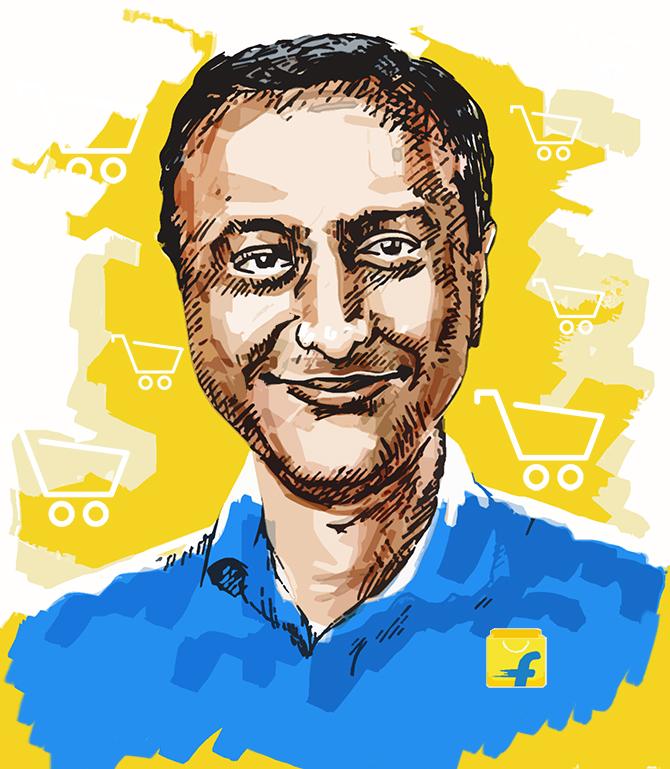 When Kalyan Krishnamurthy replaced Binny Bansal as the CEO of Flipkart, India's largest e-commerce marketplace, a flurry of news reports suggested that private equity fund Tiger Global, which has invested over $1 billion in the company since 2010, had got into the driving seat. What was certain was that the company's operations had slipped out of its founders, Sachin Bansal and Binny Bansal.
An operations and numbers man, Krishnamurthy was picked as CEO on the basis of his ability to look at data and rationalise costs, improve efficiency and reduce losses.
Flipkart is years away from profits as it built a model that rewarded customers to buy goods at lower than cost price -- the company bought their loyalty with discounts. At the same time, it also splurged cash on offices, hiring expensive resources from Silicon Valley and giving several engineers salaries that were unheard of in India's start-up circles.
While slashing costs and improving efficiency, in the months leading up to his appointment to the post, Krishnamurthy, as the head of category design, ensured Flipkart performed far better than Amazon in the last festival season, a time when industry watchers expected the US retailer to trounce its rivals.
Even in his previous stint with Flipkart as CFO for a year from 2013 to 2014 (he left Flipkart in 2014 and rejoined in June 2016), the company's growth accelerated massively, which helped its valuation swell to a whopping $15.2 billion. With razor sharp focus on execution, Krishnamurthy is said to be the perfect man for turning around Flipkart's fortunes, even if he might not be a long-term strategist.
With indications of Tiger Global looking to make an exit from Flipkart, Krishnamurthy's job would be to cut losses, which stood at around Rs 3,600 crore in the year that ended March 2016.
In the past few months he has done precisely that by focusing on a few sectors such as fashion, large appliances and electronics where the company brought back iconic brands such as BPL and Sansui to be sold exclusively on the platform, which helped it earn higher margins than brands such as Samsung.
Flipkart also signed up exclusive deals with smartphone makers such as LeEco and thereby stayed ahead of Amazon and yet slowed down cash burn significantly.
Krishnamurthy led Myntra's acquisition of Jabong in July for $70 million, a deal which turned out to be sweeter than expected when the company realised that the customer overlap between the two fashion retailers was just 30 per cent. Jabong was snatched from the hands of home-grown rival Snapdeal, which still does not have a fashion portal in its portfolio, as Krishnamurthy pushed to close the deal in a record three days.
In November, Flipkart said that Jabong's revenues were up 50 per cent and it had become unit-economics positive, which helped it dominate the Indian online fashion market with a two-thirds share.
Amazon has launched its own private fashion labels and is also betting on growth in the high-margin business in which Flipkart has an edge over it.
Krishnamurthy is a hands-on leader who prefers to meet vendors directly and inspires confidence -- an important facet of running an e-commerce marketplace. Moreover, even with his own team, Krishnamurthy moves beyond rank, often directly approaching mid- and entry-level employees in order to understand things better.
To be fair, Binny Bansal also brought about a sharp focus on customer satisfaction. Flipkart ditched tracking the gross merchandise value of products sold on its platform, instead turning to net promoter score, which is a proxy for assessing the quality of service provided to customers.
For Krishnamurthy, 2017 will be crucial.
Rival Amazon has become more aggressive: it has launched its subscription-based Prime service that is aimed at retaining the loyalty of customers through quicker deliveries, great entertainment and exclusive deals.
If Amazon, through Prime, locks in a large portion of the big-ticket purchasers, estimated to range between 40 million and 50 million, no amount of discounting would wean them away.
Going forward, Krishnamurthy will face new challenges.
India's e-commerce marketplaces grew on the back of massive discounts offered by Flipkart and its rivals such as Snapdeal and Amazon to woo customers. While Amazon has a $5 billion war chest to conquer India, the last large open market, Krishnamurthy is handicapped by Flipkart's inability to raise enough funds to take on the Jeff Bezos-run company. He has to convince his former boss at Tiger Global, Lee Fixel, that more money will be needed to keep pace with growing competition from Amazon and the potential direct entry of Chinese e-commerce giant Alibaba into India.
At the same time, he also needs to prepare the company for either a stake-sale to a global rival such as Walmart and Alibaba, which have already shown interest or an initial public offering in the US.