'Look at Mr Modi. He is a part of this new middle class.'
'India has never before seen this kind of social mobility, certainly not since medieval times.'
'As a result, India's entrenched elite, which is a class of people with a strong sense of entitlement, is being tamed,' Sanjeev Sanyal tells Shyamal Majumdar and Arup Roychoudhury.
Illustration: Dominic Xavier/Rediff.com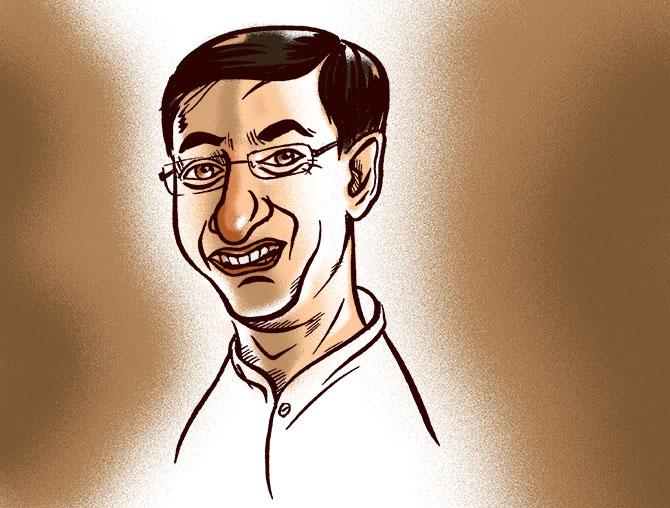 "Let us not bore ourselves with interest rate and macro-economy; there is so much else to talk about," Sanjeev Sanyal says as we settle down at The Potbelly in the capital's Bihar Niwas.
Unlike our guest, who at 46 looks fighting fit courtesy his strict exercise regimen (his many accomplishments include paragliding and kayaking instructorship), we fail to appreciate the keen sense of humour of the person who named the restaurant.
But Potbelly was Sanyal's second choice.
His first preference was Jakoi, the restaurant in Assam Bhawan -- an unsurprising choice given that Sanyal's wife is an Assamese.
But as we were on our way, Sanyal found out that Jakoi shut down a week ago and headed for Potbelly, famous for serving authentic Bihari food in a chic, casual dining space.
Sanyal is clearly a foodie and orders keema ghoogni and sweet Sattu Coolers.
For main course, we opt for Champaran mutton, mutton khada masala, Ranchi ke pulao, and lots of pooris.
The first two come at lightning speed as the restaurant is sparsely populated at 8.30 pm on a weekday evening.
Sanyal's keenness to avoid discussions on interest rate, etc had come as a disappointment. But we try nevertheless.
"I can only say that I fully support (Chief Economic Advisor) Arvind Subramanian's views on the subject," he says.
Subramanian had publicly disagreed with the Reserve Bank of India's decision to keep interest rates unchanged in the last monetary policy (rates were cut last week) and suggested that softening inflation and slowing economic growth warranted a substantial monetary policy easing.
He had also talked about large inflation forecast errors by the central bank.
Our guest, who is the principal economic advisor in the finance ministry, however, says "let's move on" when we ask him more on the tension between the finance ministry and the RBI.
He is in the midst of settling down in his New Moti Bagh government accommodation, which is a "very nice and spacious" flat, though he misses the eight bedroom apartment he owns in Singapore.
"All the windows open to beautiful lagoons," Sanyal, who was Deutsche Bank's global strategist and managing director till 2015, says, taking a deep sip of Sattu Coolers.
As the main course is served, Sanyal says he would wash his hands first, as "no self-respecting Indian should eat with anything but his hands, and should not poke his food with metal instruments."
We have no option but to ignore that observation as we had already put our spoon and fork to work.
So how did he find himself in a government job in India?
Sanyal, who is obviously aware of the buzz over his proximity to the high and mighty in the Bharatiya Janata Party, chooses his words carefully.
He admits his initial apprehensions but says the first three months of his three-year term have been "amazingly good" and the civil service has really made space for an outsider like him.
"If you think there was any grand plan to this move, you are wrong. I have never done anything with a plan," Sanyal says, adding he was sounded out for such a role by various members of the current government, but doesn't say who.
"I am a chaos theory guy; I am against rigid planning anyway."
This adaptive and flexible approach to planning is obviously close to his heart and Sanyal holds forth on the subject for the next few minutes.
There is nothing sacred about a 'master plan', he says, and gives the example of Singaporeans who, he says, take their plans less seriously.
Their approach is based on the idea that the city is a living ecosystem. The focus should be on managing the changing process and constantly adapting rather than sticking to some preconceived ideal.
Or, take Hinduism as an example of what he calls a "complex adaptive system".
In most other religions, the terms 'religion', 'faith' and 'belief' are interchangeable. In Hinduism, they are not.
While Hinduism, like other religions, is concerned with the meaning of life, ethics and so on, it does not give you one particular belief.
We soon get a taste of why Sanyal is often referred as somebody who wears many hats -- he is an economist, author of four books (the fifth is already half-written), columnist, environmentalist, urbanisation expert and a historian.
The last avatar is clearly his favourite and Sanyal proceeds to tell us why most existing accounts of history should be taken with a pinch of salt.
For example, his account of Ashoka: 'The not-so-great'. There is enough evidence to show how an enraged Ashoka had 18,000 Ajivikas in Bengal put to death even after the Kalinga war.
This is the first known instance of large-scale religious persecution in Indian history. "There was nothing great about Ashoka. He did not create the empire, he usurped it from the crown prince, and while he was alive, his empire collapsed," Sanyal says, adding he is surprised that his account of Ashoka in his book, The Ocean of Churn, was never contested by mainstream historians.
"Maybe they ignored me," Sanyal says with a chuckle, before ordering another Sattu Cooler to wash down the Champaran mutton.
We order makhana kheer for dessert as the steward says it has a pleasant taste of saffron and steer the conversation towards the aggressive brand of Hindutva that is taking attention away from Prime Minister Narendra Modi's reform agenda.
Sanyal says while he does not agree "with the brand of Hinduism that some people are trying to practise," he also dislikes those who say that it is illegal.
"Let the discourse get shriller. As long as it does not lead to violence, let there be many views. Who are we to sit in judgment?"
Sanyal attributes the unhealthy discourse in civil society to the "old elite" trying to hold on to the last vestiges of its power.
He is beginning to sound more like Mr Modi now, we thought. But Sanyal is unstoppable.
Many countries, he says, had powerful elites with outsized influence, but in India, dynastic elites controlled the top echelons in every sphere of public life.
Every point of leverage -- from government contracts and industrial licences -- was used to maintain this ecosystem of power which was concentrated in central New Delhi, with a few pockets in Mumbai and a small presence in other parts of the country.
Occasionally, new faces were admitted, but only if they did not interfere with the system's perpetuation.
At the other end of the spectrum, he says, India is seeing the emergence of many political leaders from relatively modest backgrounds.
And a new middle class is making its way up the system.
"Look at Mr Modi. He is a part of this new middle class. India has never before seen this kind of social mobility, certainly not since medieval times. As a result, India's entrenched elite, which is a class of people with a strong sense of entitlement, is being tamed," Sanyal says.
He believes Mr Modi is inherently changing the way the country was governed earlier and compares him with Lee Kuan Yew, the man credited with turning Singapore from a crime-infested city-State to the financial powerhouse that it is today.
We ask him about demonetisation, and Sanyal says it was a "shock signal" to reset the system and to show everybody that Mr Modi is in charge.
"A decade from now, that is how people will think of demonetisation. You can see the same with Yogi Adityanath in Uttar Pradesh. The anti-Romeo squads may have been misused in some cases, but at the street level, that's the chief minister's way of sending a message that random bad behaviour towards women will not be tolerated."
"History tells us that is how strong leaders announce their arrival," Sanyal says.
It is over two-and-a-half hours into our dinner, but Sanyal is in no hurry.
In India, he says, there was a generic sense till three years ago that nobody was in charge. But Mr Modi has changed that.
The very fact that he is winning election after election shows that people are acknowledging this fact, Sanyal says.
That's something even the most articulate sympathisers of the current dispensation would find hard to beat.