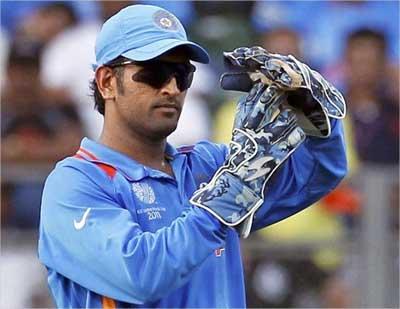 The king of cool has a tough game on his hands
He did not want to play second fiddle any more.
So said Suresh Raina, stepping out of his captain's shadow, last week, jumping ship from Rhiti Sports to IOS Sports & Entertainment with a three-year, Rs 35-crore (Rs 350-million) contract.
Raina is the most under marketed cricketer in the country today, his new talent managers said, adding that they would position him as a reliable brand.
No prizes for guessing who Raina is looking to upstage in the world of endorsements: M S Dhoni, the man who continues to head the endorser league tables in sports. But cornered by controversy and defeat and with his brand contracts up for renewal (over the next one year) will Brand Dhoni see its first ever drop in valuations?
Vishal Jaison, co-founder and director, Baseline Ventures, a sports marketing firm says, "There shouldn't be a significant dip in the volume of Dhoni's endorsements in the short term since he is still India's ODI captain and is one of the most bankable Indian cricketers of all time.
"There aren't many who can match his consistency and form ."
MS Dhoni's track record as captain of the Indian team in all three formats of the game is formidable.
And that is what made him the 'must have' endorser for brands at one point. But scandals and poor performances have cracked his mask of perfection.
Dhoni is a brand on its way down, believe some brand experts.
He may not be able to sustain the triple attack of a dip in performance, controversies around Chennai Super Kings and Rhiti Sports ownership.
"Dhoni is past his peak and while yes, cricketers have peaked more than once in their life, in case of Dhoni, that does not seem to be the case.
The number of brands in his kitty has come down significantly from 23 odd names to under 15," says a celebrity endorsement manager.
In 2012 after winning the ICC Cricket World Cup 2011, MS Dhoni was the face of as many as 22 brands, demanding anywhere between Rs 9 to 12 crore a year.
That has come down to around 15 brands reveal professionals in the know. However, he still leads his team-mates in terms of number of brands endorsed and the fee charged.
Fall in the number of brands endorsed is no measure of popularity however.
Sachin Tendulkar and Saurav Ganguly have associated with a handful of brands even at the peak of their game.
According to some experts what brands look for is visibility and consistency on the field.
For Dhoni, being the captain, visibility is ensured and performance has not been an issue.
However for a brand, image is everything.
"While his performance will lend his brand longevity, the controversies may dent credibility.
"Unlike Sachin (Tendulkar) who has a spotless image, Dhoni may not be preferred by any brand that looks at credibility as a core quality in their endorser," says a brand manager.
Brands have also turned to Virat Kohli as an alternative.
His brand endorsements and business ventures are handled by Bunty Sajdeh led Cornerstone Sports and Entertainment and he currently has about 10 endorsement deals, charging Rs 8 to 10 crore per year.
However, Kohli portrays an image very different from that of Dhoni.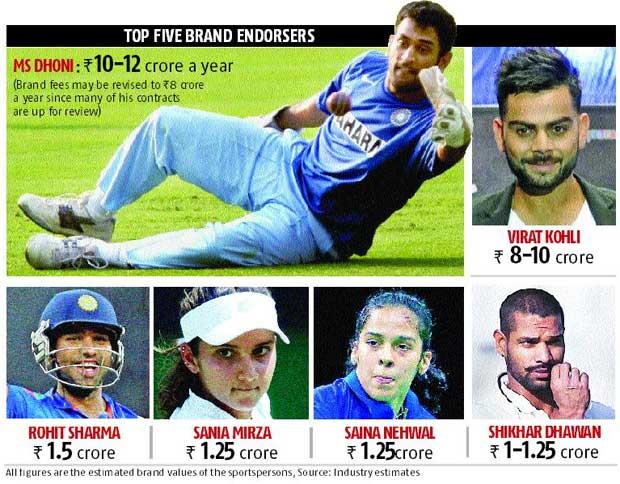 Sajdeh in one of his earlier conversations with Business Standard had said that Kohli consciously chose brands with a youth appeal.
He started off with FastTrack (Titan's sub-brand for watches, bags and sun-glasses for the youth) and currently is the face of brands like Oakley (eyewear), Mattel, Adidas, Vicks, MRF and Audi among others.
"Both Dhoni and Kohli are youth icons, but the former has a more mass appeal.
Kohli is the choice of brands targeting the young aspirants in urban areas, Dhoni can appeal in the non-urban areas as well," says one brand consultant.
He believes that Dhoni's appeal cuts across classes but there is a chance that his valuation may see a downward revision.
"We saw Shikhar Dhawan replace Dhoni as the face of Fashion Big Bazar a couple of years back.
"So the scope is there," he says.
Clearly Brand Dhoni is at a crossroad.
As Jaison puts it, "Dhoni's biggest challenge is to keep up his form as he grows older. Him quitting tests to focus specially on the ODI format augurs well in terms of reducing the load on him both physically and mentally.
"He is in a good position to compete at the highest level for a few more years." But Dhoni and his image managers have their work cut out.
Image: MS Dhoni asks for a review by the third umpire for the wicket of Nuwan Kulasekara. Photograph: Reuters