The turnaround in Honda Cars' fortune in India is as much a result of the general uptick in consumer sentiment as it is about the company's relentless focus on quality, rues Rohit Nautiyal
Honda City. Photograph: Kind Courtesy, Honda
What can the auto industry learn from the rise, the slide and the resurgence of Honda Cars India?

In this industry, a company's strategy needs to be adaptable in order to keep up with the pace of change.

Indeed, in a crowded market, all businesses should be identifying potential customers and their emerging needs and looking at ways to engage with them -- and ultimately convert them into loyalists.

Having absolutely the best of technology is vital for a business to be successful, and being able to plan for the future is paramount.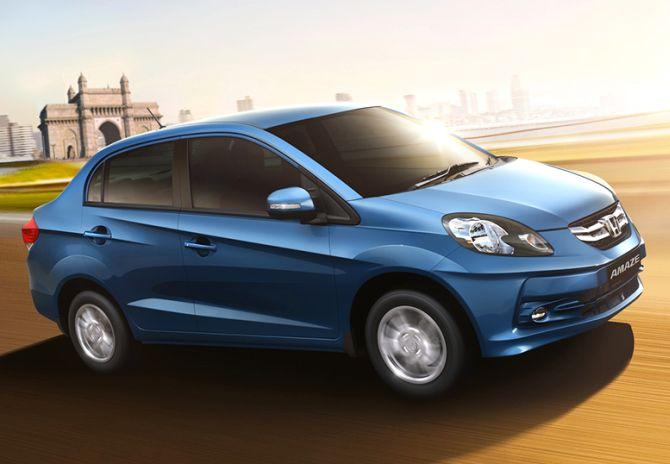 Honda Amaze. Photograph: Kind Courtesy, Honda
Of course, it can be difficult to predict exactly how and when a company will step into new segments -- particularly in the automobile industry -- but there's a great need to react to unknown demands and have an adaptable manufacturing line.

Japanese auto major Honda emerged as the third-largest carmaker in July this year with volumes rising 40 per cent to 15,709 units, overtaking home-grown Mahindra & Mahindra, which saw a 5 per cent slide in monthly sales to 14,708 units.

With a market share that has more than doubled from about 3 per cent in FY13 to almost 7 per cent (April-June FY15), Honda currently follows category leader Maruti Suzuki India and Hyundai that command about 44 per cent and 17 per cent market share respectively.

While its resurgence can be explained in part by the bounce-back in consumer sentiment in recent months, a large part of the credit goes to Honda's relentless pursuit of quality and innovation to stay relevant to the Indian consumer.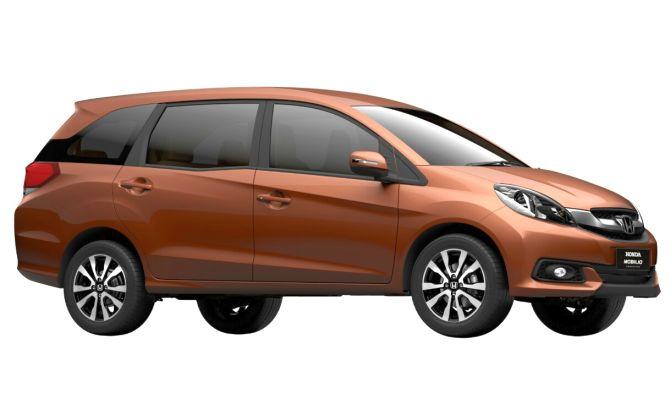 Honda Mobilio. Photograph: Kind Courtesy, Honda
The new areas of focus emerged largely after FY 2010-11, when the company posted perhaps its worst performance in the country (its market share that year in the passenger vehicles category was 2.36 per cent, according to figures from Society of Indian Automobile Manufacturers).

It happened like this: After the earthquake and the tsunami in Japan in 2011, Honda's supply chain was impacted very badly.

As a result, it announced a production cut in the Indian market triggered by the limited supply of critical components from Japan.

That was also the time Honda's Civic and Accord models had begun losing shares to Toyota Corolla and Skoda Superb respectively.

Soon after, its hatchback Jazz began to be seriously threatened by Volkswagen Polo and Nissan Micra. The situation was no better for the CR-V which faced stiff competition from Toyota's Fortuner.

It was time for Honda's India brass to go back to the drawing board.

Back to the basics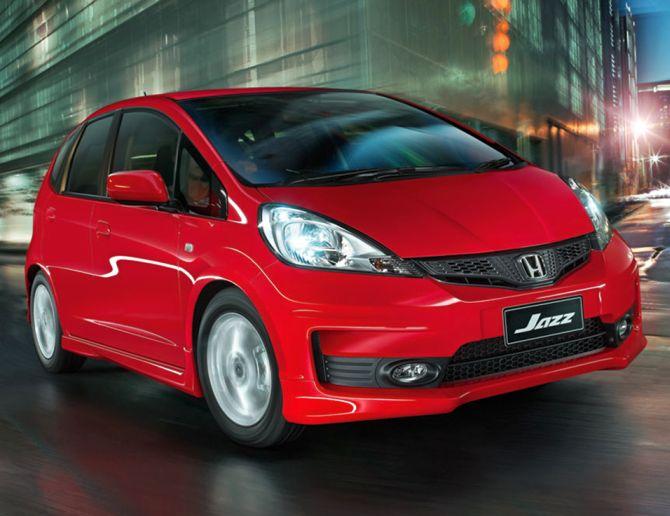 Honda Jazz. Photograph: Kind Courtesy, Honda
If one looks at the passenger car market in India, one trend comes out clearly -- no single player has managed to straddle all the segments with equal aplomb.

Usually as one moves up the value chain, wooing consumers becomes increasingly difficult. Honda got the top end covered with the City and the CR-V.

India's top two automobile companies Maruti Suzuki and Hyundai have consistently dominated the small car and premium hatchback market without much success in segments like premium sedan and beyond.

Jnaneswar Sen, senior vice-president, marketing and sales, who joined the company eight years back, says Honda's most precious possession is its premium image.

The company started its India innings with a portfolio of premium offerings priced upwards of Rs 700,000 comprising sedans like City and Civic and premium sports utility vehicle CR-V.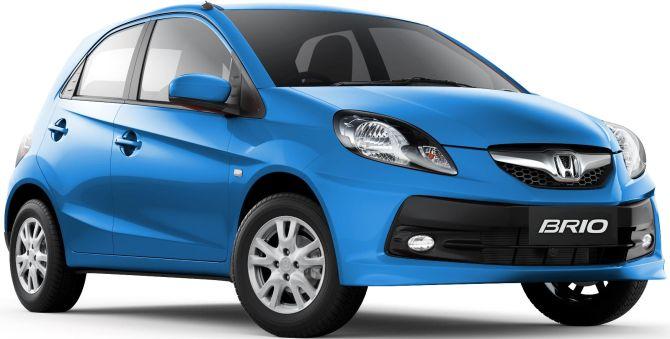 Honda Brio. Photograph: Kind Courtesy, Honda
He says, "At that point, we were established as a premium brand because of this portfolio. Since then our product range has changed significantly."

He is quick to add, "Premiumness has nothing to do with the kind of prices one is selling its cars at -- it is about the space a brand occupies in the mind of a consumer.

"We were a premium brand then and we are premium even today. What's different about Honda today is that we want to touch the lives of more customers," he adds.

And this notion of premiumness rests on the three pillars of durability, quality and reliability.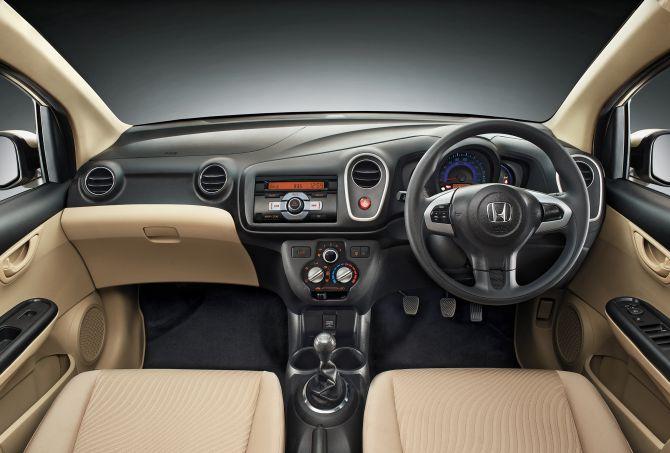 Honda Mobilio interior. Photograph: Kind Courtesy, Honda
The ownership experience, which depends largely on efficiency of its dealerships, is also an integral part of the company's premium positioning in the auto market.

So it was a real balancing act for the company to enter the value (small car) segment without compromising its premium imagery.

After the initial failure of Jazz, Honda got its act right in 2011 with the launch of its premium hatchback Brio.

More recently the company has plugged another gap in its portfolio with the launch of the multi-purpose vehicle, Mobilio.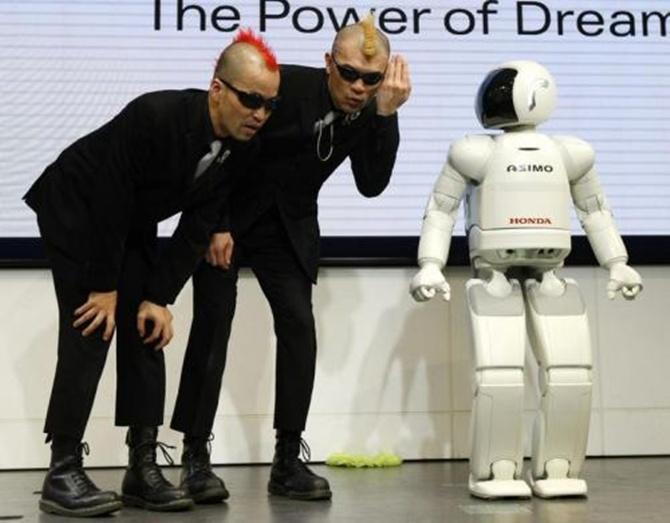 Japan's mime artists HIRO-PON and Ketch performs with Honda Motor's humanoid robot Asimo. Photograph: Kim Kyung-Hoon/Reuters
Does the tag of 'premiumness' carry a burden making it difficult for a company to come up with attractive offerings in segments that feature lower down in the value chain?

Says Sen, "As you go down the price ladder, the cost of maintenance and the resale value become more important.

"Honda has been focusing on these two aspects for its entire portfolio.

"Since the earlier City was out of the budget for many people, it had an aspirational value.

"Now vehicle financing becoming easy and therefore ubiquitous, we are focusing on keeping our cost of maintenance low."

Honda says a large number of Amaze and Brio customers are people who have bought a Honda car for the first time.

A big achievement is that people who buy Honda once stay loyal and tend to go for another Honda car when they are ready to upgrade.

"Even after three years of its launch, few Brios are available for sale in the used car market," says Sen.

Made for India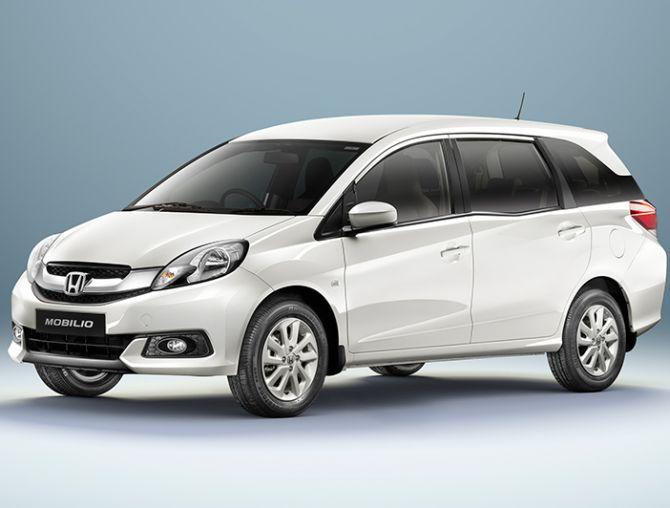 Honda Mobilio. Photograph: Kind Courtesy, Honda
One aspect of its emphasis on quality is Honda's focus on the market it operates in.
Just before the launch of Brio, Honda had launched a 'consumer familiarity' drive under which its executives were required to watch the lifestyle of its customers in India closely and take the insights to its global R&D centre in Japan to be used as inputs for all new launches and product upgrades.

This decision was a milestone of sorts in Honda's evolution.

For instance, while designing 2CV (the code name for Brio then), the company decided to study the profiles of i10 (Hyundai) and Swift (Maruti) customers.

Executives from its R&D centre in Japan flew down to India to be part of the home visit exercise.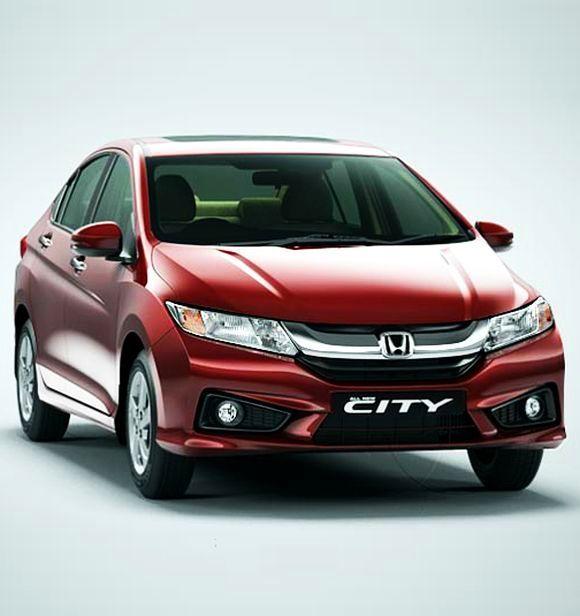 Honda City. Photograph: Kind Courtesy, Honda
The team saw how, despite living in small apartments, some Indian customers were really affluent and had a great sense of style that was reflected in their choice of household items.

Says Anita Sharma, assistant vice-president, HCIL, "One of the most interesting findings of these home visits was that the Indian car buyer was very symmetry-conscious, especially in terms of the choice of wall paint and furniture."

Though a simple observation, this helped Honda in designing the dashboard of the Brio.

To get a clear understanding of the legroom required in the car, the company planned a fun activity with its female employees.

Four women were selected and were sent for a long drive in the car prototype wearing Indian attire.

These women were observed closely to assess the comfort level while boarding and de-boarding the car and during the journey.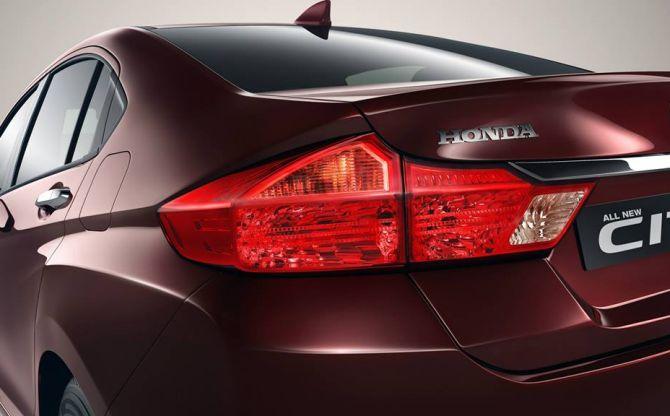 A Honda car. Photograph: Kind Courtesy, Honda
One interesting observation that came across was that in India, people are used to carrying large water bottles (one litre or so) to avoid consuming water outside.

Sometimes these bottles were just too big and would not fit snugly into the bottle holder slot in some of the older Honda models and in some vehicles made by other manufacturers.

This insight led the company to redesign a larger bottle holder which was incorporated in the Brio.

Flexing the distribution muscle

By the end of this fiscal, HCIL plans to grow its dealership network by 35 per cent.

Currently the company has a total number of 187 dealerships spread across 117 cities.

Since metros are reaching a saturation point with regard to dealership growth, 70 per cent of the targeted number will be located in Tier-II and Tier-III cities.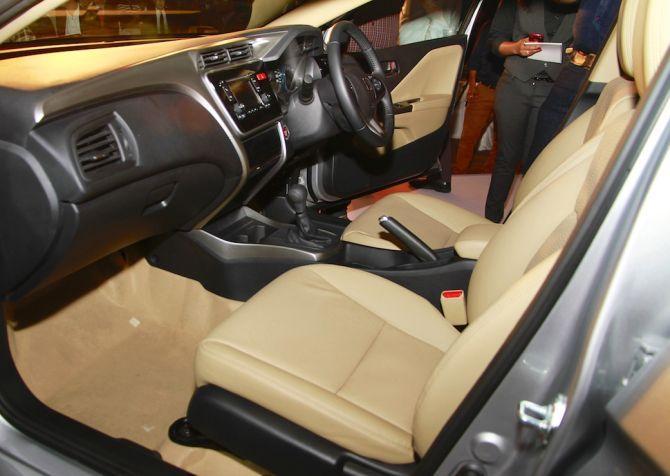 Honda City interior. Photograph: Kind Courtesy, Honda
Now look at the potential. In the last five months (April to August, 2014) Honda sold 73,187 vehicles.

While 40 per cent of this was sold in Tier-I cities, the remaining 60 per cent came from Tier-II and-III cities. In 2012, the sales ratio of Tier-I cities to Tier-II and Tier-III was just the opposite -- at 60:40.

Harmindar Sahni, founder of Wazir Advisors, is of the opinion that to achieve this goal faster, Honda can consider splitting its dealerships in two and streamline its sales and after-sales service.

While one cluster of dealerships can handle premium offerings like the new City and the CR-V, the other cluster can manage sales and after-sales for cars down in the value chain starting from Mobilio.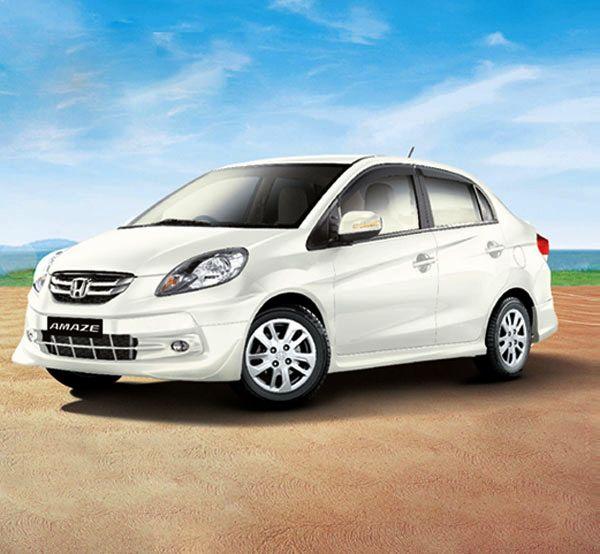 Honda Amaze Anniversary Edition. Photograph: Kind Courtesy, Honda
Honda, however, believes that providing such exclusivity in sales and after-sales support for higher-priced vehicles is not a viable proposition at the moment.

An interesting facet of Honda's premium positioning is that it was established mainly through word of mouth.

In its early days, below-the-line promotions and sporadic television campaigns were enough to fulfil its media requirements. But that was also the time when the company wanted to engage only with high-net worth customers.

Some 10 years after launch, as the company geared up to go mass with Jazz and Brio, it was imperative to focus on above-the- line media, especially television.

And now as the company expands its dealership network in smaller cities, reaching out to these areas with print campaigns will be expensive. So television will be the main weapon in its arsenal.

The company has already launched two campaigns this year for the new City and the Mobilio.

Mall activations for the Mobilio were amplified by linking it to a selfie contest on social media.

Digital and social are important facets in Honda's media mix, especially during new car launches.

Both 'The Greater Drive' campaign for the new City and the 'That's my ride' campaign for the Mobilio centre on families presumably to build an emotional bond.

If media reports are anything to go by, the company will push the envelope by developing a small car priced below Rs 400,000.

If HCIL gets it right this time, it can actually attain the tag of being the only auto company in India to sell star products to its customers across the value chain.

Says Sen, "There is nothing revolutionary about what we have achieved by remaining customer-centric.

"We are just entering a new phase of our evolution in which we will be addressing a new set of customers."

There's no doubt that Honda is faring extremely well against its competitors at the moment.

However, in order to remain productive and keep ahead of technological advances, the company needs to ensure it has the best systems and processes on board and recognise when it may need to step beyond its comfort zone.