There is an interesting name OLX gave the idle stuff lying in our homes: brown money.
Over lunch, OLX CEO Amarjit Singh Batra tells Uttran Das Gupta how the company is weaning Indians away from their "irrational emotional attachment to things."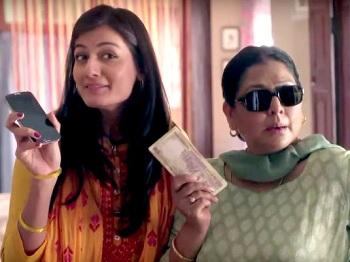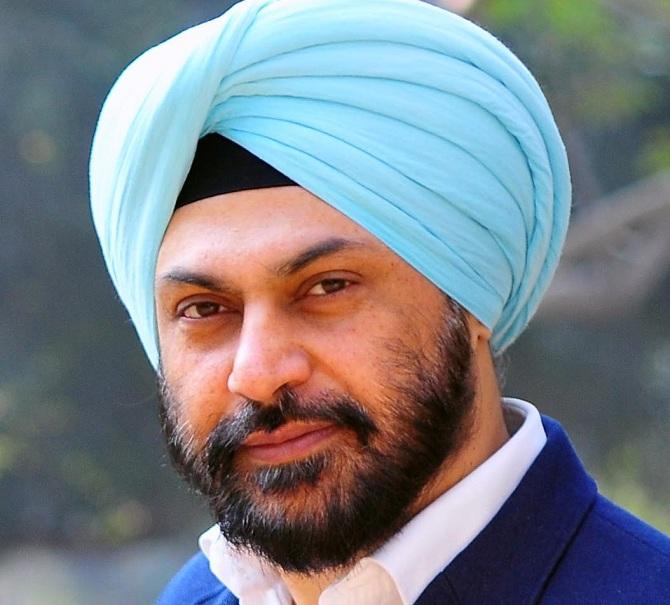 IMAGE: Amarjit Singh Batra, CEO, OLX India. OLX, an online marketplace with operations in 45 countries, was founded in 2006 by Fabrice Grinda and Alec Oxenford. Photograph: Amarjit Singh Batra/Linkedin.com.

To run the gauntlet of the daytime traffic and go to Gurugram, on the outskirts of Delhi, for lunch is daunting, so I decide to take the Yellow Line metro from Malviya Nagar. Not that it helps; I reach the Guru Dronacharya metro station on the dot of noon, when I am supposed to meet Amarjit Singh Batra, chief executive officer of OLX India. It takes me another 15 minutes to get to Le Méridien, where I find him waiting for me at a window-side table of the multi-cuisine restaurant, Latest Recipe.
The two things I observe immediately about him are his impressive yellow turban and his warm reception. It's as if he has invited me to lunch, not the other way round.
"I often have my lunch meetings here, as it is near my office," he says. "Where are you coming from?"
When he learns that I live in south Delhi, he empathises. "It's so much better than Gurgaon, isn't it? But the traffic is a killer."
We don't hesitate to place orders: starters and main course.
OLX, an online marketplace with operations in 45 countries, was founded in 2006 by Fabrice Grinda and Alec Oxenford. The initial aim of the company, registered in Argentina, was to be an alternative to Craigslist outside the United States.
In 2010, South African media conglomerate Naspers acquired majority stake in the company, expanding it to 95 per cent in 2014.
The company began an aggressive advertisement campaign in India in 2011. ("We've been in India for eight years," Batra corrects me, when I ask him if they began operations in the country five years back. He has been here since the beginning.)
By 2014, it had 60 per cent of the online classifieds market and 1.5 million monthly views.
"In India, people don't like to sell," he says. "There is a latent demand -- the challenge is to change it into an active one."
According to a study (CRUST: Consumer Research on Used Goods and Selling Trends) conducted by OLX over three years, the amount of goods lying idle in people's houses is enormous.
"In the first year, we find out goods worth Rs 35,000-40,000 crore; in the second year, it was Rs 55,000 crore; and in the final year, we found Rs 78,000 crore," says Batra. "Think of what we can do if that is brought into the market."
There is also an interesting name OLX gave the idle stuff: "brown money". That's because lying around people's homes, these gather on them a layer of brown dust. "Quite unlike the black money lying in people's homes before demonetisation," he adds.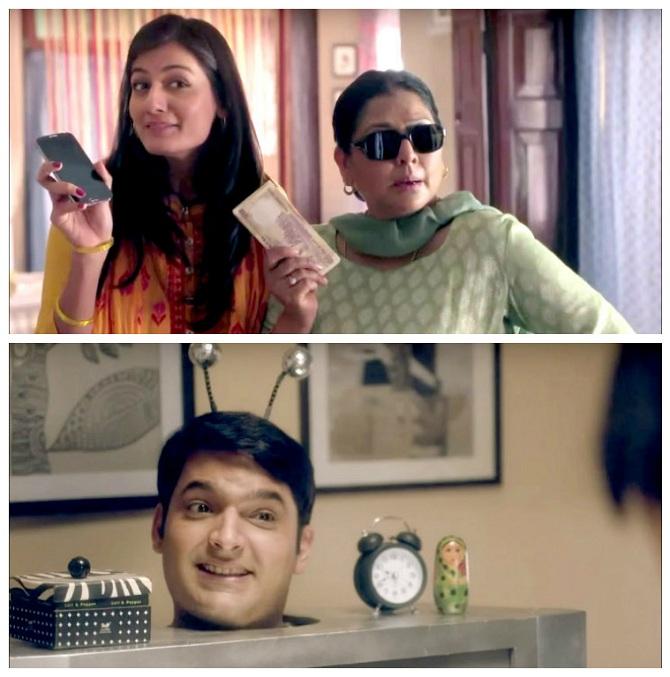 IMAGE: To combat Indians' "irrational love for their possessions", OLX decided to "invest an irrational amount of money" in the creative aspects of their advertising.

For starters, we have beetroot kebab and chicken lasuni kebabs. A vegetarian kebab is anathema for a vehement non-vegetarian like me, but Batra is a regular here. Conveniently, I leave the choice to him and don't regret it. When he learns I'm from Kolkata, he tells me how he has lived at ChittaranjanPark for a few years.
"Yes, yes, it's more Kolkata than Kolkata," I tell him.
"The fish is really fresh at C R Park," he adds. "That's where I developed a taste for it."
To get the "brown money" out of people's homes was no easier than its darker counterpart. For Batra, who was venturing into virgin territory, it required unconventional thinking.
"Now, we all use the internet because of WhatsApp, and have a 3G or 4G connection on our cell phones, but this was not so four-five years back," he says.
So, unlike online firms that targeted people who used the internet -- a small anglophone minority in a few urban centres -- the OLX team went for those who did not.
Wasn't that counter-intuitive? "Well, in every house, there would be one person using the internet. We decided to leave them alone and target everyone around them," he says. "If they knew they could buy or sell online, they would find the person at home who could help them do that."
The idea came to him when he tried to use a cyber café in a village.
What he and his team also found in the course of their research was the irrational emotional attachment that people had to things. So, they launched an advertisement campaign attacking that, "Let what you love live".
One of the most popular advertisements in this series was of a young cricketer whose dream is squashed as he has to start working at his father's business unit, but after he sells his favourite bat to another young player, it continues to successfully score centuries.
"People have an irrational love for their possessions, and we decided to invest an irrational amount of money in the creative aspects of our advertising," he says, laughing.
The fact, however, is that the advertisement campaigns of OLX have been so successful that, according to some people, it is now a popular slang for selling. For instance, it is not uncommon to hear people say, "If you are not using that chair, why don't you just OLX it?"
Of course, these days, one can hardly talk about buying and selling without talking about demonetisation. Batra is not hesitant to claim that he supports it.
"You know, the problem with this country is we are too chaotic, undisciplined," he says. "I'm from an army background and I respect discipline, though I'm not as disciplined as my father. But I think, as a country, we like to break rules. A lot of us would be happy not paying our taxes, or not following regulations. For the government also, it is a learning process. They should be able to incorporate the best practices in our system. And, once this corruption is gotten rid of, with the kind of innovative minds we have, the economy of this country will just take off."
While he thinks firewalls protecting specific interests are no good, there should also be good practices and regulations, especially to professionalise all sorts of jobs. "Think of house dealers and car dealers -- anyone can become one. So, how do you trust anyone? If these are professionalised through licences or training, it would make all jobs more respectable."
The main course is finally served: chicken chettinad, paneer, butter naan and roti.
As we dig in, he reveals to me the other source of his love for discipline: sports.
"I've played about 10 different sports, though I have always been good with the racket," says Batra. In college he was a tennis player, and now, he is a squash enthusiast, and plays regularly despite his demanding schedule.
The other thing that takes up his free time is reading. "I don't read fiction," he says. His reading interests revolve around marketing or corporate personalities. At OLX, any employee can order a book for the office library, and borrow it. "But when they return it, they must write a short note explaining what they read," he adds. "After all, at OLX, we are trying to create a culture, cultivate habits for a change."
At that point, he orders a green tea, and I a cappuccino.