The decline is attributed to lower salary growth and a rise in households' financial liabilities, discovers Krishna Kant.
Illustration: Dominic Xavier/Rediff.com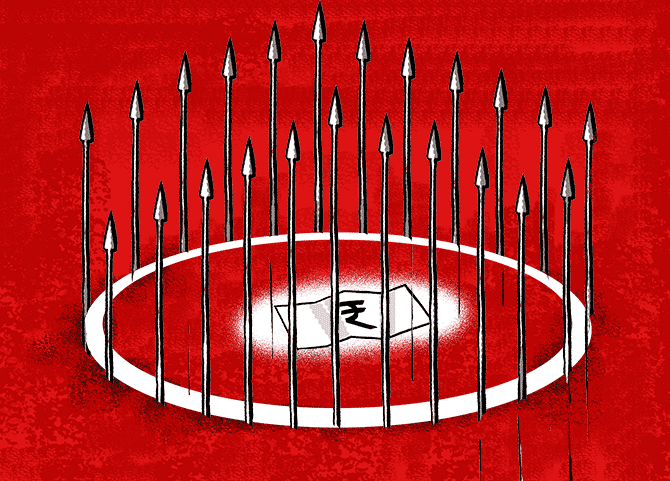 The household savings rate continues to decline and has touched a two-decade low in 2016-17.
Household savings as a proportion of the gross domestic product at current prices declined to 18.5 per cent in 2016-2017, the lowest rate since 1997-1998.
The figure was 19.2 per cent in 2015-2016, and 25.2 per cent at its peak in 2009-2010.
Initially, the decline was led by physical savings -- households' savings in real estate and bullion -- but financial savings are now showing strain.
Household financial savings were down 10 basis points in 2016-2017 to 7.8 per cent of the GDP against 7.9 per cent in 2015-2016.
This is the first year-on-year decline in the rate of financial savings in the last two years, and the biggest drop in five years.
At its height in 2009-2010, financial savings by households was 12 per cent of the GDP.
The analysis is based on historical data on savings as estimated by the Central Statistical Organisation. The savings estimates for 2016-2017 have been sourced from Emkay Global Financial Services.
Financial savings include bank and non-bank deposits, claims on the government, insurance funds, and provident and pension funds besides direct and indirect investment in shares and debentures.
Total household savings is gross physical plus financial savings net of household financial liabilities (outstanding loans).
The household savings rate is falling at a time when the financial market's dependence on domestic investors is at a multi-year high and the flow of retail money into mutual fund schemes is at its peak.
Investment in shares and debentures accounted for 3.4 per cent of total household savings in 2016-2017, the highest since 2009-2010, according to Emkay Global Financial Services.
"A strong rebound in retail inflows into equities beginning in the middle of 2014 has been central to the current bull run, especially in mid- and small-cap stocks. Its sustainability is, however, questionable given the growing pressure on savings, including financial savings," says Dhananjay Sinha, head of equity research at Emkay Global Financial Services.
In value terms, gross household savings at current prices are 23 per cent higher cumulatively in the last three years, growing at a compounded annual rate of 7.1 per cent since 2013-2014.
In the same period, the GDP at current prices was up 35.2 per cent, growing at a compounded annual rate of 10.6 per cent.
In 2016-2017, households' financial savings were up 8 per cent against 11 per cent growth, year on year, in the GDP at current prices.
The recent decline in financial savings is attributed to deceleration in salary growth and a steady rise in households' financial liabilities.
"Salaries and wages are the biggest source of financial savings for households and there has been a sharp deceleration in employee compensation in recent years due to poor corporate earnings," says Sinha.
"Salaries are now growing at 6 to 7 per cent per annum, slower than the corresponding rise in personal loans, exerting pressure on financial savings," Sinha adds.
Personal loans issued by banks and listed retail non-banking finance companies were up 16.6 per cent in 2016-2017.
Economists also attribute the slowdown in the household savings rate to stress in the informal sector of the economy.
"In national income accounts, households include all entities outside the private corporate sector and the public sector, including general government. Basically, this includes unregistered businesses, small-scale manufacturing and mom-and-pop stores, apart from individuals," says Devendra Pant, chief economist and head of public finance at India Ratings.
"This sector bore the brunt of the recent economic slowdown, leading to de-growth in income, savings and investments," Pant adds.
Households are the biggest source of savings in the economy, accounting for nearly 60 per cent of all savings, on average, in the last five years.
Lower household savings have depressed the overall savings rate.
This has negative implications for the investment cycle, as nearly 90 per cent of the country's investments are funded by domestic savings.
"A decline in household savings will translate into lower capital expenditure for the private sector. This, in turn, will exert downward pressure on economic growth," says Pant.
According to him, a sustainable recovery in economic growth is not possible without an uptick in household savings.