His compensation in FY17 was more than the combined salaries of the entire boards of TCS, Wipro and Infosys.
'I am a self-made man from a very modest background,' Tech Mahindra's CEO C P Gurnani tells Shyamal Majumdar.
Illustration: Dominic Xavier/Rediff.com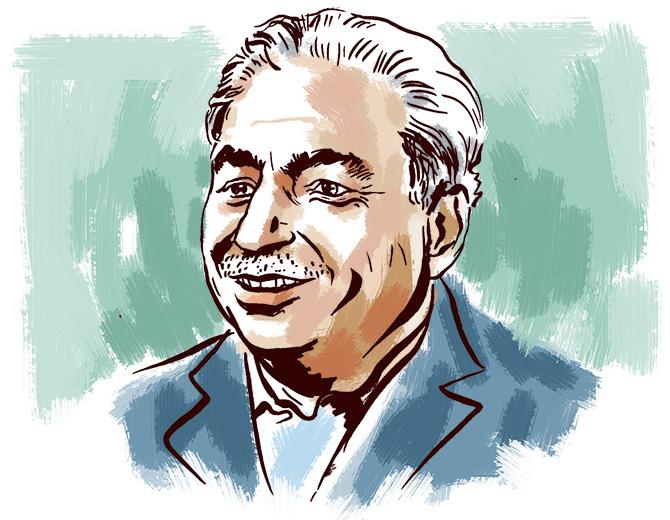 India Inc's promoters and chief executives usually hate any discussion on their pay packets. But C P Gurnani has no such problem.
He says he is "extremely proud" of the fact that he became India's highest paid CEO in FY17, with a total compensation of Rs 150 crore (Rs 1.5 billion).
"I am a self-made man from a very modest background," he says.
In any case, he firmly believes he has earned every one of those rupees. He hardly gets to see his family as he is abroad for more than 20 days a month to meet clients and employees.
In fact, he now hates the sight of a plane and the comforts of a hotel room.
"I suppose you have to be in mission mode. You have to tell yourself to keep doing it and enjoy it. That's where the adrenalin rush comes from," says the Tech Mahindra managing director and chief executive officer.
As we head towards the canteen at Tech Mahindra's sprawling campus in Noida, I experience a lot of the 'enjoyment' part.
He seems to know everybody by his or her first name. And in cases where he doesn't, the names are replaced by "dada" or "buddy".
Gurnani obviously wants to walk the talk about him being a people's CEO and is a strong believer in demonstration effect.
I persist with the point about his salary. How does he respond to comments that his compensation in FY17 was more than the combined salaries of the entire boards of TCS, Wipro and Infosys?
And what about the perception that it is disproportionate to the recent performance of TechM? Gurnani is unfazed, and says there has been unnecessary hype over the issue as the amount includes the perquisite value of stock options of Rs 147.20 crore.
The stock options, which were granted to him earlier, were exercised during FY 17; so that's not an apple-to-apple comparison.
He isn't over yet. "The money hasn't changed anything as far as I am concerned. I stay at the same house, eat the same simple food and along with my wife, run Titliyan," he says.
Titliyan is a non-governmental organisation working for underprivileged children and Gurnani says he has requested the Uttar Pradesh government to allot some more space -- maybe a school building -- so that the work can be scaled up.
We are the only ones in the canteen and the office boys obviously know that the boss is a man in a hurry; so the food is swiftly laid out and I get a first-hand experience of the simple food he was referring to.
Lassi, sprouts, an assortment of vegetables and dal are served fast along with rotis and rice. Gurnani skips the last two and concentrates more on the sprouts and lassi.
I take the opportunity to change the topic to Satyam. After all, his moment in the limelight was when he played a pivotal role in the three-year journey of Mahindra Satyam and led the company's eventual merger with TechM.
Gurnani is at his candid best and says he would be lying if he says those days in 2009 were not stressful.
He recalls the time when a couple of his close colleagues in senior positions submitted their resignations saying the Satyam acquisition was too risky a gamble and they did not want to be part of it.
Then, during one of the board meetings convened to discuss the proposal to take over Satyam, one of the advisors used the imagery of a beautiful person suffering from a terrible infection to describe the state of the scandal-ridden company.
That imagery shook his confidence and he did wonder whether he was doing the right thing.
At the end of the day, however, his basic optimism prevailed and he refused to leave the game in the middle.
It was also a great lesson on how to turn a crisis into a great opportunity by breaking the problem into small pieces and taking calculated risks.
In the first year of acquisition, he travelled for 300 days just to meet customers and employees, as they were the ones who really mattered.
Gurnani plays down the current uncertainties in the information technology industry by terming them just a temporary blip.
After all, it is only technology that is going to drive the transformation all around. That is why TechM is in the midst of a digital transformational journey, called 'IT to DT'.
The company plans to change the business mix, with 50 per cent of the business coming from the new age and digital services (compared to around 22 per cent now).
He goes back to talking fondly about his early days at various companies, including in Fenner India that gave him a car as a perk.
"Coming from a family whose only prized possession was a scooter, getting a car in 1983 and working for a multinational were a big deal", but his feeling of having "arrived in life" was short-lived as he soon figured out this was not an industry that would grow.
That led to his switch to the information technology industry in 1986, with HCL in Delhi.
Gurnani recalls with glee how he got to choose his own boss when he joined HCL Perot Systems.
He figured out that his CV wasn't strong enough to lead the joint venture and hence, he did the next best thing -- recommend the name of Vineet Nayar who had joined HCL as vice-chairman after a stint at the World Bank.
Nayar was a good friend despite the age difference between them. Fortunately, the deal worked out and Nayar agreed to become the CEO, giving Gurnani an opportunity to pull his leg often.
That relationship has lasted through the ages and Gurnani repeatedly refers to Nayar as family, friend, mentor, philosopher -- everything.
The lunch is over quite fast and Gurnani suggests we walk back to his office and have tea. He goes down memory lane to talk about his father, who worked for the Central Bureau of Narcotics, and was a man of principles -- reason perhaps for his frequent transfers.
His only regret in life is that he could not spend enough time with his parents because of his hectic schedule over the past so many years.
Budgeting is something he learnt from his mother who was always struggling to run the house on a single government salary.
"She was learning on the job -- something I am doing even now," he says with a touch of emotion in his voice.
He remembers one incident that taught him to think ahead and plan for the future. His mother would stitch his trousers, which always had a margin inside to increase the length further as and when required.
He has applied that lesson at TechM as well: All the company's programmes are frugal and planned in a way that they can be tweaked and applied for the future.
He has applied it even in his personal life: While building his house in Noida, he left scope for modular expansion so that the future requirement could be taken care of. "Cherishing my parents' memories is my way of holding on to the people I loved the most," Gurnani says.
The hot cup of tea perhaps helps to change his mood and Gurnani says like most students in his age group, his sole ambition in life after leaving school was to study in a local institution called Maharaja College and "chase girls" in Maharani College.
But his father got transferred and he landed up at the National Institute of Technology, Rourkela, to study chemical engineering.
"My wife and I still have a good laugh when I narrate to her my unfulfilled ambition as a 16 year old," he says.
As we wind up, Gurnani, 58, says whenever he can, he goes back to Neemuch in Madhya Pradesh where he was born.
No one knows him there any more, but there is a memory in every nook and corner of the place. By DNA, he says, he is still a small town guy and his ultimate dream is to own a lake-facing house in Udaipur, which is close to Chittorgarh where he spent most of his childhood.
That dream, however, will take a while to be fulfilled, going by his 24x7 work life.