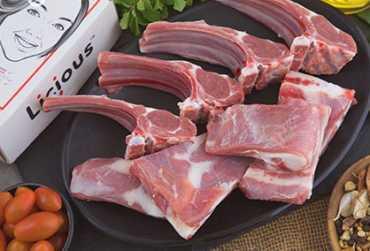 With India already having a huge population of meat eaters and about 70 per cent of the people being non-vegetarian, Indian entrepreneurs are hotting up the online meat market, reports Samreen Ahmad.
About 70 years ago in a district in Gujarat, milk farmers went on a strike to protest against middlemen, angered by manipulative practices of the trade.
Hence, the government intervened and a white revolution came into being, transforming the milk industry forever.
Amul was born, and it became the most successful brand of milk-based products in India.
Two entrepreneurs in Bengaluru are nurturing the same dream for the fragmented $35-billion meat industry in India. They are looking to create a brand in the unbranded meat market.
"When you buy an Amul butter packet, you don't check what's inside because you trust the brand. Similarly, we want to create a trustworthy meat brand in India," says Vivek Gupta, co-founder of Licious, India's first online meat market.
With changing consumer behaviour, Indians have started consuming packaged milk, water, curd, wheat and spices. The start-up is transferring meat from black polythene bags to transparent packets so customers can see what they consume.
As India already has a huge population of meat eaters, with about 70 per cent of the people being non-vegetarian, theirs is not a demand-driven but quality-driven business, they say.
Despite food safety risks being the highest in animal products after water, about 90 per cent of the Indian meat industry happens to be unorganised, with lack of safety standard.
"The industry has made people believe that getting good quality meat is a once-in-a-while phenomenon. We want to provide safe and hygienic meat every time a consumer buys from us," says co-founder Abhay Hanjura.
The company is working with agri-partners who manage farmers in several states such as Karnataka, Telangana, Odisha and Assam on their behalf, to procure antibiotic and pesticide-free meat and fish.
Apart from curry cut, boneless, cold cut, and marinated forms of chicken, lamb, goat and fish, the Bengaluru-based firm is soon going to launch a packaged foods range, which will have fresh meat-based spreads, soups and pickles.
While the company is serving in Bengaluru, Delhi-NCR and Hyderabad, it is coming up with its third processing plant in January next year, which will be located in Mumbai and cater to consumers in the city, apart from Pune.
The three-year-old company follows a farm-to-fork model.
It ensures the right feed is given to livestock and healthy breed is slaughtered as per government norms, after which it is transported in a cold chain environment to the processing plants for the meat to be cleaned, cut, tenderised naturally, and packaged according to the safety norms.
The start-up recently received the top safety mark for adhering to the global standards in quality, hygiene and food safety in its products.
With demand for quality and hygienic meat rising, investors are also seeing a meaty opportunity in the segment.
Backed by investors such as Mohandas Pai, Kanwaljit Singh, Mayfield India, 3one4 Capital, and Sistema Asia Fund, the company has so far raised $13 million.
Competitor ZappFresh is also catching up, and it raised $3 million in funding recently.
Other players such as EasyMeat and Nandus are also seeking a piece of the fragmented meat market.
With revenue of around Rs 1 billion, Licious aims to become a Rs 25 billion business over the next five years.
The company, which serves over 200,000 customers, is adding 15,000 consumers month-on-month and is fulfilling about 5,000 orders per day.
Photograph: Kind courtesy licious.com