Most airlines lose 25 to 30 pilots and crew a year.
Vistara has lost only 2 pilots in 18 months, discovers Anjuli Bhargava.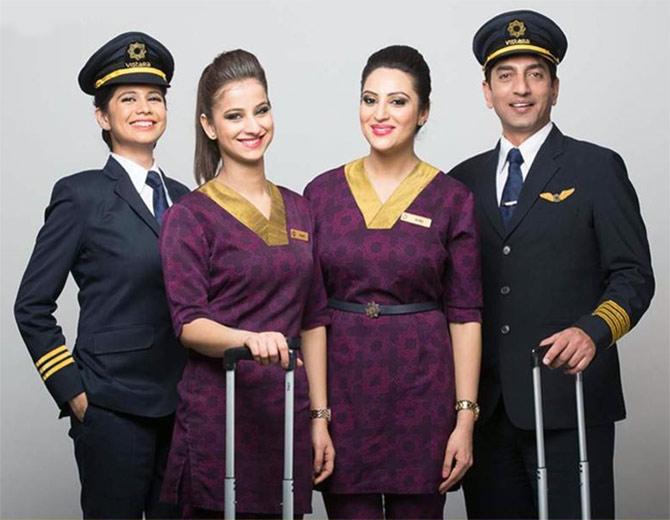 IMAGE: Vistara crew members. Photograph: Kind courtesy Vistara/Facebook
An airline cannot run without a pilot or crew.
Yet, the world over, the most ignored are these two categories of employees, which routinely leaves them feeling that they are not a part of the airline.
Often, strikes by airline pilots hog headlines, whether in India or in many Western countries.
Almost all leading airlines, including the likes of Lufthansa and Air France, have lost man days, revenues and sleep, dealing with protesting pilots.
In India too, airlines have, at various stages, encountered problems with their pilots. In many airlines, all too often there is almost a 'hostile' relationship between pilots and crew and senior management.
In the past, when Indian Airlines and Air India faced severe financial troubles, the management would say that pilots remained focused on their own interests and wanted their salaries and allowances to remain intact, despite the company being in the doldrums.
More than one officer would complain that pilots can't 'see beyond the end of their nose.'
Low-fare airlines in India have also consistently seen fairly high attrition rates among pilots and crew.
It is not unusual for airlines to lose 25 to 30 pilot and crew members every year.
Even IndiGo, the largest low-fare airline in India, has consistently had problems with its pilots and, according to news reports, has seen a fair number of exits this year.
While not all pilots leave due to handling issues -- many leave for better prospects or due to personal reasons -- this has been a weak spot for the low-fare airline, which otherwise seems to run like clockwork.
This, despite the fact that the IndiGo contracts and terms are, if anything, more attractive than most competitors.
Not just IndiGo, almost all the low-fare airlines -- be it SpiceJet or GoAir -- have had their share of pilot and crew problems.
Pilots, on the other hand, have often felt that they are not treated as part of the organisation. The physical distance -- the nature of their work is such that they report directly at the airport and leave from there -- manifests itself in a mental distance since, more often than not, pilots don't end up visiting the head office.
And, more than one pilot says that they are often treated as outsiders.
It is with this in mind that Phee Teik Yeoh, the CEO of Vistara, has started a unique engagement exercise with his pilots (around 150 at present) and crew.
The nature of their works implies "we hardly see them," he says, adding that because there is no real opportunity to interact with them, an additional effort is needed to make them feel a part of the organisation.
"We need to double, triple, quadruple our efforts."
Yeoh meets the pilots and crew on a quarterly basis. The meetings, held in a club near the head office, are usually well attended.
He says he feels happy when he sees pilots in uniform -- those who have just come off duty but don't want to miss the meeting.
"For the cabin crew, I try to attend all graduation classes. Plus, I make it a point to be at the airport once every week, interacting with my team at the airport operations centre as well as the crew reporting for and from work," he says.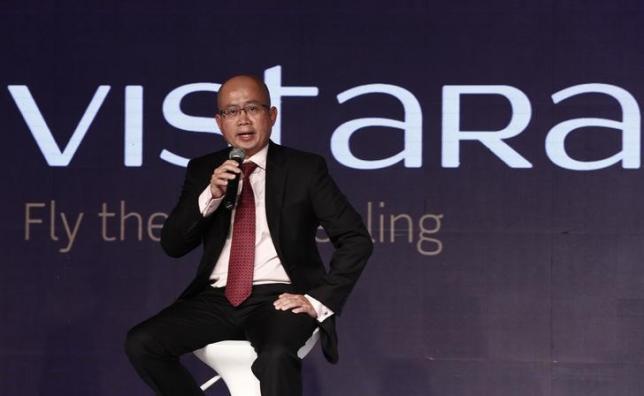 IMAGE: Phee Teik Yeoh, CEO, Vistara. Photograph: Adnan Abidi/Reuters
Yeoh says that every time he travels, he ensures that he interacts with the team on board to get insights into "what's occupying their thoughts and to get a sense of customers' response to their product and services."
In addition to this, the airline has started a Chai Pe Charcha, where Roshan Joshi, the senior vice-president (operations), who personally knows every pilot, holds tea sessions at a cafee near the head office where all pilots are invited.
Although attendance is voluntary, sessions are held every month with around 10 pilots in attendance each time.
"We listen to their smallest problems and try to resolve them. Several valuable suggestions also come from our pilots," says Joshi who is credited within the airline for having set up an effective communication dialogue with the pilot community.
The idea was mooted and started soon after the airline started commercial operations in January 2015. The sessions are now held at the end of every month.
Pilots and crew are also invited to every town hall held by the organisation. And they attend and actively participate in these.
Yeoh says the credit goes to his flight operations team, headed by Joshi, which has "inculcated a great work culture" among the pilots and crew.
The results speak for themselves: attrition rates are remarkably low and Vistara has lost only two pilots since it started operations in India over a year-and-a-half ago.
Shivank Mathur, 29, has been with Vistara since September 1, 2015.
The senior first officer and assistant fleet safety manager, who was earlier with Air India for eight years, says that working for Vistara has been a completely "novel" experience.
"It's a very different world for me," says Mathur.
He was taken aback when he first saw the office, which had no cabins or partitions and where the CEO sat along with the rest of the staff.
In most places, he says, there would be three different levels -- of personal assistants, secretaries and so on -- to cross before one could get to meet the 'boss.'
"My chances of meeting the prime minister of India were higher than meeting the director-operations," he says in jest.
Mathur says it took him some time to break the barriers within himself and get used to this open culture.
"I wasn't used to speaking so freely to anyone, let alone the senior-most people in the airline."
Both the town hall and Chai Pe Charcha initiatives at Vistara, he feels, help break barriers between the pilots and crew and the rest of the airline staff.
Manjuli Sharma, 43, who has spent 17 years with Jet Airways and Kingfisher Airlines, joined Vistara in September 2014 and commands the A320.
Other than finding the recruitment process more rigorous, she feels the culture and openness at Vistara are something she has not experienced in her career before.
Within days of her joining she was asked to also help out in office and took on the role of deputy general manager of flight operations.
"They had actually studied my CV to see what else I could do and how I could be best involved," she says.
Sharma says that while both Jet Airways and Kingfisher Airlines were quite professional in their approach, Vistara is making a huge effort to make pilots feel at home in the organisation.