Since the note ban was announced, auction houses, galleries and art fairs are witnessing lukewarm sales -- even with masters like Souza, Raza and Padamsee. Ritika Kochhar reports.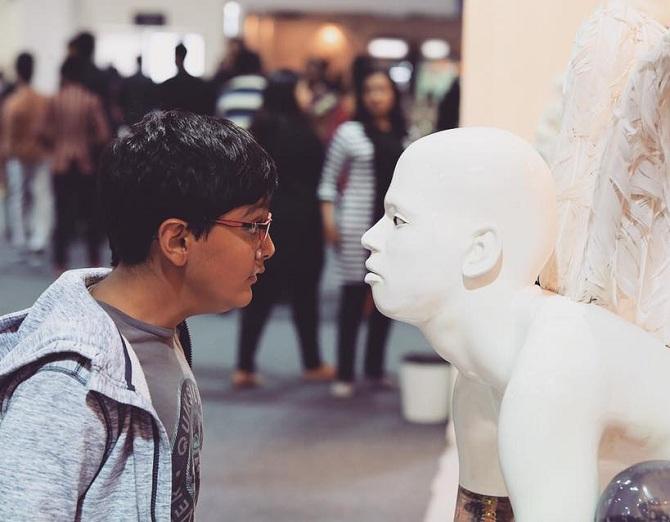 IMAGE: At this year's India Art Fair in New Delhi. Art observers felt a muted reaction here, just as they did at the three art auctions held since November 2016, when the government demonetised high-value notes in a bid to flush out black money. Photograph: Courtesy India Art Fair/Facebook.com.

The India Art Fair, held every winter in Delhi, has set the standards for the South Asian art world as collectors gather from India and abroad and galleries and artists display their finest and most creative works.
This year, it has a new investor as well. MCH Group of Switzerland that owns the powerful Art Basel franchise bought a majority stake (60.3 per cent) in September.
MCH's first action was to overhaul the fair's website and develop an app through which viewers could download images of the artworks they like. Its entry has perhaps led to galleries from West Asia and Europe showing up this year.
Yet, there are few lavish spectacles like the works of Rina Banerjee, Alberto Echegaray Guevara or Wim Delvoye inside or graffiti artist Daku's works outside the Fair tents, although there are a couple of fantastic works by Sudarshan Shetty and Mithu Sen.
At least one gallery has a sign saying "stopped at customs" on the plinths reserved for works by a Bangladeshi artist and though Subodh Gupta stopped by and bought a work by Youdhisthir Maharjan, a Nepalese artist, within the first few hours, most galleries are guarded when asked about sales, but insist there have been serious queries.
This muted reaction was also felt at the three art auctions held since November 2016, when the government demonetised high-value notes in a bid to flush out black money.
Christie's' auction in December 2015 had raised Rs 97.7 crore, the highest for any auction held in India, and an untitled work by V S Gaitonde fetched a record Rs 29.3 crore.
Yet, in December 2016, Christie's' two-part auction raised a total of Rs 72.17 crore.
Similarly, Delhi Art Gallery's auction in December had mixed results when it sold only 45 of the 70 lots on offer, totalling Rs 12.99 crore (without buyers' premium).
Saffronart's online auction on modern and contemporary South Asian Art in the end of November sold three-fourths of the 105 lots and raised Rs 14.46 crore.
Many of the works, even by masters like Souza, Raza and Padamsee, sold at close to the lower end of their estimated prices.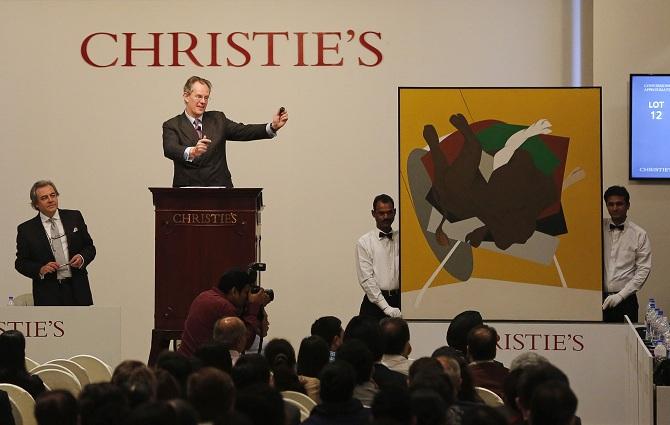 IMAGE: A Tyeb Mehta on auction. "Contemporary art doesn't sell that well from galleries as it does from auctions. People will pay Rs 20 crore in an auction for a Tyeb Mehta, but not from a gallery," says Renu Modi of Gallery Espace. Photograph:

Shailesh Andrade/Reuters

.

A main reason for this muted response could be the demonetisation that happened in early November. This lends credence to the charge that stashes of unaccounted cash had found their way into the art market. Hearsay has it that future works of mid-career artists have been bought during this period, with cash given upfront.
Gallery owners, auction houses and art investment firms see demonetisation as a way to clean up the Augean Stables.
Arvind Vijaymohan, the founder of Artery India, an art market intelligence firm, is optimistic about the effects of demonetisation on the credibility of the art world. "Sure, sellers are feeling the pinch and holding on to their artworks. But at some level, it's been a cataclysmic change."
According to Vijaymohan, auctions have brought transparency into the market. "Contemporary art doesn't sell that well from galleries as it does from auctions. People will pay Rs 20 crore in an auction for a Tyeb Mehta, but not from a gallery," Renu Modi of Gallery Espace says.
Tunty Chauhan from Gallery Threshold feels buyer will soon shrug off the demonetisation blues.
"There's been hesitation to spend money so far. In retrospect, I think it's been the best thing to happen to art overall. There's now transparency for the customer and an artists' works can't be sold for different prices," she says.
According to Chauhan, the focus will now shift to the primary markets. "The value of an artist's works will be decided by the customer and this will help make the artist confident of the pricing."
This will possibly be helped by the fact that the Budget banned all cash dealings above Rs 3 lakh.
IMAGE: At the Kochi-Muziris Art Biennale in 2015, artist Lavanya Mani used the Indian textile technique of Kalamkari to create Travellers Tales -- Blueprints. A move to tribal and folk art could be the next big thing. Photograph: Dominic Xavier/Rediff.com.

Most galleries have decided to wait and watch how the sentiment unfolds.
"There is caution in how the galleries are handling exhibitions," says a source. "Most galleries aren't exhibiting their major artists right now".
The galleries at the India Art Fair, too, have played it safe, except for DAG, which has, as usual showcased the best of premodern art.
The masters are conspicuously absent as well.
Lavish events, organised by the National Gallery of Modern Art, Kiran Nadar Museum of Art and Gujral Foundation, too have taken some sheen off the fair.
In a way, this is a pity, because there's been steady focus on creating an interest in Indian art internationally over the past few years with the Kochi Biennale as well as KNMA and Gujral Foundation taking Indian art to international exhibitions. This has broadened the market, especially for the Indian masters.
Neha Kirpal, the founder of the India Art Fair, however, states that the sales have been good as usual.
Another side effect of the dampening of sentiment could be the shift in the kind of art people are collecting.
Modi of Gallery Espace is starting a new division dedicated to folk and tribal art forms called Aadi by Espace, and it has showcased puppets from Karnataka at the Art Fair.
"Honestly, when I was setting up Aadi, I never thought of demonetisation. It was about wanting to bridge the gap between contemporary and vernacular arts, and explaining the link of living tradition to contemporary art," she says.
The India Art Fair has introduced a new curated space called the Vernacular in Flux that shows traditional Gond, Madhubani and Mysore paintings.
Saffronart too is looking at this area very keenly.
Last year, it led the market with a Folk and Tribal Art sale and collected Rs 1.72 crore. The sale, which included folk antiquities as well as modern folk masters such as Jangarh Singh Shyam and Jivya Soma Mahse, seems to have created the confidence that there is a demand for vernacular arts.
That's why Saffronart returned with its second edition in April 2016 with a rare collection of Mithila and Gond paintings.
StoryLTD, Saffronart's online sales domain that offers low-priced art and collectables, held two no reserve Folk and Tribal Art Auctions in September and November as well as an auction of old books, maps and photographs in December. It raised Rs 15.54 lakh in September and Rs 8.25 lakh in November.
There is confidence all around that the budget end of the market is moving at a brisk pace. A move to tribal and folk art could be the next big thing.