Hopes persist that this government will announce major incentives to revive investment and boost job-oriented growth.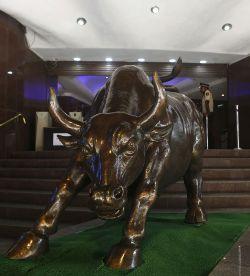 Last week, the Union commerce ministry reported that exports fell by 11.1 per cent in January over the corresponding month last year.
Export growth is a mere 2.4 per cent during April 2014-January 2015 over the same period the previous year.
Slowing in the global economy is the main reason but others include the erosion of our exporters' competitiveness over time.
For sustained growth in export, continuous gain in productivity is essential.
During the first decade of this century, there were such gains due to reforms initiated during the previous decade.
Increased penetration of mobile telephony, easier access to information through the advent and growth of internet, cheaper air travel, faster movement of goods and people through roads, better availability of electricity, reforms in the financial sector, etc, boosted productivity in all sectors.
That led to higher growth and exports, even as prices rose rather slowly and the rupee strengthened in real terms.
However, the slower pace of reforms during that period of high growth and consequent absence of significant productivity gains started eroding the competitiveness. Consumption-led growth since 2009 led to higher prices and the rupee depreciated but not sufficiently to sustain export growth.
Which, thus, began flagging.
The advent of a new government last year boosted hope that the critical issues would be addressed.
The finance minister said in his Budget speech that the people of India had decisively voted for a change and the verdict represented their exasperation with the status quo. However, his first Budget was uninspiring and he remained distracted.
The commerce and industry ministry was content to be a mute spectator.
The Prime Minister focused more on foreign policy and attracting investment from abroad through his 'Make in India' campaign.
Budget 2015: Complete Coverage
Specific actions to make it easier to do business or boost productivity were missing. Deepak Parekh, chief of the HDFC group, said last week that impatience was creeping in among business people, as nothing had changed on the ground in the first nine months of the Modi government.
The finance minister's warning in his previous Budget speech that the country was in no mood to suffer unemployment, inadequate basic amenities, lack of infrastructure and apathetic governance is equally valid today.
Hopes, however, persist that this government will announce major incentives to revive investment and boost job-oriented growth.
Under pressure to deliver on the tall promises made, the finance minister might announce some big decisions in his Budget speech.
However, making it easier to do business and raising productivity of businesses that compete in global markets involves a series of measures over a period of time.
The fall in global commodity prices has provided a great opportunity to cut the fiscal deficit, current account deficit and subsidies.
The government must use the elbow room to substantially increase investment in productivity-enhancing factors.
Simplification and rationalisation of the laws that affect businesses, along with suitable checks and balances, can bring quick results.
Yashwant Sinha, former finance minister, had said 'Make India and Make in India will follow', underscoring the need to set one's house in order before scouting for investments.
Hopefully, the prime minister and finance minister will heed the advice.