From modest milk chocolate for kids 45 years ago to sophisticated dark chocolate for adults, Amul is a part of India's history.
Vinay Umarji visits its spanking new production plant in Anand, Gujarat.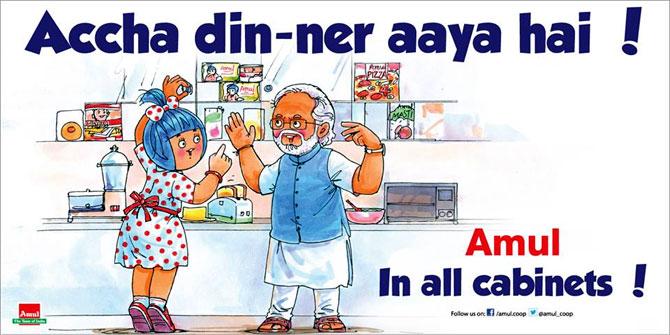 Quick quiz: What do Madagascar, Tanzania, Venezuela, Colombia, Ecuador, the Ivory Coast and Peru have in common?
Answer: They are the leading cocoa bean producers in the world.
In India, they are also the names of varieties of dark chocolate launched by the Gujarat Co-operative Milk Marketing Federation (GCMMF), widely known as Amul.
Their elegant, 125-gram packs have been catching the eye of consumers.
And why?
Because these sophisticated chocolates cost just a third of broadly equivalent imported brands.
Chocolate is not new for Amul.
It is said that in the early 1970s cocoa farmers in South India sought Verghese Kurien's help in replicating Amul's success in milk co-operatives -- the White Revolution, as people of a certain generation will recall -- to cocoa and also asked him to set up a chocolate plant.
Thus was born Amul Chocolate in 1973, with GCMMF's flagship dairy, Kaira Milk Union, better known as Amul Dairy, in Anand, Gujarat, setting up a 200 metric tonne per month plant.
At the time, the plant was considered modern, with the latest machines being imported for the various processes involved in chocolate-making.
For over a decade, Amul chocolates did quite well, especially among children.
The brand was led by 40-gram milk chocolates in six varieties.
For a while, Amul's chocolate even gave the perennially popular Cadbury's a run for their money.
And then, inexplicably, they melted away into oblivion, at least as far as the retail market was concerned.
Amul supplied the bulk of its chocolates to institutions as raw material for ice-cream, including to its own plants.
"For some reason, the capacity utilisation remained at around 40 to 50 per cent and largely institutional. We also started focusing on milk and other products," explains R S Sodhi, managing director of GCMMF.
Amul did attempt a comeback briefly in the early 2000s when it launched the Chocozoo variant -- assorted animal-shaped milk chocolates targeted again at children.
There were also launches in the gifting arena, with Amul Relish and some variants in chocolate bars.
But these didn't last long.
"Even till the early 2000s, we were following Cadbury's. Then the shift happened where other domestic and international brands started emerging and the market matured," recalls Sodhi.
For Amul, the shift that Sodhi refers to came in the form of their dark chocolate brand, which was received warmly by consumers in 2015-2016.
Revamped in a 150-gram rectangular pack, the product was a clear shift.
The plain dark chocolate was quickly followed by variants such as Tropical Orange, Mystic Mocha and Bitter Dark Chocolate.
The last had an unusually high cocoa content of 75 per cent.
"We decided to go with bigger-sized dark chocolate variants because the popular imported chocolates in the market at that time were of that size. We knew we could launch an equal or better quality of dark chocolate priced substantially lower, and we did," says Sodhi.
From targeting children, Amul shifted its focus to teenagers and adults, even as it chose to 'premiumise' its product.
"We have an internal team in the chocolate business that keeps researching innovative products. The team not only decided on premiumising chocolate by launching dark variants but also research global trends," says Sodhi.
The team found that none of the major retail chocolate brands in the country had launched country-origin variants of dark chocolate.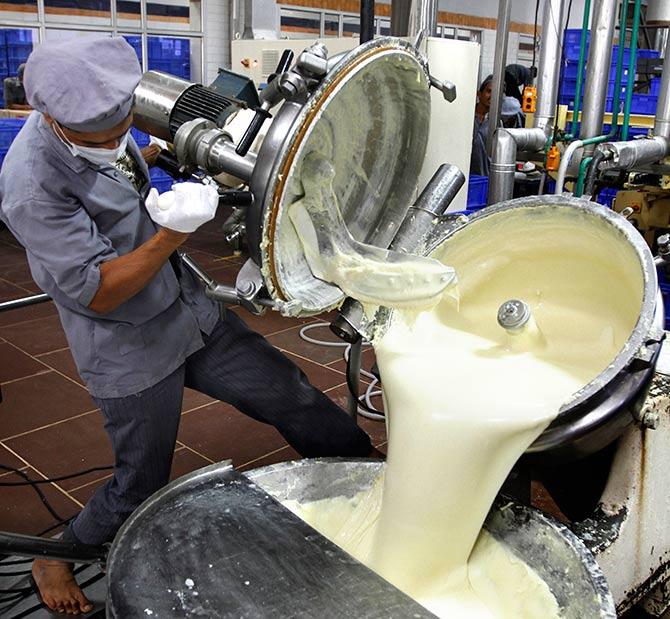 Amul reached out to each of the top cocoa-producing countries and started sourcing cocoa solids, a combination of cocoa butter and cocoa powder, as raw material.
Unlike other country-origin products in the market that use only the essence or flavour of the origin country while mixing it with an Indian cocoa base, Amul claims its chocolates use the entire cocoa base from the country of origin.
By 2016, the new variants were a hit with consumers, persuading Amul to rethink their production.
"That's when we decided to expand our production capacity," says Sodhi.
In mid-2016 Amul's board approved a Rs 2 billion expansion of the chocolate plant.
An extension of the existing plant on the 22 acre campus in Mogar village, 15 km from the flagship Amul milk and butter plant in Anand, the expanded plant is technologically on par with the country's leading chocolate makers.
Prime Minister Narendra Damodardas Modi inaugurated the 4,400 sq m plant on September 30; the new multi-storied structure now literally eclipses the 2,700 sq m old plant.
While Amit Vyas, managing director, Amul Dairy, doesn't cite numbers, factory staff estimate that the number of employees at the new plant are about one-fifth of the old.
At 1,000 tonnes per month, the new plant has five times more capacity.
The old and new plants stand in stark contrast to each other.
The former buzzes with manpower and analog machines, emanating the strong buttery smell of cocoa beans and chocolate at different stages of production.
At any given point of time, there are roughly 100 people at work in the old plant.
Right from pouring cocoa beans into filters and roasters to packaging, human intervention is unavoidable here.
But move to the multi-storied plant and it's a new world.
Massive automated machines equipped with software panels populate most of the occupied space.
One worker says the capacity can be easily doubled and yet leave enough room for gully cricket within the premises!
"The old plant is based on conventional dry mixing or batching system where one has to manually weigh and prepare batches of raw materials to be fed into the machines at regular intervals," says Vyas.
"At the new plant, the technology is different and requires liquid mixing. The raw material inputs are entirely automated and is a continuous process. This brings down costs substantially," adds Vyas.
He estimates that power costs alone are down by 20 to 25 per cent.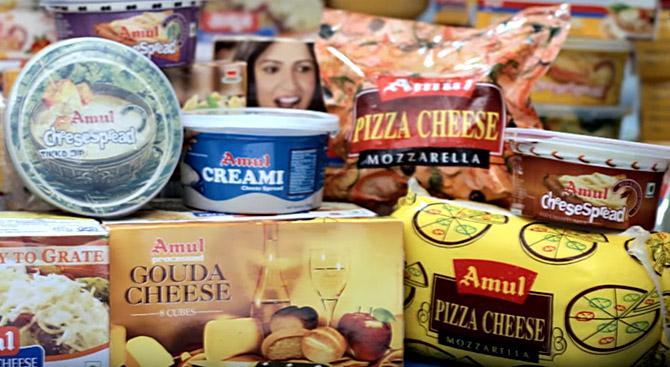 But the journey has just begun for Amul chocolates.
Market research provider Euromonitor International estimates the retail sales value of India's chocolate confectionery at Rs 136.5 billion in 2018.
Data shared by Amul shows Mondelez (formerly Cadbury India) controls 57.4 per cent of the market in India, followed by Nestle at a distant 19 per cent.
Amul has only 3 per cent market share.
"At full capacity, we can capture 6 per cent of the market. But we will continue to sell premium chocolates of extremely good quality and taste," says Sodhi.
From a Rs 1 billion brand, he adds Amul Chocolates is poised to be a Rs 10 billion brand -- up there with the top three players in the next five years.
For this, Amul will bank upon a bunch of professionals in its chocolate division who continue to research new variants.
So far, Amul has not hired a single independent chocolatier.
"Our marketing team itself has been doing the research and we are going pretty well," Sodhi says.
Amul also plans to launch spherical dark chocolate balls with liquid-filled centres in miniature 5-gram packs.
Dark chocolate bars with liquid-filled centres will follow.
Plans are afoot for the launch of chocolate candy, similar to Mondelez's Cadbury Gems or Mars's M&M.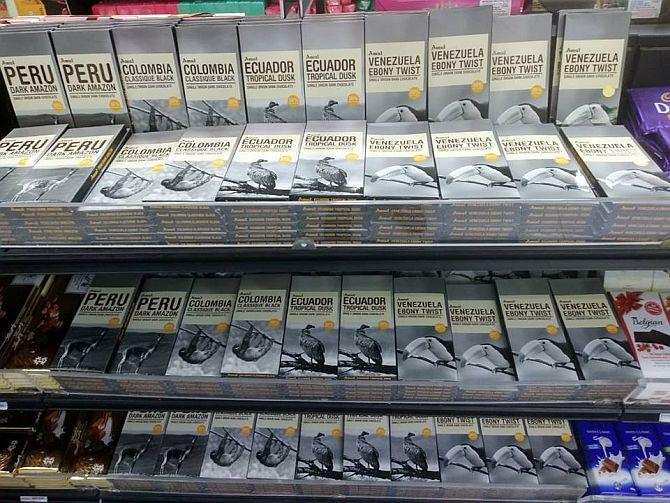 Distribution is a challenge.
"We will have to invest in supply chain and brand building. We also need to hire space in modern trade, like our competitors do," explains Sodhi.
So far, Amul has reached only about 70,000 shops. Of its own 3,500-odd distributors, only 2,000 also handle chocolates, apart from products such as butter and cheese.
Sodhi is bullish about conquering the online channel too.
"In terms of chocolate sales on BigBasket, we have a 22 per cent market share," Sodhi points out.
Work is underway on promotional campaigns around the upcoming chocolate variants.
Amul is banking on its own quality to achieve greater success, as well as on the evolving preferences of health-conscious and sophisticated consumers.
As one plant worker observes, "Chocolates are to be savoured, letting them melt in our mouths. Instead, most Indians like to chew their chocolate and be done with it quickly."
Amul intends to change that, bite by bite.