Its newly-built Jigani kitchen in Bengaluru is piloting the use of technologies such as data analytics, blockchain and Internet of Things to speed up the huge volume of its operations while ensuring strict quality control, reports Samreen Ahmad.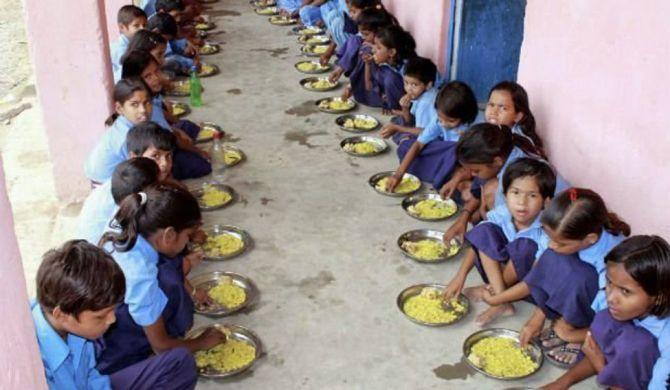 Cooking may not be rocket science, but when you are feeding over 1.7 million children in 14,314 schools, it could be a fit case for employing the latest technologies to ramp up operational efficiency.
Akshaya Patra, the world's largest NGO-run mid-day meal programme with 38 kitchens spread across 12 states, is one such mammoth enterprise, and it's using cutting edge technologies to help fulfil its goal of alleviating hunger among school children.
The Akshaya Patra Foundation, which was set up in 2000 in Bengaluru after spiritual leader A C Bhaktivedanta Swami Prabhupada saw a group of children fighting with stray dogs over scraps of food, began with churning out 1,500 meals a day.
Today, it feeds 1,761,734 children daily. Most of its kitchens are fully mechanised.
But it has gone a step further at its newly-built Jigani kitchen in Bengaluru, where it is piloting the use of technologies such as data analytics, blockchain (a decentralised digital ledger which keeps a permanent record of all data exchanges) and Internet of Things (IoT) to speed up the huge volume of its operations while ensuring strict quality control.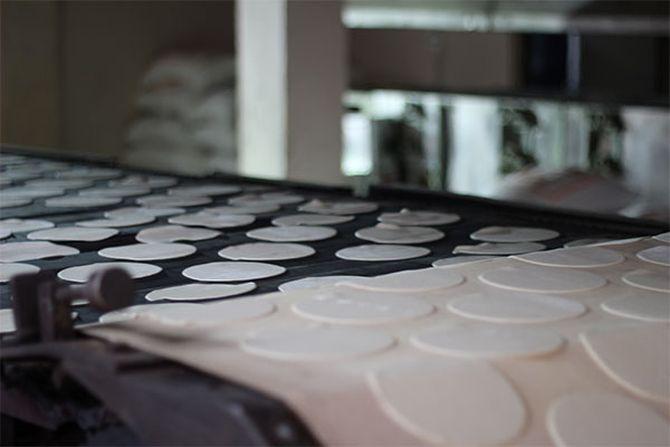 "We were seeing a lot of data being generated in our kitchens such as the temperature of the sambar that is cooked, its temperature at the point of delivery, how many vessels each school received and the feedback from students," says Ajay Kavishwar, director of planning and advocacy at The Akshaya Patra Foundation.
At the Jigani kitchen, this data is being collected digitally and converted into unique codes via blockchain.
An analysis of the codes indicates that there is a potential to improve kitchen efficiency by 20 per cent, which could translate into a massive jump in productivity and a rise in the number of meals by several thousands.
Managed by Microsoft Dynamics, an enterprise resource planning software, Akshaya Patra's data management system takes into account everything from demand, procurement, planning for production, cooking, tracking of the transport vehicles, right down to the performance of its finance module.
The Jigani kitchen is also experimenting with IoT-based temperature monitoring of the cooking cauldrons in order to reduce the cook-to-consumption time.
Using optimal temperature results in food getting cooked faster and hence frees up kitchen staff for other work such as the dicing of vegetables.
Kavishwar says that feedback on the temperature, timeliness of delivery, taste and hygiene of the food comes from the principals of the over 14,000 schools where Akshaya Patra serves its meals.
This data is then analysed to improve the production planning, meal delivery and menu for the next day.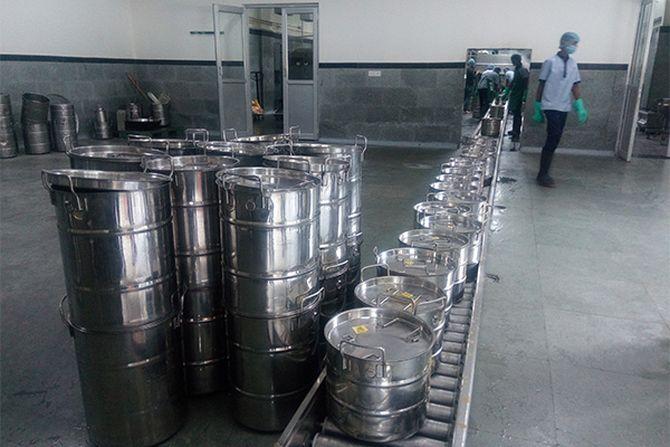 At Jigani, the predictive analytics tool also churns the historical data on student attendance so as to determine the potential demand on any given day.
This enables them to prepare meals accordingly and prevent food wastage.
Of course, most of the technologies being used are still at an experimental stage.
Says Mohandas Pai, a trustee of The Akshaya Patra Foundation and a former director of Infosys, "It's too early to say what the impact will be, but it's good to be at the cutting edge of technology."
But the impact of adopting new technologies is already being felt.
Taking a leaf out of the automobile industry, Akshaya Patra has set up a conveyor belt system to facilitate the loading of meals for transportation.
"The vessels with packed meals are put on a conveyor belt to be loaded on to our customised vehicles.
"This saves time, so hot food reaches the students," says Kavishwar.
The vehicles are also being fitted with GPS (global positioning system) to ensure that the meals are delivered on time.
Akshaya Patra's new kitchen at Khandi in Hyderabad, which is sponsored by IT giant Infosys, is another place where mechanised solutions have minimised cooking time and led to higher productivity.
This kitchen has just 30 staff producing meals for about 100,000 students daily.
In contrast, the mother kitchen in Bengaluru's Rajaji Nagar, the oldest one in the organisation, produces 85,000 meals a day with 80 workers.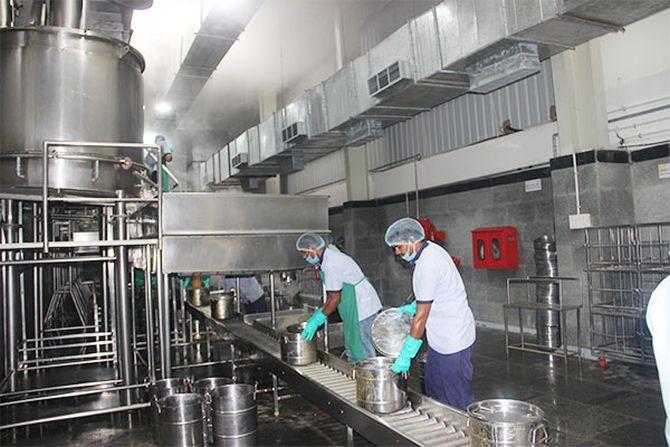 The Akshaya Patra kitchens are in fact stunning efforts in scale.
Most are equipped with 10-15 rice cookers, each of which can cook up to 120 kg rice in about 15-20 minutes.
Every bag of rice has one per cent of fortified rice added to it to increase the nutritional value of the meals.
The vessels are sterilised with hot water before cooking, and afterwards, a pressure jet machine is used to clean them.
Vegetable dicing is also done through machines which can cut up to 1,000 kg of veggies in an hour.
Kavishwar says that they are now looking at ways to dice vegetables into smaller parts as a lot of children are fussy about eating greens.
The machines used in Akshaya Patra's kitchens are designed in-house by its research and development team, which also makes an effort to keep local taste in mind.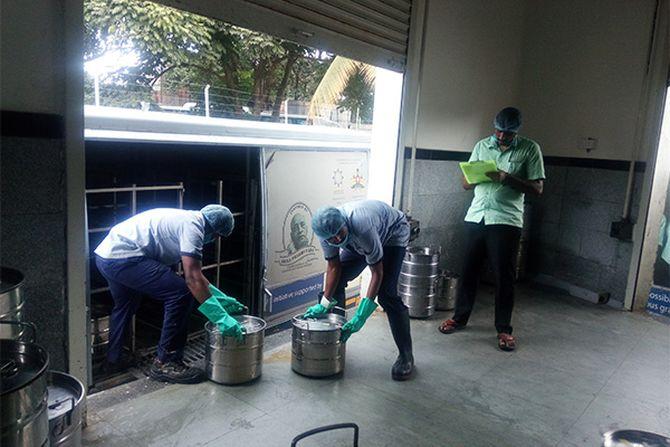 For example, in north India, where there is a preference for wheat, machines have been developed to make rotis.
The roti-making machines have the capacity to roll out 10,000 rotis in an hour.
In the kitchens in Gujarat, the R&D team has installed machines to prepare Sukhdi, a local delicacy made from wheat flour, jaggery and ghee.
Akshaya Patra has plans to come up with 15 more kitchens in the next 12-18 months in states such as Puducherry and Uttarakhand.
The target is to feed about 1 million more children.
It is also expected to cross the milestone of serving its 3 billionth meal in April next year.
And clearly, as it adopts the new technologies across its kitchens, the number of children benefiting from Akshaya Patra's good work is likely to rise even more.