We need growth to create jobs in the economy: Vikas Khemani
Prasanna D Zore
Creation of jobs, easing supply-side constraints, improving productivity and India's competitiveness in manufacturing to boost exports are some measures Vikas Khemani, President, Co-Head Wholesale Capital Markets, Edelweiss, advocates to mend India's tottering economy, in this interview with Rediff.com's Prasanna D Zore.
What's wrong with the Indian economy?
This can be looked at in two parts: Structural and cyclical.
Among the structural ones, dismal investment in infrastructure and manufacturing sector over the years along with antiquated labour and land-related laws and corruption have led to poor productivity and huge reliance on imports.
Besides, excessive and misguided social sector spending over the last few years has boosted demand without creating adequate capacities, leading to inflationary pressures.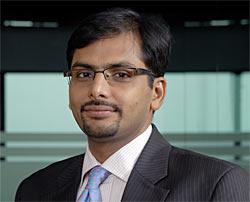 When the global economy was strong and global liquidity was ample, India continued to grow even without making progress on reforms. This has hurt the potential growth rate of the economy.
As regards cyclical problems, monetary tightening in response to lingering inflationary pressures and loose fiscal policy along with weak external demand led to slowdown in the domestic economy.
Combination of the above two set of problems is now showing up in historically high CAD (Current Account Deficit) and sharp depreciation in the exchange rate.
Now that you have listed the problems with the Indian economy, what would be your prescription to mend the Indian economy?
Again, structurally speaking growth is the only answer to the current problem.
We need growth to create jobs in the economy.
For growth, we need to focus on removing supply-side constraints, which requires reforming labour laws, tax laws, expanding infrastructure and maintaining stable and open policy environment.
With the Indian rupee at an all time low, it is time to build India's manufacturing competitiveness through such measures.
Also, the government needs to show greater fiscal discipline and responsibility, which will eventually lead to higher availability of capital for investment at cheaper cost.
If we genuinely focus on easing supply-side constraints and improving productivity, we have enough demand, sufficient capital, technology and talent.
If there are jobs and inflation is contained, we don't need any kind of subsidy.
Please click Next to read more...
Image:
Employees at the Estee garment factory in Tirupur, Tamil Nadu. With knitwear exports of over $2 billion a year, India's garment manufacturing hub Tirupur has earned the nickname 'Dollar City,' but its allure for price-conscious global retailers obsessed by discounts of as little as one US cent pales before Bangladesh.
Photographs:
Mansi Thapliyal/Reuters
'Our coal imports have risen sharply despite the country having large reserves of coal'
What's wrong with the way the PM, the FM and the entire finance ministry bureaucracy is handling the current economic crisis in India?
I feel there could have been a pro-active and coordinated approach to deal with the crisis- kind of situation we are in.
The current problem is of commerce, hence should be dealt accordingly.
Tariff increase on non-essential imports is one urgent action required.
Focus on import items which can be produced locally, like coal. Our coal imports have risen sharply despite the country having large reserves of coal.
Similarly, iron ore exports have also stopped. Looking at the trade account and addressing each significant item is required.
Focusing alone on gold may not be enough.
Reducing CAD in the only answer to arrest the Indian rupee's (downside) in a scenario where the US dollar is strengthening against all EM (emerging market) currencies.
Using monetary measures to arrest the fall of the rupee will only come at a huge cost to economy and business confidence.
Please click Next to read more...
Image:
Women carry coal taken from an open cast coal field in Dhanbad district, Jharkhand.
Photographs:
Ahmad Masood/Reuters
'Raghuram Rajan can be a doctor, not a panacea'
Dr Raghuram Rajan's appointment as the RBI governor is being seen as a panacea to the economic problems. Do you subscribe to this view?
Leadership in any institution matters a lot and Dr Rajan is very renowned economist.
I am sure he will do his best to navigate through this problem.
He can be a doctor, not a panacea.
What challenges await the new RBI governor?
Balancing growth and inflation is a big challenge.
Image:
Dr Raghuram G Rajan will over as the RBI governor next week.
Photographs:
Adnan Abidi/Reuters