Ink thrown on Subrata Roy's face in SC complex
ANI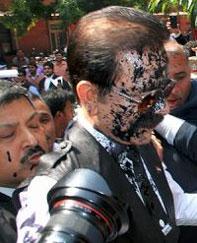 Calling him 'chor', a man from Gwalior today threw ink on the face of Sahara chief Subrata Roy when he was brought to the Supreme Court amidst chaotic scenes.
Calling himself an investor, Manoj Sharma, in his 30s, waited for Roy, who was wearing his trade mark waist coat and tie, to get out of one of the cars of the police convoy that had brought him a little after noon from nearby Noida to the court premises and blackened his face.
Shouting "Sahara chor hai" (thief), Sharma threw a bottle of black ink on him. The man was beaten up by some lawyers who had gathered and he was removed by the police to Tilak Marg police station.