Rupee slide worrying but also good for the economy: PM
| | | |
| --- | --- | --- |
| | | |
Prime Minister Manmohan Singh sought to soothe worries about the economy on Friday, telling parliament that the crashing value of the rupee was part of a needed adjustment that would make Asia's third-largest economy more competitive.
The speech was the veteran economist's first substantial comment to parliament since the rupee suffered its steepest ever monthly fall in recent weeks, bringing back memories of a 1991 balance of payments crisis that made Singh famous.
Reading from a written statement, the prime minister promised his government would reduce the "unsustainably large" current account deficit undermining the currency.
"Clearly we need to reduce our appetite for gold, economise the use of petroleum products and take steps to increase our imports," he said.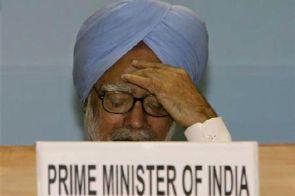 But he said that a weaker currency was the natural outcome of several years of high inflation, and although the rupee had overshot in the foreign exchange market its decline would bring some economic benefits.
Click NEXT to read PM's views on economy...
Photographs:
Reuters
Rupee slide worrying but also good for the economy: PM
"To some extent, depreciation can be good for the economy as this will help to increase our export competitiveness and discourage imports," he said.
Singh's deft handling of the 1991 crisis helped launch 20 years of rapid economic growth and he has since been credited as the architect of India's emergence as a serious economic power.
Economy to pick up
India's economy should pick up in the second half of fiscal year 2013/14 but there will also be pressure on inflation because of the rupee's sharp decline, Prime Minister Manmohan Singh told parliament on Friday.
Singh said the fundamentals of the Indian economy remained strong and emphasised the bright side of a weaker currency - more competitive exports that he predicted would be further boosted by better performance in the global economy.
He also said banks had seen an increase in non-performing assets, but were well capitalised above international requirements and able to deal with the situation.
Click NEXT to read PM's view of current account deficit...
Photographs:
Reuters
Rupee slide worrying but also good for the economy: PM
Current Account Deficit to come down
CAD will be below $70 this year and government plans to bring it down to 2.5 per cent in the mid-term.
PM pointed that the country needs to reduce its appetite for gold and economise the use of petroleum products.
"Our short term objective is to finance the current account deficit in an orderly fashion. We will make every effort to maintain a macro economic framework friendly to foreign capital inflows to enable orderly financing of the current account deficit.," said Singh.
Click here to read PM's speech.
(With inputs from Reuters)
Photographs:
Reuters