Obama-Singh meeting to re-energise Indo-US ties: Inderfurth
Lalit K Jha
in Washington
US President Barack Obama's meeting with Prime Minister Manmohan Singh in Washington on Friday is expected to re-energise the India-US relationship, a top former American diplomat has said, but cautioned against expectations of any major breakthrough.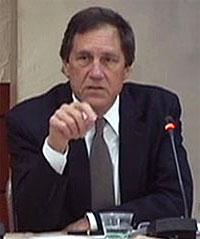 "I think the principle benefit would be greater visibility to the relationship at the highest level with President Obama and Prime Minister Singh," Karl F 'Rick' Inderfurth, the former Assistant Secretary of State for South Asian Affairs, told PTI.
"We can make some progress and some movement, but neither side can expect any major breakthroughs between now and the Indian elections. Again we do not want to go backwards. We can go forward.
That is why, I am very pleased that President Obama invited Prime Minister Singh to Washington. Singh has been a very big proponent of taking the US-India relationship to the next level and I think this is an acknowledgement of that," he said in response to a question.
"There are concerns that US reached a plateau or we may be on the doldrums. I do not agree with those things. But I understand that people need to see attention at the highest level, re-energize the relationship, re-kindle the relationship.
So I think that would be the principle thing that I would like to accomplish," said Inderfurth, who is currently a Senior Adviser and Wadhwani Chair in US-India Policy Studies of the Center for Strategic and International Studies (CSIS), a prestigious American think-tank.
Click on NEXT for more...
Photographs:
Jason Reed/Reuters
Obama-Singh meeting to re-energise Indo-US ties: Inderfurth
Lalit K Jha
Inderfurth said there are so many things that are taking place within the United States and India that do not relate to the bilateral relationship.
While the Obama Administration is focused on the Syrian crisis, the government shut down and the Congress; the Singh Government is spending time and energy on economic situation, and the upcoming elections.
"So there are good reasons why both countries are not focusing much on each other. So what President Obama and Prime Minister Singh can do to remind people that this is one of the most important relationship that we have and to talk about some of the unfinished business that we might try to accomplish in the next few months," Inderfurth said.
Responding to questions, Inderfurth said trade and economic issues is at the top of the agenda.
"One important piece of the unfinished business is the bilateral investment treaty. This would send a strong signal to the private sector in both countries that we want to accelerate the economic and trade relationship," he said, adding there are number of issues that the two sides have right now, including the issues being raised by many members of the US Congress about certain Indian practices.
"I think the President and the Prime Minister can discuss those," he said.
Click on NEXT for more...
Photographs:
Jason Reed/Reuters
Obama-Singh meeting to re-energise Indo-US ties: Inderfurth
Lalit K Jha
The US, he said, wants to be a larger investor in India than it is and wants to do more than $100 billion in two way trade. The two leaders can access the situation, share where they are and see what can be done.
Acknowledging that it would be unreasonable to expect too many things from New Delhi given that India is headed towards an election cycle, Inderfurth said what can be done is that the two sides would not go backwards in its relationship.
"I think, we can make some forward movement. There is possibility of moving forward a bit on the civilian nuclear agreement," he said, adding that Nuclear Power Corporation of India Limited and Westing House are close to reaching some agreement during the visit to move that process forward with respect to Gujarat.
Inderfurth said progress is being made with respect to defense trade initiative, which includes co-production and co-development projects.
Photographs:
Reuters