Image:
Indian billionaire Gautam Adani speaks during an interview with Reuters.
Photographs:
Amit Dave/Reuters
Premal Balan and Kalpesh Damor
in Ahmedabad
The rates at which the Gautam Adani-promoted Adani Group bagged land from the Narendra Modi-led Gujarat government for its port and special economic zone project -- between Re 1 and Rs 32 per square metre -- were much lower than other companies that set up units in the state.

Concessional pricing apart, the group did not face land acquisition hurdles, as the state allotted non-agricultural government land for Adani Port and Special Economic Zone, the country's largest multi-product SEZ spread across 15,946.32 acres (6,456 hectares) in Kutch district's Mundra block.

By comparison, other companies setting up facilities in the state paid much higher rates: Tata Motors was given 1,110 acres for its Nano car plant in Sanand (near Ahmedabad) at Rs 900 per sq mt, Ford India paid at Rs 1,100 per sq mt for 460 acres close by, while India's largest carmaker, Maruti Suzuki, bought about 700 acres in Hansalpur at Rs 670 per sq mt.

Among other industrial groups, K Raheja Corp was sold land at Rs 470 per sq mt, while TCS had to pay at Rs 1,100 per sq mt and Torrent Power at Rs 6,000 per sq mt. (one acre equals 4,046.86 square metres).
. . .
Adani Group got land at cheapest rates in Modi's Gujarat

Image:
Mundra Port.
Photographs:
Courtesy, Adani Enterprise
Amid campaigning for the Lok Sabha elections, this has become a subject of political debate, with Modi's opponents alleging the Bharatiya Janata Party's prime ministerial candidate gave away land to his friends at throwaway prices as Gujarat chief minister.
On its part, BJP claims the state gave land on concessional rates to encourage industry.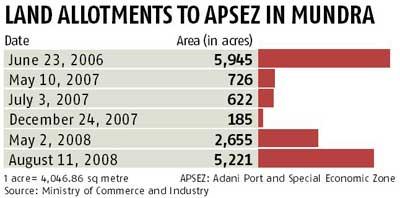 Repeated enquiries sent to Adani Group did not elicit any response.
But sources in the group justified allotment at low prices, saying the land was given more than a decade ago, and that in an arid region with no scope of vegetation.
The land allotted for the SEZ and port was government wasteland, forest land, grazing land and inter-tidal land. So, no acquisition hurdles were faced from farmers.
. . .
Adani Group got land at cheapest rates in Modi's Gujarat

Image:
Gujarat's chief minister Narendra Modi (L) embraces Mukesh Ambani, chairman of Indian energy company Reliance Industries.
Photographs:
Amit Dave/Reuters
According to sources in Mundra, where APSEZ is based, the jantri (ready reckoner) rate for land there in 2006-07 was around Rs 50-100 per sq mt.
Since 1993, when the Adani group began developing its port and SEZ, various state governments have allotted land to the group.

State government sources said there was no other instance of land being allotted at Rs 1 to Rs 32 per sq mt to any company or industrial group. Only educational or religious institutions were an exception.
Sanat Mehta, who was the state's finance minister from 1980 to 1985, said there was no policy for giving government land for industrial use when he was in power.
"In our times, the policy was to give only GIDC (Gujarat Industrial Development Corporation) land for industries.
"We never allotted government land for industrial use. Even General Motors, the US-based car maker, got GIDC land," Mehta said.
. . .
Adani Group got land at cheapest rates in Modi's Gujarat

Image:
Indian billionaire Gautam Adani poses for a picture after an interview with Reuters at his office.
Photographs:
Amit Dave/Reuters
He acknowledged the state government gave some incentives to big industries even during his tenure as finance minister, but those were in the form of deferments in sales tax payment (as a promotional measure).

However, despite getting a good land deal from the state, the Adani group has so far not been able to gain much.
According to the data published by the department of commerce, under the commerce & industry ministry, of the 15,946.32 acres allotted to APSEZ, only 8,287.44 acres (51 per cent) were being utilised for processing; the rest of the land was lying unutilised.

APSEZ falls under the zonal development commissioner of Kandla SEZ, which has about 31,835.83 acres under it (12,777.03 acres lying vacant). Of the total land lying vacant, nearly 61 per cent belongs to APSEZ.
. . .
Adani Group got land at cheapest rates in Modi's Gujarat

Image:
Narendra Modi.
Photographs:
Reuters
The SEZ, encompassing the Mundra port and the Adani power plant, has been mired in controversies -- from those retaing to violation of environmental norms to destruction of natural resources.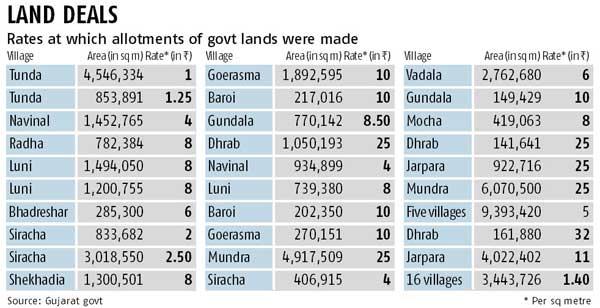 As a result, there is a ban on any further construction and development within the notified area. Not only are the units within the SEZ facing the pinch, the SEZ developer, too, is finding it difficult to expand.
APSEZ planned to spread over 37,050 acres (15,000 hectares) but its expansion plan hit a roadblock following a Gujarat High Court order and due to various pending litigation.

The litigation are one of the primary reasons for nearly 50 per cent of APSEZ land remaining unutilised.
According to APSEZ officials, several large companies have approached them for setting up units in the Mundra SEZ, but they are progressing at a slow speed because of an economic slowdown, besides ambiguity on environment clearance.
. . .
Top PHOTO features of the week