'India's biggest loss is that we will not have anyone as principled and as courageous as Rajan.'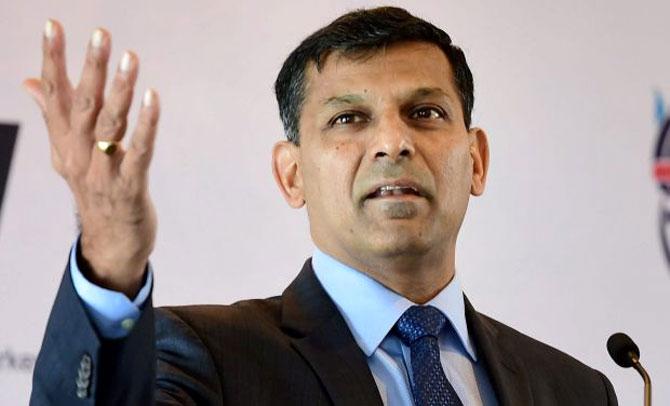 "Those who benefitted from crony banking and the existing system will definitely criticise Raghuram Rajan. Under him, they were deprived of their undeserved benefits," says Professor Krishnamurthy Subramanian of the Indian School of Business.
Dr Subramanian, bottom, left, studied at the Indian Institute of Technology-Kanpur and the Indian Institute of Management-Calcutta, before doing his PhD at the Booth School of Business, University of Chicago. Dr Rajan was his PhD thesis advisor.
Since Dr Rajan fought crony capitalism in India, Professor Subramanian tells Shobha Warrier/Rediff.com he was hounded out of the Reserve Bank of India.
When Raghuram Rajan decided to return to academics after his tenure as RBI governor ends in September, P Chidambaram said India didn't deserve Rajan. Do you agree?
I think he didn't mean 'India didn't deserve'. He said this government didn't deserve Rajan. It could be a politically motivated statement and I don't want to comment on that.
Do you think there are not many economists in India who will be able to do a job as good as Dr Rajan did?
He has the ability and calibre to take tough decisions and go after crony capitalism. Generally, people in the system do not have this kind of courage to go after crony capitalists and crony banking.
Others may not be as good as him in two things -- in his principled courage to go after crony capitalism, second is his vision.
He is a visionary with pathbreaking ideas. He has licensed 23 banks in the last three years, almost as many as the government has licensed since liberalisation.
His action will result in huge competition in the banking sector. One of the ways by which you tackle crony banking and crony capitalism is by enhancing competition.
For example, in the early 1990s, you had only Air India and Jet Airways, and customers were paying high airfares. With competition, look at where airfares are today. The same is the case with the telecom sector.
Competition helps consumers and the economy, and that's exactly what he did.
The NPA (non performing assets) crisis did not hit the banking sector in 2015, it has been accumulating for many years. Some bankers say the RBI did not do anything till recently.
If you look at the percentage of loans that go to India Inc, a lion's share went to a select few corporate houses. This is crony capitalism.
What you hear from the bankers and others is all from the system, those who are there for the past 20, 30 years. These are the people who will say the NPA problem was there earlier.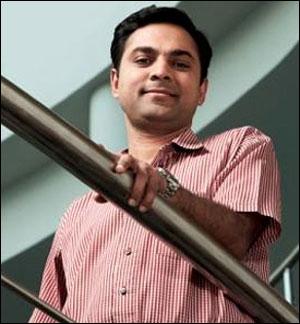 Was it not there earlier?
Yes, it was. But the creation of the problem started when he (Dr Rajan) did not have the power to clean up the system. At that time he was the political advisor, the position currently occupied by Arvind Subramanian. He was only an advisor and the executive action had to be initiated by somebody else.
But when you are the regulator, when you are the Reserve Bank governor, you can take actions and clean up the system.
He joined (the Manmohan Singh government) as the chief economic advisor in 2011 and a lot of NPAs were created from 2008. The key point is that all those who are in the system say he should have gone slow on the NPAs.
The banking sector is the heart of the Indian economy and when you suffer from a heart attack, it cannot be treated slowly.
Whoever says treat a heart attack slowly obviously doesn't have good intentions.
The world over, the banking crisis has been precipitated by regulators being forbearers, and not cleaning up bad loans. Anybody saying that the cleaning up in the banking sector is not advisable has vested interests.
That was not what bankers were saying. The NPA problem has been there for many years and only when it reached mammoth proportions was a cleaning up ordered. They feel Raghuram Rajan could have done something earlier...
That is what I said, when it was created in 2008, he was not in a position to exercise his authority. When it was created by lending to the infrastructure sector etc, he was only in an advisory capacity, and I don't know whether he advised one way or the other.
Come 2013 when he became the RBI governor, he had large NPAs staring at him.
As the chief economic advisor, you are just that -- an advisor.
Take a look at what is written in the Economic Survey and how much of that gets reflected in the Budget. There are plenty of good ideas in the Survey, but very few of them find place in the Budget. So, to hold an advisor responsible for the problems created by others, clearly suggests vested interests.
When I interviewed M R Venkatesh, he said crony capitalism happened under Rajan's nose.
According to him earlier, only 25% of lending was to corporate and under Dr Rajan, it increased to 35% and the SMEs suffered because of this.
I will clarify the issue the way I see and I do not know what others say. When you are suffer a heart attack, you do not participate in any adventure sports, rather you opt for less risky activities like walking.
Similarly, banks when suffering from significant NPAs, find SMEs risky to lend to. In such a situation banks become conservative in lending to SMEs. The phenomenon of enough credit not going to SMEs is because of NPAs getting piled up.
Those who criticise are the people who are part of the system, having benefitted from credit being cornered by top industrialists.
If they say, Rajan doesn't understand banking, then I don't know what these people are talking about.
They say the conventional economic wisdom of keeping interest rates high to have low inflation will not work in a country like India. How do you respond to this?
Here, people talk based on anecdotes. Let someone who has actually looked at India's resources in the last 20 years come and convince me on this. I do research on India and I understand these things.
Anybody who tells you that our macro economic policy is really different is not true.
People say you don't understand aspirational India and you want to grow at double digits. The point is monetary policy is one of many different factors that help economic growth.
We are in a precarious situation, the UPA (United Progressive Alliance) government created so many problems -- in the banking sector, in the infrastructure sector, on the ease of doing business. On top of that, fiscal deficit also increased.
At the same time, you have a problem from the supply side too. You also have problem in the labour market. This (National Democratic Alliance) government, unfortunately, has not implemented regulations to do away with these problems and instead expect monetary policy to solve everything.
It is like expecting Sachin Tendulkar to win all the matches when he was playing for India. You have to understand that a team comprises 11 people. Monetary policy is just one of the 11 factors. What about the other 10 factors?
How do you think Raghuram Rajan will be remembered?
There is this young India, which is aspirational. They want opportunities, but do not want to compromise on principles. And then there is this old India, comprising crony capitalists for whom principles don't matter, all that matters is their own benefits.
There are these industrialists and capitalists who have made their money on the quality of their ideas like N R Narayana Murthy, Kiran Majumdar Shaw, etc. who spoke of Rahguram Rajan as the first one who had the courage and audacity to fight crony banking, and then you have those crony capitalists.
Those who benefitted from crony banking and the existing system will definitely criticise him. Under Rajan, they were deprived of their undeserved benefits.
Young India will look at him as a terrific achiever who inspired them to be like him. So many of my students want to be like him, be an influential voice in the world and not just in India.
Young India will look at him as courageous and as one who didn't compromise on his principles, and someone worth emulating. He was my PhD advisor and I also wanted to be like him.
You don't agree with the criticism that he is not Indian enough to understand the country.
When you cannot question a person on his accomplishments, the only thing you can do is hit below the belt. Only those who worked with him know the kind of sacrifices he has made.
I had asked him umpteen times should we be doing what is accepted or should we be doing what is right? He always would say, do what is right for the country. He would say, we are in this not just to do a job, but to contribute to the country.
The reason we have come back to India is to do the right thing for it.
To anybody who says he doesn't care for India, I will say, I do not believe.
As a person who has worked with him, do you think questioning his Indian-ness would have hurt him? Is that the reason why he chose to go back?
There is a combination of reasons. I think the government also was not keen on retaining him.
The other reason could be the government wants to use the large surplus funds the RBI has created under Governor Rajan to recapitalise the banks. Under Raghuram Rajan, I don't think it would have happened.
I am sure he was hurt. After all, he is a human being. I would have been hurt myself. Publicly, of course, he kept on saying he was not going to respond to attacks like that.
He said his work was unfinished. In the next three years, what do you think he would have done, and what do you think the new governor should be doing?
Number one, you have to have the courage to do the right thing.
If he had more time, he would have really gone after the crony capitalists, but what we are going to see is crony capitalism coming back.
He has created a database of large creditors for the first time. If he had stayed back, he would have gone after crony banking too.
India's biggest loss is that we will not have anyone as principled and as courageous as Rajan.