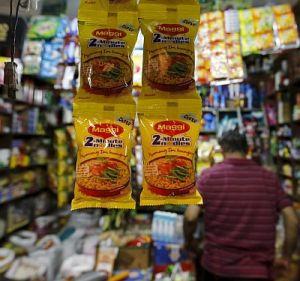 Nestlé India is due to present findings of a court-ordered re-test of Maggi samples by the end of September

The newly appointed managing director of Nestlé India, Suresh Narayanan, is not only overhauling processes and systems within the country's largest food company by revenue but also appears willing to mend the firm's ties with the country's apex food regulator.

In response to a specific query on the issue, Narayanan, recently in the city, said, "The primary regulator for food quality and safety in the country is FSSAI (Food Safety & Standards Authority of India). We will engage with them constructively.
"It is my commitment that we will do it in a professional, forward-looking manner. All I am asking for is a voice of fairness, understanding and reason. We have no ego at all about this."

FSSAI had accused Nestlé India of choosing to go to court rather than engage with it, following the recall and ban of Maggi noodles in June.
This bitterness was visible during the proceedings in the high court her with FSSAI repeatedly saying Nestlé India breached the regulator's trust.
FSSAI had also argued that Nestlé India had voluntarily opted to destroy Maggi samples recalled from across the country, against the regulator's orders. This, FSSAI said, was intended to 'destroy evidence'.

In a conciliatory gesture, Narayanan said he was willing to put everything behind. "I am not in the game to belittle anyone. My aim is to seek a lasting solution to this problem.
"This will not only benefit us but the industry, too," he said.

Nestlé India is due to present findings of a court-ordered re-test of Maggi samples by the end of September.
The high court in its August 13 order had given the company six weeks to do so.
The re-test is being conducted at three NABL-accredited laboratories, located at Mohali in Punjab, Jaipur and Hyderabad.

Narayanan says there are two parts to this exercise. One is the results of the tests. If cleared in this round, the firm will be permitted to manufacture Maggi noodles.

Once this is done, it will have to go through a second round of testing of the manufactured samples, to check for quality and safety. If the firm passes this, it can re-launch the product.

Predictably, the firm is working on a year-end re-launch of Maggi and is expected to use all levers to ensure it is what Narayanan describes as a "memorable" experience.

Narayanan said the company had not thought about appointing brand ambassadors to endorse Maggi during and after the re-launch.

At the height of the Maggi crisis, the brand's past and present endorsers, including actors Madhuri Dixit, Amitabh Bachchan and Preity Zinta, were served notices by the Haridwar Food & Drug Administration for making false claims in ads for it.
This had allegedly resulted in much controversy, with one lobby saying it was wrong on the part of the regulator to drag brand ambassadors into the issue, while another set said it was the right step taken by the state unit.