Check out the companies which surpassed economic slowdown and the demonetisation-induced slowdown
Even as a number of companies were complaining about the economic sluggishness and the demonetisation-induced slowdown, there were some companies doing better than ever.
Maithan Alloys: The company has posted the kind of fourth quarter results that make you wonder whether what you read was a typographical error.
Here is the PBIT (profit before interest and tax) sequence of the last four quarters: Rs 26 crore, Rs 14 crore, Rs 91 crore and Rs 141 crore - the kind of profit that most of this small company's large steel customers would not have made in 2016-17.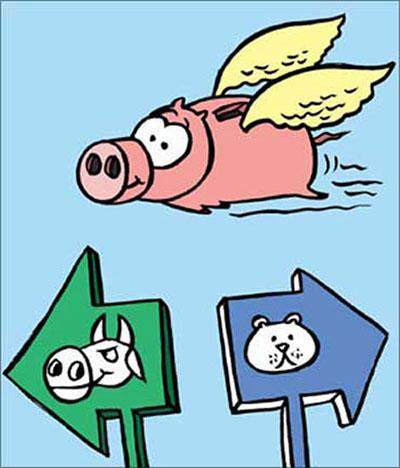 Besides, the company's Ebidta margin strengthened from 12.5 per cent in the first quarter to 31 per cent in the last quarter. The company issued a guidance after announcing results: It would report at least a 15 per cent Ebidta margin any quarter, any market cycle. I have heard of revenue and profit guidance, but a margins guidance…
Himadri Speciality Chemical: A turnaround story when seen from an annual perspective - a loss of Rs 34 crore in 2015-16 transformed to a post-tax profit of Rs 132 crore in 2016-17 following an increase in oil prices that reversed a quarter-on-quarter sequence of raw material inventory losses that earlier needed to be written off the profit & loss account.
The last quarter was a stunner: A Rs 45.65 crore pre-tax profit compared to Rs 30.74 crore in the third quarter.
Supreme Industries: I love this performance. Ebidta (earnings before interest, depreciation, tax and amortisation) in the last four sequential quarters moved from Rs 202 crore to Rs 135 crore to Rs 185 crore to Rs 245 crore.
Correspondingly, interest expenses declined from Rs 9.72 crore to Rs 3.42 crore across the period.
Ebidta margin improved from 17 per cent to 15.3 per cent to 16.7 per cent to 19 per cent. The interesting point is that even as revenues increased Rs 94 crore through the period, Ebidta increased Rs 43 crore, indicating traction.
Gujarat Mineral Development Corporation: If I had to place my salary on one stock (from the ones whose results have been announced), it would be GMDC.
The company's post-tax profit improved from Rs 219 crore in 2015-16 to Rs 324 crore in 2016-17.
The last quarter's annualised post-tax profit momentum is higher (Rs 90 crore). Any company that reports an 18 per cent pre-tax margin and improves it by 600 basis points in the last quarter tells me that it is in the grip of a positive sectoral momentum.
The GST (goods and services tax) could prove to be another kicker, moderating tax incidence.
Bhansali Engineering Polymers: Crazy numbers, rising from Rs 9.55 crore Ebidta in the third quarter to Rs 28.31 crore in the last quarter - an interest cover of more than 10 - though one would have done better with some clarity on the 'other income' of Rs 6.39 crore in the last quarter.
8K Miles Software Services: The magic of this company's results is not in its standalone 2016-17 net profit (Rs 5.45 crore as against Rs 2.05 crore in the previous year).
But turn to the consolidated numbers: Annual net profit strengthened from Rs 68 crore to Rs 166 crore.
In the last quarter, the company reported a post-tax profit of Rs 54 crore, which was higher than the annual average (indicating that the momentum is positive). When a company does as well as this, shouldn't readers deserve a line or two explaining the performance?
Mudar Patherya is a stock market writer, tracking corporate earnings and investor psychology to gauge where markets are not headed.