Launches in key cities down 42 per cent in April-September, inventory rises to 83 months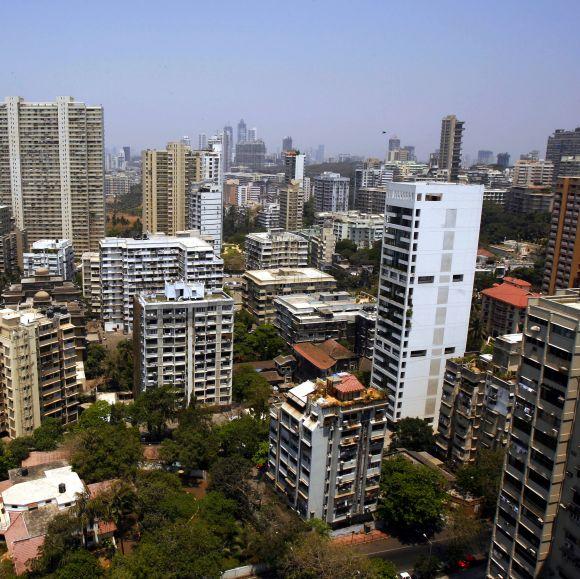 Image: A Mumbai highrise. Photograph: Punit Paranjpe/Reuters

The real estate sector, which has been facing difficult times for the past few years because of issues ranging from delivery delays to fund crunch and declining sales, continues to be hit by a huge inventory, a drop in the number of new launches and delivery blues.
According to data from various sources, new launches till September this year were down 42 per cent from the year-ago period, across seven major cities, including Delhi-NCR and the Mumbai Metropolitan Region.
The real estate inventory -- the number of months required to clear the existing stock at the prevalent absorption rate -- during this period rose to 83 months in the NCR (national capital region) and 50 months in MMR.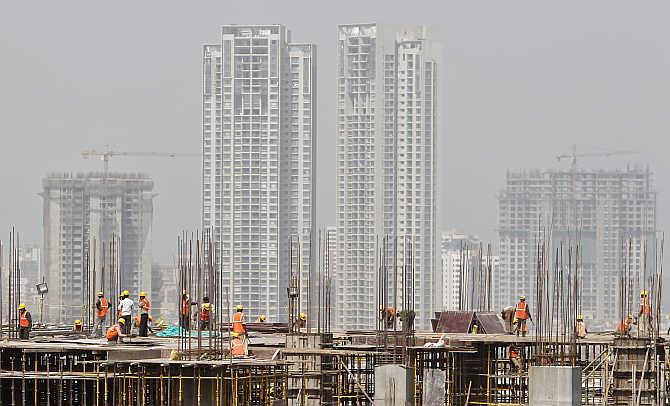 Image: Labourers work at a construction site of a commercial complex. Photograph: Vivek Prakash/Reuters

The sector's performance in delivery also saw a decline -- only 23.5 per cent of the committed units were delivered during the first six months of this year, show data from research firm PropEquity.
Of the total committed supply of 470,183 units for 2014, only 110,510 were delivered in the seven major cities — NCR, MMR, Bengaluru, Chennai, Hyderabad, Pune, Kolkata — in the six months.
In the April-September period, the number of new launches in NCR was 48 per cent lower than last year, while MMR saw a drop of 51 per cent and Hyderabad of 59 per cent.
Experts attribute this to developers' focus on clearing backlog and reducing inventory, and minimal attention to rolling out new projects.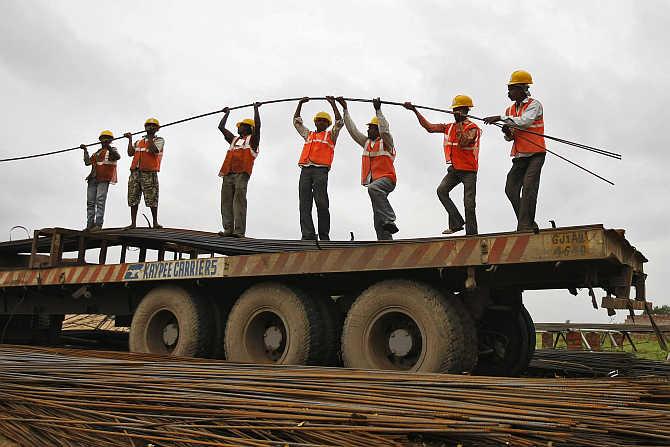 Image: Workers unload iron rods from a truck at a construction site on the outskirts of Ahmedabad. Photograph: Amit Dave/Reuters

"There are a few developers launching projects, but the number this year is significantly lower than in the past couple of years, because of an overall slowdown, declining sales and focus on clearing inventory," says a Mumbai-based analyst, who does not wish to be named.
"During 2014, launch of residential units declined consistently every quarter as a result of subdued demand and high prices. While this was largely the case with high-end projects, the affordable housing segment began to gain favour," says Anuj Puri, chairman & country head, JLL India.
At the end of the September quarter, the average real estate inventory (previous unsold and new) across major cities of India stood at around 50 months, according to data from Liases Foras. A healthy market maintains and inventory of eight months.
QuBREX Managing Director Sanjay Sharma says: "It is difficult to sell in the current market.
Image: A construction worker stands on scaffolding on the outskirts of Jammu. Photograph: Mukesh Gupta/Reuters

"New launches are a direct result of demand.
"There has been a slight improvement in sentiment but people are not yet coming out and buying, given the high prices.
"Also, there are credibility issues with developers due to delays in deliveries. Many potential buyers are still in a wait-and-watch mode; they expect prices to come down."
Meanwhile, faced with long delays in delivery, buyers have lately resorted to activism -- there have been several protests and filings in consumer courts.
Amid a number of projects running four-five years behind schedule, developers often cite issues in getting requisite approvals, a market slowdown, land acquisition hurdles and funding constraints for delays.