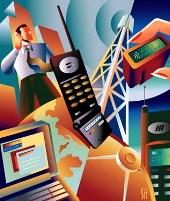 Tulip Telecom on Friday announced that it has chosen IT major IBM and data centre consultant Schnabel to establish a data centre in Bengaluru, which the company said will be India's largest and the world's third-largest data centre.
"We are extremely happy about our association with IBM and Schnabel for our fifth and the country's largest data centre set up," said Tulip Telecom CEO Sanjay Jain in a statement.
"Having world leaders like IBM and Schnabel as consulting partners will enable us to further enhance the enterprise data services experience for our customers, who are not only based in India, but also outside the country," Jain added.
Tulip, through its wholly owned subsidiary company, Tulip Data Centre Pvt Ltd, acquired the SADA IT Parks facility, spread across 9 lakh square
feet, earlier this year for Rs. 230 crore (Rs. 2.3 billion).
The data centre will be built with an approximate investment of Rs. 900 crore (Rs. 9 billion), spread over three years, the statement said.
Under the contract, IBM will provide design consultancy services for the overall data centre space along with turnkey execution to build the first phase of the data centre.
IBM's consulting and design services will cover a range of data centre technologies, including power, cooling, rack layout, chillers, UPS, DG sets and more, the statement said.
Schnabel will do peer review consulting with Tulip on the data centre build.
This is Tulip's fifth data centre in the country, which will increases the combined space under its data centres to approximately 10 lakh square feet. Tulip already has one data centre each in Delhi and Bengaluru and two in Mumbai.