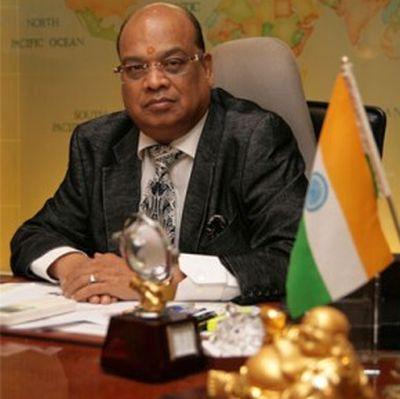 Vikram Kothari, managing director of Rotomac Pens, is now fighting a battle that might be difficult to win.
Known for aggressive use of celebrity advertising for Rotomac Pens, his exclusive list included Bollywood stars such as Salman Khan delivering the catch line 'Likho India Ki Nai Pehchan' and Raveena Tandon 'Likhte Likhte love ho jaye'. Lyricist and writer Javed Akthar's tagline 'Fighter Hamesha Jeet Ta Hai' made Rotomac a household name.
But Vikram Kothari, managing director of Rotomac Pens, is now fighting a battle that might be difficult to win.
The Central Bureau of Investigation (CBI) has alleged that Kothari, who is one of the promoters of Rotomac Global Pvt Ltd, took loans for the purpose of procurement of goods for exports, but never executed any export order. Kothari has been accused of round tripping funds to the same company.
Kothari's Kanpur-based family was referred to as 'gutka kings' not too long ago. Founder M M Kothari along with sons Vikram and Deepak in many ways changed the rules of the mouth freshener (pan masala) business. What made 'Pan Parag' an instant success was that for the first time this product category was being sold in innovative pouches with a zipper and in sachets with a low unit price making it not only affordable but also convenient to use.
Their collaboration with a still unknown Delhi-based entrepreneur Ashok Chaturvedi, founder of Flex Industries, helped. Flex set up a plant to churn out these pouches and sachets for the FMCG market. The innovative packaging was quickly picked up by MNCs like Unilever and P&G as well as by home brands such as Godrej to sell anything from shampoo to detergent. The idea was to sell at a low unit price, expand the market and get more consumers to sample them.
The two brothers however decided to divide their empire even before their father died in 2000. In 1999, Deepak bought Vikram's 22.5 per cent stake in the group's flagship company Kothari Products in which the latter was the vice-chairman. Vikram kept what was still a much smaller business of Rotomac Pens, which manufactured writing instruments, stationeries and even greeting cards and was set up only in 1992.
His friends in Kanpur say Vikram Kothari loves the good life, especially foreign cars and parties, and he has been closely connected with rotary clubs in the city.
"He used to have a black BMW in the early 1990s. He would wear tie even in summers and has amazing marketing skills," a family friend said. He's known as a workaholic too. "Kothari used to finish his daily factory visit by 9 am, when most of us would start our day,'' says a source.
Yet the writing instrument business is much smaller than the pan masala business (Rs 250 billion) with overall revenues of around Rs 40 billion, growing at just 2 per cent CAGR, especially as consumers shifted to laptops and smart classes. Competition in the space has also had its impact.
Rotomac is not a top of the category in any segment. So for instance, in the mass market where it has a substantial business, the big boys are Linc, Rorito l, Cello and Reynolds. In the mid-market again it is Uniball, Pilot and Parker which rule the roost. Not only that, even Pan Parag has lost its number one slot.
Meanwhile, Kothari Foods and Fragrances has got into the niche herbal mouth freshener business, with a market not only in India but also in neighbouring countries.
Kothari has also diversified in other unrelated areas -- one being multiplexes. It owns the swanky Rave 3 Mall in Kanpur. The largest steel unit in north India under Mohan Steels is another.
The group has dabbled in real estate and construction too, building IT parks and even townships.
People close to Kothari say it is the same risk-taking ability and expansion of business that may have got him into trouble.
Photograph: Courtesy, Vikram Kothari's Facebook page.