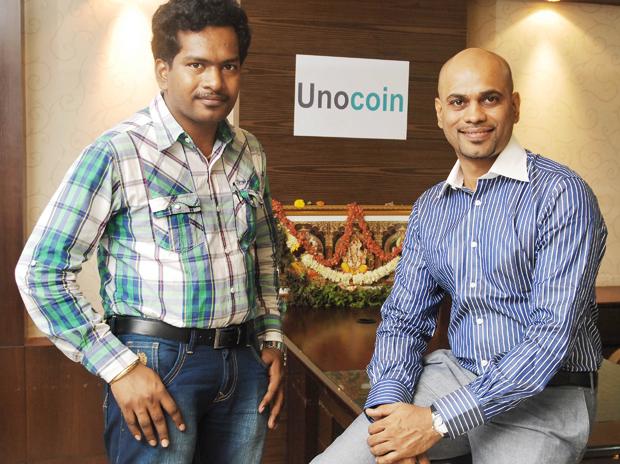 Unocoin founders, Vikram Nikkam, 38, and Sathvik Vishwanath, 31. Photograph: Kind Courtesy, Business Standard
In August this year, Bengaluru-based startup Unocoin made news internationally when Bitcoin investor Barry Silbert infused $250,000 in the company.
With this, Unocoin became the first Bitcoin exchange and merchant processor in India to have raised international funding.

For Unocoin founders, Vikram Nikkam, 38, and Sathvik Vishwanath, 31, this was also an opportunity to convince their families about how real the virtual currency they were dabbling in was.
Bitcoin is a digital currency that is created and stored electronically.
While it is not the only virtual currency in the digital market (there are over a hundred), it is by far the most popular one and accounts for more than two-thirds of the virtual currency market.

The economic downturn of 2008, which hit money as we know it in the real world, was what brought Nikkam and Vishwanath together in the world that deals in virtual currency.
Vishwanath had just completed his MBA in Australia.
As a student, he was already scripting for Second Life, an online virtual world, for users in the United States.
The hobby became a full-time venture as the number of clients increased and Vishwanath set up his first venture called VentureNext which sold Fennux, a fox-like creature in Second Life.
He created about 1.2 million Fennuxes. In 2013, a business partner from the US in a Second Life project introduced him to Bitcoin.
It wasn't difficult for Vishwanath to grasp the concept of Bitcoin, given that he had already dealt in another kind of centralised virtual currency, Linden Dollars, in Second Life.
With the popularity of Second Life dipping, he gravitated towards Bitcoin.

While Vishwanath was busy creating creatures for Second Life, Nikkam, who studied in the UK, was working for hospitality company Hilton Worldwide.
Here, business development and food and beverage management were his areas of operation.
The downturn made him look at the concept and fundamentals of money afresh.
Then in 2009, he came across Bitcoin and it 'got me interested,' he says.

After his stint at Hilton, Nikkam returned to India in 2013, intent on working in the Indian Bitcoin business.
"I started searching online for Bitcoin activity or community in Bengaluru and came across the India Bitcoin meet-up.
"That got me excited. I have been part of this movement ever since," he says.

He met Vishwanath at one such meet-up and the two decided to set up a business in the crypto-currency.
They launched Unocoin in December 2013 and, in less than a year, claim to have a membership of 3,000 registered users.
Though the number of operators in India is small, the players say there have been 150,000 wallet downloads so far. (A 'wallet' in the Bitcoin world is your own private online repository).
Between the two, Nikkam manages the business development aspect of Unicoin, while Vishwanath controls the technology and handles the back-end and real-time updates.

"In the beginning, no one would understand what we were doing," recalls Nikkam.
"I tried to explain it to my brother who said I was wasting my time.
"My father too started to understand that I was doing something that the world understood only when some neighbours asked him about my business."
To convince his brother, Nikkam would take him to several of the meet-ups that he and Vishwanath participated in.

Bitcoin is being increasingly used in online transactions across the world for purchases and other financial deals.
But it is also used by shady operators for illegal deals because of the anonymity involved.
Currently, there are 21 million Bitcoins in circulation.
Earlier this week, each Bitcoin was valued at around $290.

In India, acceptance of Bitcoin has been a tad slow.
Initially, the Reserve Bank of India was also not supportive of Bitcoin and though it has allowed its operations, it has cautioned investors about the risk of crypto-currency.

Nikkam and Vishwanath are, however, convinced that Bitcoin has a glowing future in India.
Coindesk, which covers the news and prices on digital currencies, says India ranks fourth in the list of the world's top 10 markets that are most likely to see mass adoption of Bitcoin, according to a recent Bloomberg report.
Coindesk's ranking was based on categories like technology penetration, inflation, history of financial crises and the size of a nation's black market.

"You need to look beyond money to understand Bitcoin," says Nikkam.
"Over the years, it will be about registering intellectual property on it. Bitcoin is the most transparent system for financial transaction globally."
Firms such as Dell, Overstock and Expedia have already started accepting Bitcoin.
Online e-commerce businesses like PayPal, which facilitate payments and money transfers through the Internet, also plan to allow Bitcoin payments through integration with a Bitcoin payment processing system.

Investor interest in India has been significant.
"As promoters, we were planning to raise capital ourselves, but were approached by Silbert, the CEO of Bitcoin Opportunity Corp, USA," says Nikkam.
The company now plans to use the funds to scale Unocoin and make Bitcoin available to the masses.
Part of the investment will be used for liquidity and marketing efforts, while another part will be used towards regulatory compliance and security expenditures.

Silbert is not the only one eyeing the Indian Bitcoin market.
In July this year, venture capitalist Tim Draper, who was the sole winner of an auction of 30,000 Bitcoins by the US Marshals Service, partnered with Silicon Valley-based startup Vaurum, founded by Avish Bhama, to leverage this pool.
Both Draper and Bhama have, in separate media reports, been quoted as saying that these coins will be used in emerging economies where local currencies are not very strong.
And India is very much on the radar.

Like Silbert and Draper, Nikkam believes that Bitcoin will prove to be a breakthrough in India, especially for banking the unbanked, instant global reach for e-commerce, freelancers serving the world at the click of a button, charity, fundraising, micro payments and transactions as well as crowd-funding operations for ideas and startups.
Currently, a few freelancers and small businesses are accepting Bitcoin through Unocoin in India.

The biggest hurdle for the acceptance of Bitcoin in India is the lack of regulation and clarity on how to tax it.
"It took us over six months to completely roll out Unocoin.
"We took a lot of time brainstorming to come up with a concrete plan to execute an operation where we would fit into the legal system and be able to stay 100 per cent compliant with regards to the know your customer and the anti-money-laundering policies," says Nikkam.
The company has also applied for approvals under existing tax laws such as service tax to continue to serve the Indian market.

Within India, Bangalore, the hub of technologists, entrepreneurs and businessmen who have embraced technology in a big way through regular meet-ups, has been faster in accepting Bitcoin.
One of the reasons for the 150,000 wallet downloads in India is the Bangalore Bitcoin Progressive Thinkers Meetup that has been a channel of expanding Bitcoin technology education.
"This meet-up group has built a team of cryptographically intellectual minds who love Bitcoin and who supported the Global Bitcoin Conference 2013 that took place in Bangalore," says Nikkam.

"The level of knowledge and understanding of the subject has greatly advanced," says Nikkam.
"A lot of people now want to know how they can get jobs in the Bitcoin space."
Unocoin employs 15-20 people, including engineers, and those looking into sales and marketing, and verification of customers.
With the virtual money tree showing healthy growth, Nikkam and Vishwanath are clearly determined to reap its rewards.