Whether they live away from their families or with them, all CEOs struggle with work-life balance, says Shyamal Majumdar.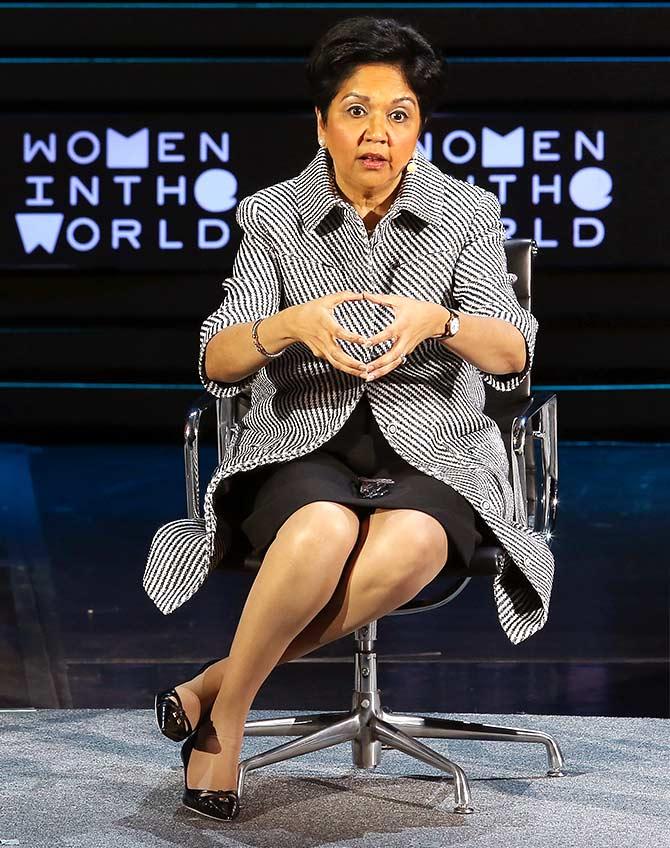 IMAGE: PepsiCo's Indra Nooyi at the Women In The World Summit in New York City in 2016. She said that though she did not regret pursuing her career, managing family life and work was "not easy." She acknowledged that she was filled with "heartaches".
Photograph: Jemal Countess/Getty Images.
"Personally, living a long distance from my wife and son has been a challenge," said Ashish Nanda, director of Indian Institute of Management-Ahmedabad, in his communication to members of the IIM-A community last week.
Nanda has decided to resign from his post nearly four years after he took charge.
A day earlier, Coca-Cola India boss Venkatesh Kini said he was quitting for personal reasons.
Though he didn't say much beyond this, people close to him say Kini was getting tired of leading the life of a forced bachelor as his wife and children are based in the United States. He had moved to India in 2012.
Others give different reasons for his resignation, but that's another story.
Nanda and Kini joined an increasing number of leaders who didn't mind the 24x7 work pressure, but found it difficult to live away from family beyond a certain point.
This is what an outgoing CEO told the HR head in his exit interview: Living apart can be a real killer as you suddenly realise that the psychological safety valve is missing when you come back from the day's work.
The CEO also said when he lived with family, he moaned about how boring it was and how suffocating he felt when family life interfered with professional commitments. Now I would go back in a shot, he said, adding at first, it (the resignation) seemed like a hard choice, but the more he sat with the choice, the more certain he became that it was the right choice.
This was much the same what Hugo Barra, the person tasked with expanding Xiaomi's reach beyond its native China, said while announcing his resignation.
Barra said his decision was strongly motivated by a feeling of detachment from his family and the life he had built up in Silicon Valley: "What I have realised is that the last few years of living in such a singular environment have taken a huge toll on my life and started affecting my health. Seeing how much I've left behind these past few years, it is clear to me that the time has come to return."
Some, of course, make a mess of it even while staying with family.
One senior professional, for example, wanted to maintain his work-life balance by cutting back on the one thing all of us could use more of -- sleep. He wanted to set aside sacred times that are purely for family -- family dinner, for instance. This usually meant he worked a few hours after dinner.
But the guilt of not spending enough time with family just never goes away, it seems.
PepsiCo CEO Indra Nooyi, for example, acknowledged that managing her family life and work is "not easy" and while she does not regret pursuing her career, she is filled with "heartaches" for not spending as much time with her daughters when they were growing up.
Speaking at the Women in the World Summit sometime back, Nooyi said she would tell her younger self to be "careful" of the choices she would make since missing out on her children growing up will eventually "hurt".
There is obviously no universal solution to this problem of loneliness among CEOs as it all boils down to making personal choices.
While some revel in the "lack of family time" as it helps them concentrate more on the job and constantly think about work -- whether they are in office or on the ski slopes. They also want to be the best on all parameters: cost, quality, product innovation -- everything.
And many of them have been super-successes. For example, GE's former chief executive, Jeff Immelt, had said he had been working 100 hours a week for the last 20 years of his career.
At the same time, some others have chosen to give it all up at the peak of their career. For example, the day database company MongoDB announced that Max Schireson would step down as CEO, he published an explanatory post on his personal blog entitled, Why I am leaving the best job I ever had.
The short answer: Schireson wanted to spend more time with his wife and three kids in Palo Alto, and the switch to a less hectic role with MongoDB should allow him to do that.
Schireson could have left his job without a detailed explanation. Instead, the outgoing CEO decided to use his story to help advance the cause of engaged fathers.