Will the US Congress pass the bill to double minimum wages for H-1B visa holders?
Will US President Donald Trump issue an executive order to restrict H-1B visas?
Ayan Pramanik and Shivani Shinde Nadhe report on the uncertainties that have dragged down shares of TCS, Tech Mahindra and HCL Technologies.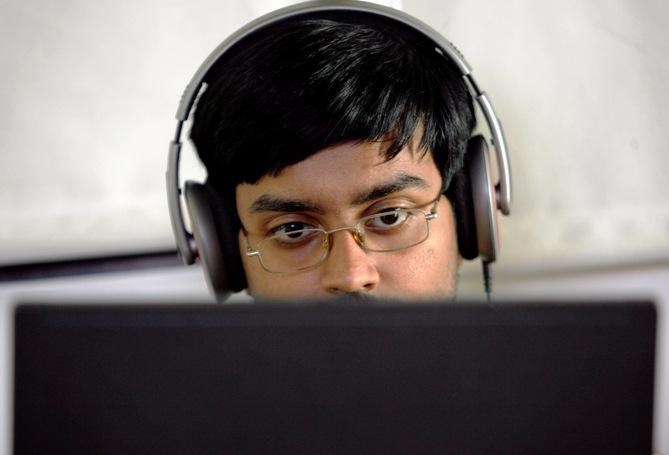 IMAGE: Indian IT services firms have been reducing their dependence on H-1B visas. Photograph:

Punit Paranjpe/Reuters

.

India's information technology industry will face short-term challenges if the Bill to double minimum wages for H-1B visa-holders is passed in the United States Congress. The impact will be felt by American technology companies such as IBM, Accenture and Microsoft, which have been sending Indian engineers on these visas to the US.
A California lawmaker Zoe Lofgren, on January 31, introduced a Bill in the US Congress requiring companies that employ workers on H-1B visas to double their minimum pay to $130,000 a year, the first revision proposed in nearly two decades. The legislative process will take time.
US President Donald Trump was likely to issue an executive order restricting H-1B visas, his spokesperson Sean Spicer said separately.
The development forced investors to sell IT stocks, dragging shares of TCS, Tech Mahindra and HCL Technologies down. The BSE IT index was down 2.96 per cent to 9,586.34 on Tuesday.
"If this proposal is accepted it will mean short-term pain for Indian IT services players, but in the long run they will figure out ways of circumventing it. This will also impact global technology players, so do expect some pushback from these companies against this Bill," said D D Mishra, research director at Gartner.
A November study by brokerage JP Morgan said Indian IT services firms had been reducing their dependence on H-1B visas and were hiring local workers in the US. In contrast, IBM, Accenture and Microsoft have applied and been granted a higher number of these short-term work visas to send engineers to work in the US.
"Indian nationals account for 69 per cent of the total H-1B visas issued; this percentage has been rising over the years helped by applications from Indian nationals from outside India and increasingly from MNCs using India as an important resource base," wrote analysts Viju K George and Anshul Agrawal in the report.
The top 10 IT firms account for 23 per cent of the total new H-1B visas approved (109,292) in 2015, and excluding IBM and Accenture this falls to 18 per cent, according to the report.
"The approved visa petition count for Indian IT firms has dropped to 39 per cent in 2014-15. Within this, TCS, Wipro, Infosys, Tech Mahindra, Cognizant and HCL Technologies collectively received 44 per cent fewer visa petition approvals," the report said.
Indian firms have collectively hired over 50,000 local engineers in the US over the last decade and have stepped up efforts to hire more from campuses and other US firms.
"Some of them had already started hiring more on-site. What they did not expect is that there would be a proposal to double the minimum wage for H1B visa-holders. While both Indian and US companies will focus on more offshoring, for certain types of service delivery, firms will mandatorily need on-site presence," said an analyst with a global brokerage firm.
Indian software lobby group Nasscom, which will take US technology firms in a delegation in February to meet the Trump administration, has argued that America faces a shortage of over 1 million computer science engineers and the Bill has loopholes that will nullify the objective of saving American jobs.
"Our suggestion is that they should calibrate the conditions keeping in mind the skills shortage in the US. Once that is done, they should not leave any loopholes in the rules being framed that leave some channels open for circumventing the limits," said Nasscom president R Chandrasekhar.
"Raising wage levels for dependent companies alone will defeat the basic objective as non-dependent companies can continue to bring in skilled workers at lower wage levels," he added.