HR experts said there was an excess supply of manpower with generic skills in the IT industry, which was why salary hikes across the industry continued to remain subdued
Illustration: Uttam Ghosh/Rediff.com
As the world celebrated Labour Day, acknowledging labour rights, Indian information technology workers were observing a struggle of a different kind - seeking respectable salary increments.
The average wage increment across sectors, including IT, was projected to be 9.4 per cent for 2018, according to an Aon salary increase survey.
However, employees working with major IT firms in India said the average salary hike they had received was less than 5 per cent. In many cases, there were no hikes at all.
At entry level, salaries have been static for 10 years. Experts say the trend will continue, or become worse in 2019.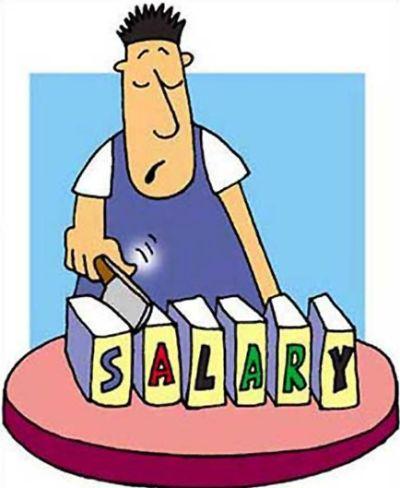 Many employees of Capgemini, one of the largest IT services and consulting companies, took to Twitter to vent their frustration, saying their increments were either nil or negative.
"I have been with the company for more than two years. Last year, the increment was not great, but this year, they have sent me a letter whichb stated 'we are pleased to inform you that your salary has been increased to' with a figure which was actually Rs 1 lower than my earlier Cost to Company," said a furious Capgemini employee, who did not wish to be named.
The company, however, told Business Standard that its employee remuneration was defined in an objective process, consistent with industry norms to ensure that it was aligned with customer needs, business priorities and the overall industry evolution.
"Annual increments are determined by individual performance and potential, and the strategic business goals of the company," Capgemini said.
Even Tata Consultancy Services, which became the first Indian IT company to cross $100 billion in market capitalisation, announced salary hikes in the range of 2-6 per cent.
This has not gone down well with Tweeple advising the company that if it did not provide proper hikes and recognition in the long run it would lose out on innovation.
When contacted, TCS declined to comment on the issue.
HR experts said there was an excess supply of manpower with generic skills in the IT industry, which was why salary hikes across the industry continued to remain subdued.
"Companies are giving out meagre salary raises to force employees to leave.
"Earlier, they were worried about people quitting, but now the attrition rates have come down to 10-12 per cent.
"They are happy with an attrition rate below 15 per cent because whenever a person leaves, he can be replaced with a lower cost person," said Kris Lakshmikanth, founder, Head Hunters India.
For Capgemini, the actual salary hike cycle used to be from January, but the company communicated to its employees that it would be moved to April this year in order to align with the rest of the industry.
"Sometimes, if a company is going through a rough patch, hikes can be affected. The worst part is that no one is communicating about the zero pay hikes.
"Employees are disappointed because they have not been given any explanation from the company regarding this," said another person working at Capgemini.
Angry techies expressed their displeasure on Twitter.
While some asked for the notice period to be reduced to one month so that they can look for new jobs, others joked even Paytm paid more in cashbacks than Capgemini's dismal increments.
This at a time when the company has started the year on a strong note, posting revenue growth of 7.2 per cent at constant exchange rates.
Even though Infosys, India's second largest IT services company, has announced a pay hike with effect from April 1, it is applicable to employees of certain bands, especially the junior and middle level, who account for around 85 per cent of its total workforce.
For the rest, the compensation revision will be effective from July 1.
However, the Bengaluru-based company last month also announced a $10 million (Rs 65.2 crore) bonus payout for its employees.