With $1.4-bn Lafarge deal, Karsanbhai Patel's risk-taking abilities are on display once again.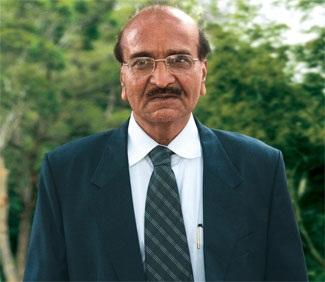 The fact that Karsanbhai Patel, founder and chairman of Nirma, began his entrepreneurial journey in the late 1960s by making detergent powder in his backyard and selling door-to-door has become a corporate legend.
Founded in 1984, Nirma's detergent powder started giving marquee brands a run for their money within a few years. For the past five decades, Patel has steered Nirma as a household name.
After losing his daughter in a car accident, Patel immortalised her pet name 'Nirma' as India's leading detergent, soda ash and education brand.
A publicity-shy entrepreneur, Patel is known for his ingenuity in marketing and risk-taking abilities.
In early 80s, when Nirma was struggling to find takers in the market, Patel came up with a strategy to collect all pending payments and dry out the market of Nirma inventory, followed by a blitzkrieg advertising campaign.
As a result, consumers began thronging shops for Nirma products, only to return empty-handed.
When demand for Nirma peaked, Patel flooded the retail stores with his products.
This became popular as 'marketing miracle', when Nirma surged well ahead of its nearest rival - Surf of Hindustan Unilever.
In 2010, recognising Patel's entrepreneurial legacy and his contribution to India Inc, government of India conferred him with the 'Padma Shri'.
Still the final voice on strategy in the Nirma empire, Patel likes to keep things close to his chest.
This was also evident when Patel and his family decided to delist Nirma and buyback shares at a sharp discount in 2011, taking many market experts by surprise.
Under Patel, family members like Rakesh Patel, Hiren Patel and Kalpesh Patel have grown within the group as the next generation management leaders, looking after different aspects of business.
Patel has been aggressively trying to diversify into other businesses such as pharma, cement, power, education and infrastructure.
He has been pursuing a cement plant in Mahuva, Gujarat despite protests from farmers, after setting up a two mn-tonne cement unit in Rajasthan.
In all these years, Patel has successfully kept a low key profile, avoiding limelight.
Politically also, Patel maintains a safe distance from all parties.
With the Lafarge deal, Patel's risk-taking abilities are at display once again, given that some of Nirma's other businesses, especially detergents, are plateauing.
Only time will tell if Karsanbhai's ingenuity will work the same wonders in cement business as it did in detergents.