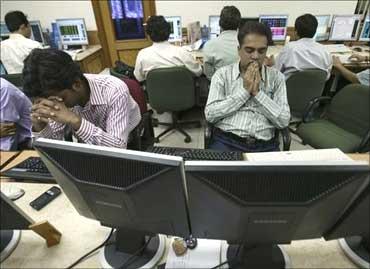 Monday saw the Sensex post its weakest closing since July 11 when it settled at 36,265.93. In the previous four sessions the index had lost 1,249.04 points.
Market benchmark BSE Sensex tanked nearly 537 points to end at an over two-month low of 36,305.02 and the Nifty crashed below the 11,000-mark on Monday, extending their slide for the fifth straight session after heavy losses in banking and auto stocks.
Reports of liquidity concerns following the default in repayment of loans by the diversified IL&FS group spooked investors even as losses in global markets on reports that China had called off planned trade talks with the US in the wake of a new round of duties weighed on market sentiments.
The 30-share Sensex hit a low of 36,216.95 before settling at 36,305.02, down by 536.58 points or 1.46 per cent -- the biggest single-session fall since February 6 when it had lost 561.22 points.
This is the weakest closing since July 11 when it settled at 36,265.93. The index had lost 1,249.04 points in the previous four sessions.
The broader NSE Nifty cracked below the 11,000 level by dropping 168.20 points, or 1.51 per cent, to end at 10,974.90 due to foreign fund outflows amid prospects of a 25 basis point hike in interest rate by the US Federal Reserve this week.
Mahindra and Mahindra fell the most, by 6.46 per cent, among 30 Sensex stocks while Maruti and Bajaj Auto decline by 3 per cent and 1.7 per cent respectively.
Financial stocks led by HDFC took a hit, dropping 6.22 per cent, while IndusInd Bank dropped by 4.94 per cent, ICICI Bank by 2.8 per cent, Kotak Bank by 2.6 per cent, HDFC Bank by 2.16 per cent, and SBI by 2.04 per cent.
Yes Bank fell by another 0.35 per cent, taking its total losses to more than 29 per cent after the RBI curtailed the term of its founding CEO Rana Kapoor.
Bucking the trend, IT stocks TCS and Infosys rose by 4.5 per cent and 1.5 per cent. Coal India rose by 2.1 per cent while Reliance gained 1.27 per cent.
Sentiments remained distinctly weak in sync with declining global markets as the intensifying dispute between the world's two biggest economies has spooked financial markets worried about the fallout on global growth, brokers said.
The Reserve Bank of India and market regulator Sebi said on Sunday that they were closely monitoring the developments in the financial sector and were ready to take "appropriate actions" to calm the jittery investors.
Meanwhile, Finance Minister Arun Jaitley said on Monday that the government would take all measures to ensure adequate liquidity for non-banking financial companies and mutual funds.