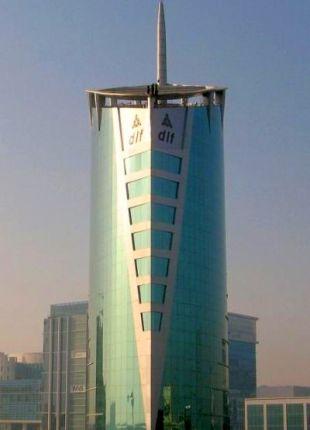 It was an individual complainant, seeking action against Rs 34 crore (Rs 340 million) he was allegedly duped, and "sham transactions" involving three 'housewives' that has led to regulator Sebi coming hard on the country's biggest real estate developer DLF and its top executives.
The case, in which Sebi has imposed a three-year ban, relates to non-disclosure of these transactions and the related risks when DLF raised Rs 9,187.5 crore (Rs 91.87 billion) through an IPO, the largest in the country at that time.
The company has denied having violated any laws and has said it would defend itself against all adverse findings in the order.
With regard to this IPO, one Delhi-based businessman Kimsuk Krishna Sinha filed two complaints with Sebi on June 4, 2007 and July 19, 2007, Sebi said in its 43-page order while detailing the events and developments related to the matter.
In his first complaint, Sinha stated that Sudipti Estates Private Limited and certain other persons had duped him of Rs 34 crore in relation to a transaction between them for purchase of land, and he had also registered an FIR against Sudipti, one Praveen Kumar and others in that regard.
He also stated that Sudipti had only two shareholders, namely, DLF Home Developers Ltd (DHDL) and DLF Estate Developers Ltd (DEDL), both the wholly-owned subsidiaries of DLF. Sinha further alleged that Sudipti, DHDL and DEDL were sister concerns and are inextricably linked and these companies are a part of the DLF group.
In his second complaint, Sinha said that DLF was denying its or its subsidiaries' connection with Sudipti at that point of time. He, however, claimed that DLF's claim of not having any association with Sudipti was false.
When asked by Sebi, DLF denied the allegations. Not being satisfied with the response provided by DLF, Sinha filed a Writ Petition before Delhi High Court, which asked Sebi to probe the matter in April 2010.
After looking into further appeals by Sudipti and DLF, the High Court passed another order in July, 2011 directing Sebi to examine the matter. Subsequently, Sebi ordered a probe into the allegations made by Sinha in his two complaints of 2007.
After the probe, Sebi issued show cause notices in June 2013 to DLF, Chairman and main promoter K P Singh, his son Rajiv Singh, daughter Pia Singh, as also three others including Managing Director T C Goyal, then CFO Ramesh Sanka, then Executive Director (Legal) Kameshwar Swarup and then non-executive Director G S Talwar.
Except Talwar, whom Sebi has given "benefit of doubt", Sebi has now passed orders against all six individuals as also against the company. In its notice, Sebi observed that all these individuals were "part of the top management of DLF during the years 2006-07 and 2007-08".
Besides, Praveen Kumar, who was named in Sinha's complaint, was nephew of K P Singh, at the relevant time he was director of DLF's certain subsidiaries and also a key management personnel (KMP) of DLF, Sebi said.
The regulator further said that Sudipti and two other companies namely, Shalika Estate Developers Private Limited and Felicite Builders & Construction were incorporated on March 26, 2006.
On November 29, 2006, the entire shareholding in Felicite was sold to three persons namely, Madhulika Basak, Niti Saxena and Padmaja Sanka. "These three persons were wives of Surojit Basak, Joy Saxena and Ramesh Sanka, respectively who were the KMPs of DLF," Sebi said.
The next day, the entire shareholding of DLF subsidiaries in Shalika was sold to Felicite, while the entire shareholding in Sudipti was sold to Shalika.
The three shareholders who, pursuant to purchase of shares of Felicite from DLF subsidiaries, became 100 per cent shareholders of Felicite, which in turn became 100 per cent shareholder in Shalika and which in turn became 100 per cent shareholder in Sudipti, were spouses of KMPs of DLF.
"These three shareholders were not regular investors/traders in the securities market though they claimed that they purchased entire shares of Felicite for the purpose of investment in real estate sector.
"All the three transferees were 'Housewives' and they held bank accounts jointly with their respective husbands," Sebi said. On this basis, it was alleged that their purchases of shares in Felicite were funded by their respective husbands' joint accounts.
"Considering the fact that all these three shareholders were 'Housewives' and that the payment towards their purchases of shares of Felicite were made from the joint accounts held with their respective husbands, it has been alleged that DLF never lost control of Sudipti, Shalika and Felicite," Sebi said in its notice.
Sebi further said that "the said three 'Housewives' continued to be the shareholders of Felicite as long as their respective husbands continued to be the KMPs of DLF and once they ceased to be the KMPs, shares were transferred to other KMPs' 'Housewives' /subsidiary company".
In its submission before the regulator, DLF said that there is no disability in law barring a person from investing in shares merely because she is a "Housewife" by profession, nor can there be an adverse inference regarding the veracity and validity of the share acquisition by such person because the purchase consideration has been advanced from the joint account held by her and her spouse.
The regulator, however, maintained that "it is an undisputed fact that for the purchases of shares of Felicite by said three 'Housewives' the payments were made from the bank accounts held by them jointly with their respective husbands.
"It is further noted that these 'Housewives' were not regular investors/traders in the securities market and they did not have any income of their own," Sebi said, while adding that DLF actually never lost control of the three companies.