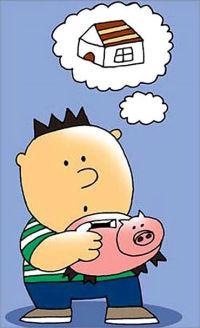 Many prospective buyers of homes have been deferring their decision to buy, hoping for property prices to come down. But many realtors say prices won't correct, as input prices have soared in the past few months and demand is still holding on.
Sunil Mantri of Mumbai-based Sunil Mantri Realty believes prices may actually go another 10 per cent in cities like Mumbai, as there's not much supply expected, with approvals (for building plans) getting delayed.
''Prices coming down is a myth. Neither has demand come down nor supply increased. If anything, the demand-supply gap is widening.
"With the economy growing and salaries rising, how do you expect real estate prices to remain the same?'' asked Lalit Kumar Jain, Chairman of Pune-based Kumar Developers.
Niranjan Hiranandani, managing director, Hiranandani Constructions, said: ''As far as Mumbai city is concerned, barring a few places such as Parel, I do not think prices will come down. While supply is not increasing, demand is ever increasing."
Approvals are getting delayed as authorities are treading cautiously after the Adarsh housing and 2G telecom scams.
Supply could be a constraint in Mumbai, but more of it could drive down prices in parts of the National Capital Region such as Noida Extension, Raj Nagar Extension in Ghaziabad and Sohna Road in Gurgaon. But they all face the same pressures on costs.
Cement and steel prices have shot up sharply in the past four months, with steel prices rising 10 per cent and cement increasing 34 per cent since January.
''Steel prices had corrected 10-15
per cent in March, but they have again gone up. Similarly, cement had come down in the first week of April but has gone up again,'' said a builder in the NCR.
Steel prices, at Rs. 36,000 a tonne five months before, are today ruling at Rs. 40,000 a tonne. Ordinary portland cement has shot up from Rs. 190 per 50-kg bag in January to Rs. 260-270 per bag, say builders in the NCR.
Steel accounts for 20-35 per cent of cost of construction, depending on the project (higher for multi-storeys and commercial) and cement accounts for 15-20 per cent of cost.
Margin pressure


''Buyers have been waiting for a correction in prices, but this may not happen in view of higher input prices and cost of land,'' said an official from Omaxe Ltd. Realtors have not been able to pass on the cost push, so there's already a correction to that extent.
Akshaya Kumar, CEO, Park Lane Property Advisors, has a different take: ''Where is the demand? If inventory is not getting cleared, they have to cut the prices. Prices are clearly a play between demand and supply, and not costs,'' he said.
Builders say they budget for a 10-15 per cent increase or decrease in prices in their costing. A higher increase in prices eats into their margins. The adoption of new circle rates in Delhi and Haryana has also affected volumes in the resale market.
The sentiment continues to be poor, say builders.
''For instance, if a developer had sold 600 flats in a 1,000-flats project for Rs. X, and hoped to sell the remaining 400 flats at X-plus price, he's not being able to do so. Nor can he sell at a price lower than what he has sold at,'' said a senior executive with Parsvnath.