The Securities and Exchange Board of India (Sebi) has allowed Price Waterhouse to cross-examine some of the entities involved in the Satyam scam.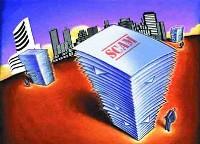 The capital market regulator has, however, refused permission to cross-examine the erstwhile top brass of Satyam, including Ramalinga Raju (former chairman) and Vadlamani Srinivas (former senior vice-president & CFO).

According to the 14-page order passed by Sebi member M S Sahoo, Price Waterhouse will be notified of the date, time and venue for the cross-examination.

"The cross-examination will proceed on the given dates and no adjournment will be granted.It will be restricted to those portions of the statements, which are prejudicial to PW and, which have been disputed by it. After the cross-examination is completed, Sebi will be entitled to re-examine them, if considered necessary," explains the order.

The Sebi member has also highlighted the issue of repeated adjournments sought by PW, which are delaying the whole proceedings.

"While the request for cross-examination of some of the persons... is justified and has been granted, I must say that the noticees (PW) appear to be using the request for cross-examination of a large number of persons, most of whom were their own employees/partner with a view to delay matters and render the proceedings ineffective," says the order.

In August, the Bombay High Court had ruled that the capital market regulator can proceed with its inquiry against PW for its alleged role in the Satyam scam.

The ruling was made in the backdrop of arguments whether Sebi can debar Price Waterhouse, if proved guilty, from working with any of the listed companies.