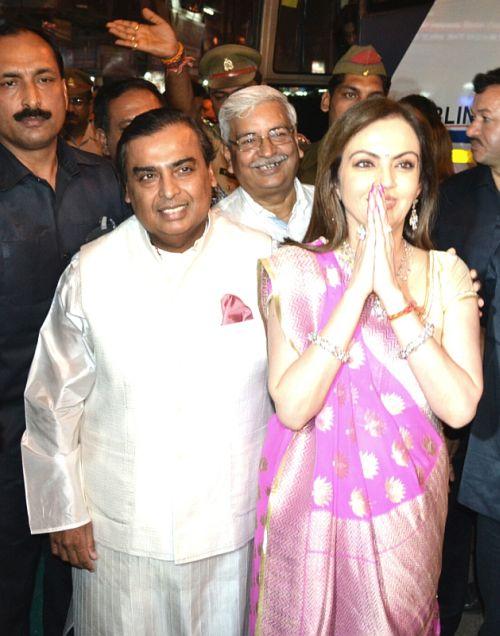 Image: Mukesh Ambani with Wife Nita Ambani. Photograph: Sandeep Pal
Industrialist Mukesh Ambani celebrated wife Nita Ambani's 50th birthday with much fanfare in Varanasi on Saturday.
It came as a surprise to many that Ambani family chose the ancient holy city for the event, as they are not regular visitors to Varanasi.
Speculation was rife that it was Narendra Modi effect that attracted India's first business family to the city. Many suggested that this would help them to earn brownie points.
Interestingly, the birthday precedes Narendra Modi's visit to the holy land, where he is scheduled to arrive next week.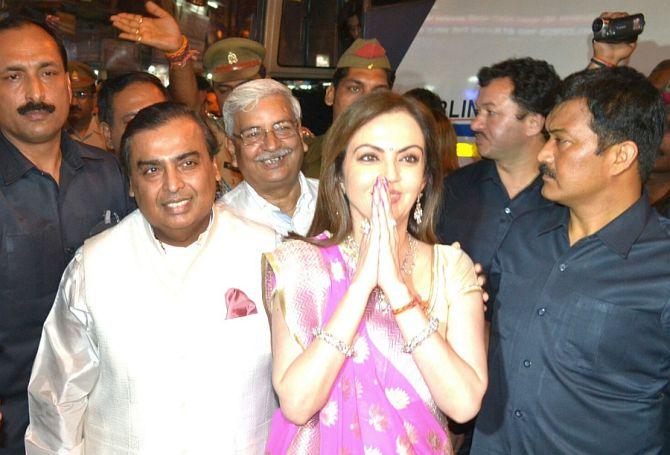 Photograph: Sandeep Pal
Sources close to the family, however, maintained that it was Nita's wish to celebrate her 50th birthday in the "spiritual ambience" of Varanasi.
Accompanied by a large entourage, including the kids, the couple reached Varanasi by a private plane in the afternoon.
They were driven straight to KashiVishwanath Temple where a special puja was organised for them. Shortly thereafter, they went to Dashashwamedh Ghat on the Ganga river where a special evening arti awaited them.
Regarded as the most sacred of all ghats in the city, the Dasashwamegh ghat was all decked up for the occasion. With a red-carpet in place , the entire place was glowing with colourful lights.
An improvised deck was created on four large boats to provide a pavilion for the Ambani couple and their guests to watch the arti that was performed on the high end of the steps.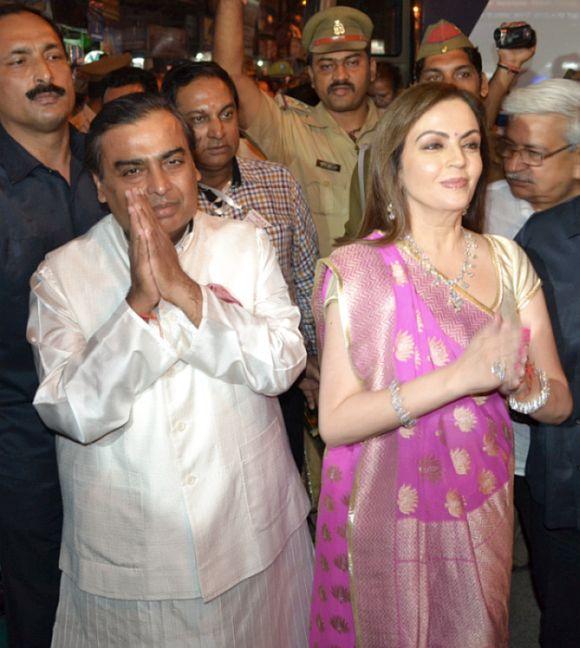 Photograph: Sandeep Pal
The arti is followed by a big bash at the Nadesar Palace - once home of the erstwhile royalty of Benaras and now an exclusive part of Taj Hotels.
All the ten suites of Nadesar Palace have been decorated exquisitely for the VVIP guests, and the entire section has been completely cordoned off to prevent entry of outsiders.
While there were reports of top Bollywood celebrities and leading Indian cricketers joining the birthday celebrations at the hotel, local authorities in Varanasi denied any such knowledge. No celebrity was seen in or around the Kashi Vishwanath temple or Dasashwamegh Ghat .
The Ambanis wil fly back to Mumbai on Sunday morning.