While the media gaze has been on start-ups in trouble, investors who funded them have mostly escaped attention, says Ranju Sarkar.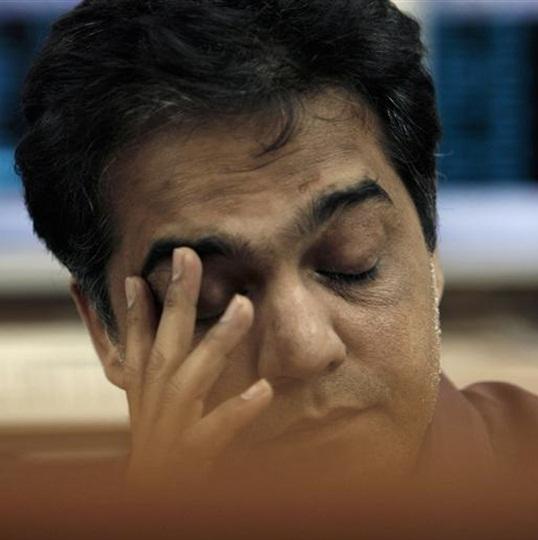 IMAGE: Start-ups that did not have a business model or attract new funding, are shutting shop. Photograph: Reuters
The rise and fall of Nikesh Arora at SoftBank, in some sense, symbolises how the investor sentiment has changed with Indian start-ups: moving from a period of exuberance to one of extreme caution within two years.
Start-ups that did not have a business model and, hence, could not grow or attract new funding, are shutting shop.
A dozen start-ups have shut down so far in 2016 (calendar year), after a similar number last year.
Several others are struggling to stay afloat. About 30 of them have been acqui-hired by another start-up.
While the media gaze has been on start-ups in trouble, investors who funded them have mostly escaped attention.
"Everyone has lost money. But, it will be good to find out what SoftBank has done. They are in big trouble, in terms of amounts and in terms of being the last investor to get stuck at high valuation," says a venture capital (VC) investor.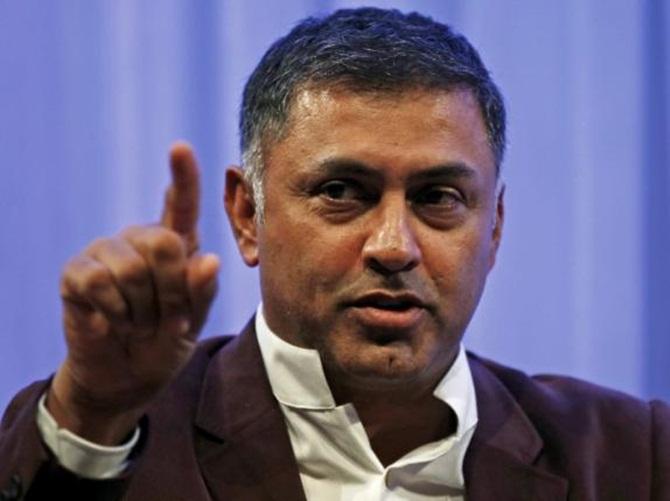 IMAGE: 'Nikesh Arora over-paid for every deal'. Photograph: Reuters
SoftBank invested $90 million in Housing.com and valued OYO Rooms at $400 million.
"Nikesh Arora over-paid for every deal. There's a fallacy among some: if a company raises more money, it will last longer (if it is the last man standing, it will still win)," says an investor.
It may still work in categories like taxi aggregation. Investors say VC firms with a Silicon Valley background are able to raise more money from global investors as they have the ability to sell their US and global experience to investors.
India is different, though. "Most people who left India 10-20 years ago have no clue, and have no connection with the ground situation here. Such investors come, park themselves in some fancy hotel, invest money and go away with the hope that like in the US and China, they will make money here. But, they lose," says another VC who does not wish to be named.
Some investors do make money initially, but that's luck.
"First, it was Silicon Valley investors like Draper Fisher Jurvetson, with the famous outrage by its Mohanjit Jolly against Indians, and now its executives from big Japanese, US funds. These people come here, lose money and then are forced to bow out," says the VC quoted above.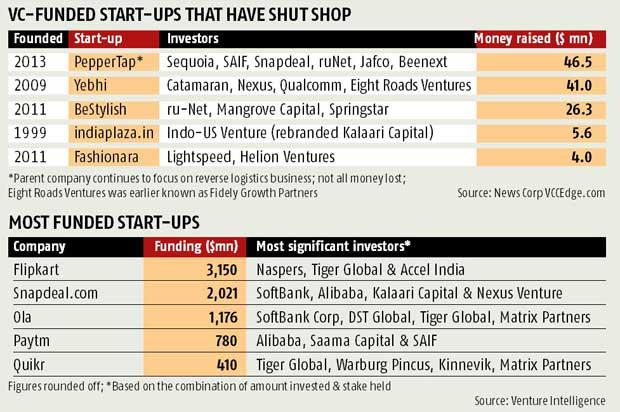 Shutdowns
Barring half-a-dozen well-funded start-ups that shut shop, most start-ups that downed shutters had not received significant funding and had only raised early-stage money.
While there has not been a lot of capital erosion so far, it is likely if some well-funded start-ups like Housing, OYO Rooms etc., fail.
Investors have lost money in some well-funded start-ups that shut shop: Sequoia and Matrix in TinyOwl ($46 million); Catamaran, Nexus, and Qualcomm in Yebhi ($41 million); ruNet, Mangrove Capital, and Springstar in BeStylish ($26.3 million), Indo-US Venture, Matrix, Draper Fisher Jurvetson in SeventyMM ($20 million); Indo-US Venture in Indiaplaza; Lightspeed and Helion in Fashionara.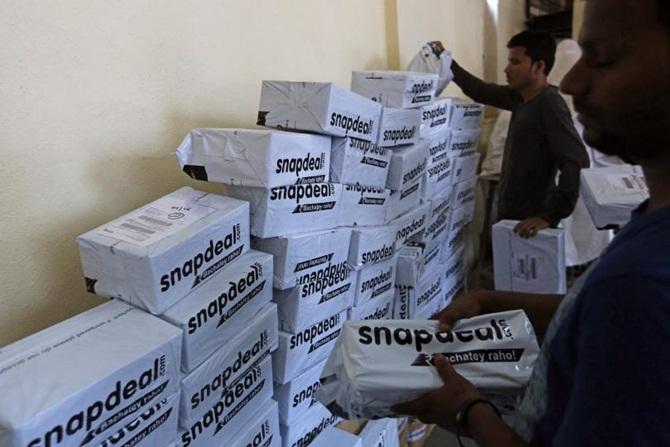 Struggling start-ups
There are several start-ups that are struggling and the well-funded ones pose the biggest risk to investors who have backed these start-ups.
These include Snapdeal, which has ceded ground to Amazon after the latter became more aggressive in the Indian market.
Snapdeal has raised $2.1 billion from investors such as Alibaba, SoftBank, Foxconn, eBay, Nexus Venture Partners and Kalaari Capital, among others.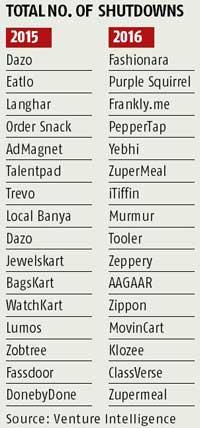 Similarly, investors say hotel aggregator OYO Rooms is struggling though many of its rivals such as Tiger-backed ZO Rooms have gone out of business.

OYO has raised $226 million, most of which from SoftBank.

Similarly, real estate portal Housing.com, which has seen a change in management after the ouster of its controversial founder-CEO Rahul Yadav, struggles to find its feet in a competitive and stagnant real estate market.

Housing has raised $154 million from SoftBank, Helion, Nexus and Qualcomm.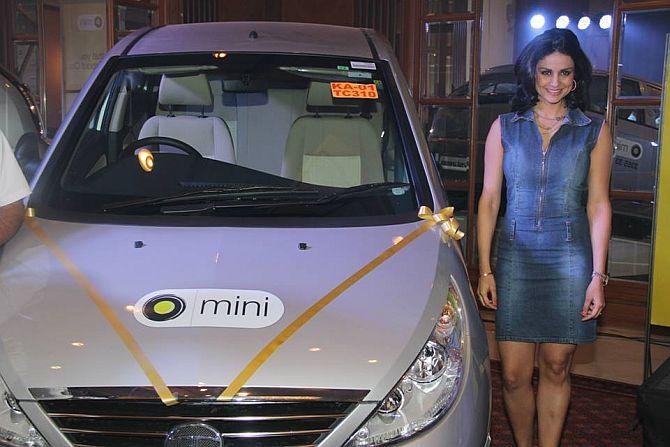 Of course, there are other start-ups like Ola or Big Basket, which are bleeding, but experts say they might get acquired.
Zomato is also making losses and there are questions over its valuation or profitability, but investors think it meets a consumer need and enjoys a lead in its space.
"It is acquiring customers free of cost, and its restaurant business is steady," says an investor.
There are many start-ups which are half-dead - like an apparel e-tailer, which has raised around $30 million or another fashion portal that has raised $50 million but doesn't want to close down.
"Investors don't want to report or write them off. In some cases, they may also put in some good money after bad money. The company may be dead on paper, but not on their books," says the CEO of a Mumbai-based venture capital firm.

Tiger Global was one of the most aggressive investors in India in 2014 and 2015.
Industry insiders say many of its investments like News In Shorts are struggling.
Rocket Internet has also backed several start-ups in India, most of which are struggling: Foodpanda, Jabong and FabFurnish, which was acquired by Future Group.
Some investors have also suffered as their portfolio companies have not managed to raise follow-on funding.