Headline-grabbing is part of Terry Gou's business plan.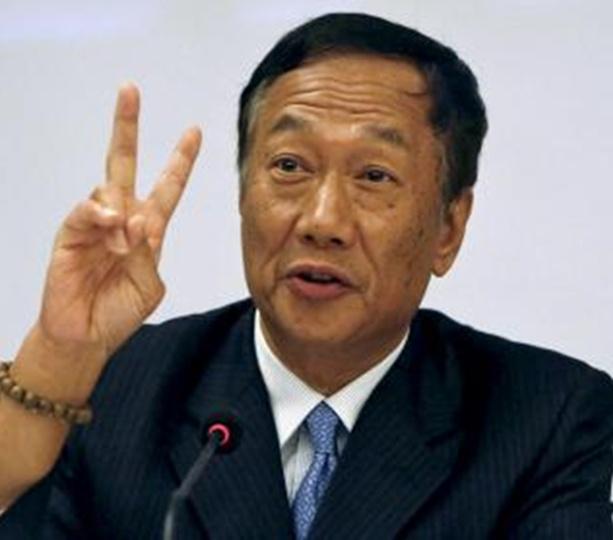 Image: Terry Gou, founder and chairman of Taiwan's Foxconn Technology during a news conference in New Delhi. Photograph: Anindito Mukherjee/Reuters
Terry Gou, who heads Foxconn, gives interviews very rarely, but when he addresses large gatherings, his pronouncements are usually grand.

Four years ago, in Shenzhen, the southern Chinese city just across the border from Hong Kong where Foxconn's largest facility to manufacture iPhones and iPads is located, Gou said in the midst of a party for workers that he planned to deploy 1 million robots in his factories in a few years.

The announcement was a show-stopper, garnering headlines around the world, but not much has come of it.
Perhaps this is because some robotics experts say that the dexterity required for assembling smartphones still defeats robots and requires nimble human hands.

On another occasion, Gou, who has served in the military in his native Taiwan, said one of the advantages of employing robots is that they don't cry.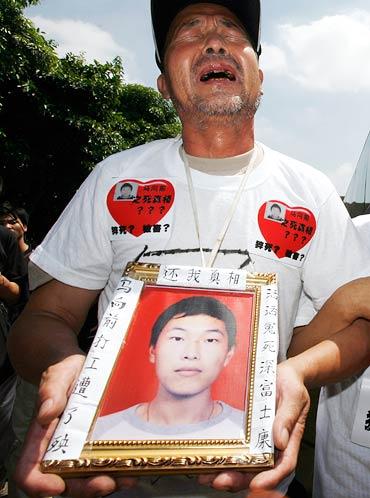 Image: Ma Zishan cries as he carries a portrait of his son Ma Xiangqian outside a Foxconn factory in the township of Longhua. Photographs: Bobby Yip/Reuters
The remark came off as callous, even cruel, because Foxconn's Shenzhen factory had seen a spate of worker suicides in 2010.
Gou's crowded press conference earlier this week in New Delhi conformed to that pattern of headline-grabbing; Foxconn, he said, was considering opening 10 to 12 factories and data centres in India on a ten-year time frame.

Such initiatives by the world's largest contract electronics manufacturer that employs about 1 million workers in China would be a major boost to the Narendra Modi government's effort to attract manufacturing to India.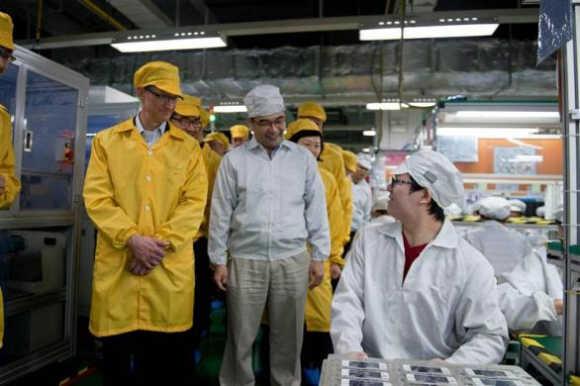 Image: Apple CEO Tim Cook, left, visits the iPhone production line at the Foxconn Zhengzhou Technology Park in Zhengzhou, Henan province, China. Photographs: Reuters
As the nation's affair with smartphones becomes more intense, India's imports of electronic goods is likely to climb to $300 billion by 2020. The government is right to be exercised by this.
Gou, born in 1950, rambled through his press conference this week, however, details were few and far between. Although he and his team have paid multiple visits to India, the location of the factories was not announced.

In China, Foxconn has been wooed in the past by state governments for large investments and this process is no doubt underway in India, judging from Gou's visits over the past months. Because India needs Gou more than Gou needs India, he will drive a hard bargain.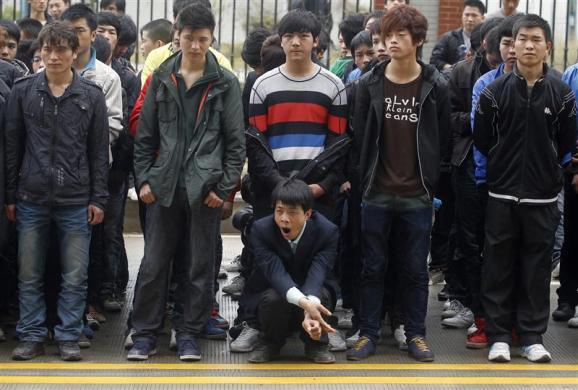 Gou founded his business in 1974 with a loan from his mother-in-law. Foxconn began by making plastic knobs for television sets.

Six years later, he travelled across America, successfully drumming up contract manufacturing business from IBM and others. By the end of the 1980s, Gou and Foxconn had outgrown Taiwan and the company set up what came to be arguably the most high-profile electronics manufacturing plant in the developing world in China.

The Shenzhen factory resembled a military style township where managers kept a stern eye even on workers' breaks to go the toilet. This generation of Chinese workers are more sensitive than previous ones and are usually only children, and are also more likely to protest, however.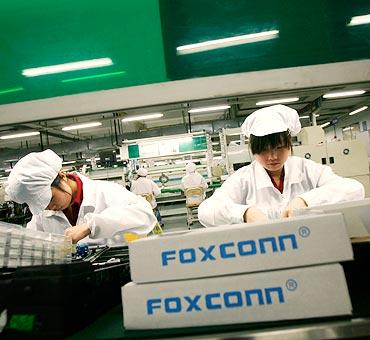 When eleven workers over a few weeks jumped from the roofs of the Shenzhen factory in 2010, their desperation shone a harsh light on the excessively long hours and tough working conditions.

Gou dismissed the suicides as low compared to a work force estimated to be 1 million in China, with the Shenzhen facility alone having more than 200,000 employees. But, both Foxconn and Apple were forced to respond.

An American labour rights organisation picked by Apple has been monitoring labour rights at the factories in China. In an interview with this reporter and a colleague a couple of years ago, the head of the US NGO spoke of the possibility of free union elections at all Foxconn facilities. This would be the largest free election in Communist China if followed through.
Given that huge manufacturing base, and an attendant supplier network in China and East Asia, Gou will not hire anything close to those numbers in India.

Not only will land acquisition prove much more problematic than it did in China, but forming unions in socialist India is easier than in Communist China. On both counts, Gou's patience is likely to be sorely tested.