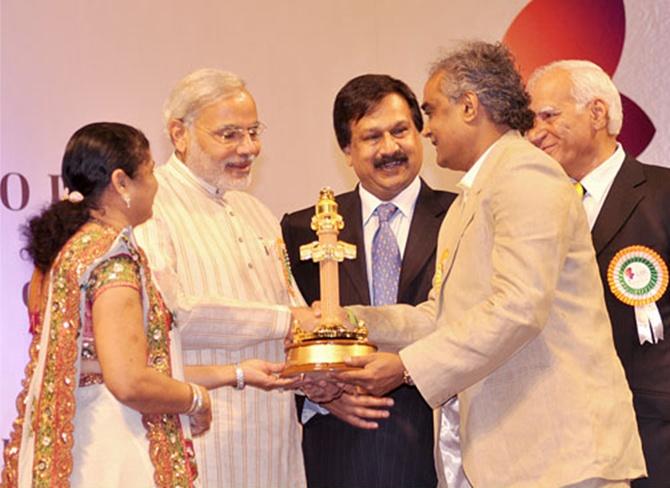 Image: Savjibhai Dholakia received the GJEPC award from Narendra Modi when he was the chief minister of Gujarat. Photographs, courtesy: Hari Krishna Exports.
Savji Dholakia came to Surat after he dropped out of school. His story is what dreams are made of.
For the last few days, Surat-based diamond exporter Savji Dholakia has been inundated with job applications.
Every day, 35-40 resumes are landing at his desk from people eager to work for him. Overnight, Dholakia appears to have become a highly sought-after employer.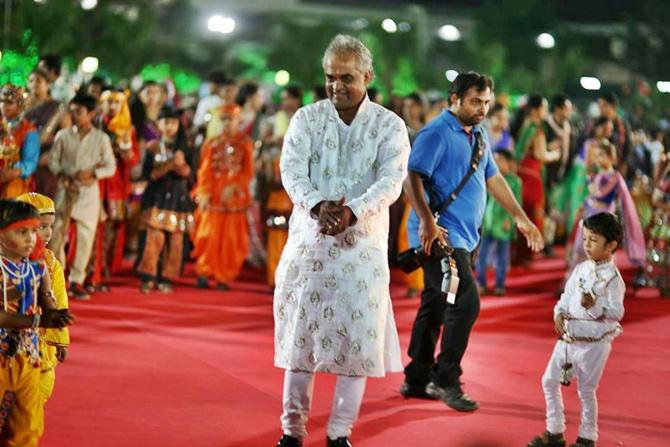 Image: Savjibhai Dholakia. Photographs, courtesy: Hari Krishna Exports
There is good reason for that. Last Sunday, the 50-year-old founder and partner (manufacturing and management) of Hari Krishna Exports gave away flats, cars and jewellery to over 1,200 of his employees as part of a radical "loyalty programme".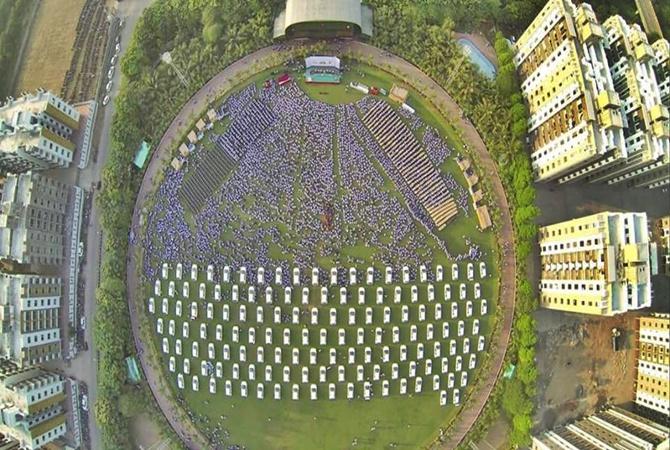 Image: Employees gifted with cars, flats for Diwali. Photographs, courtesy: Hari Krishna Exports
The idea was to "extend gratitude" to employees who had helped the company grow. So, 491 employees received cars, 207 got funds for buying residential flats and another 570 were gifted jewellery.

Each of them received 'gifts' worth Rs 4 lakh. Call it philanthropy or manpower-management, but for Dholakia this gesture was an outcome of "the most valuable lesson learnt - the art of humanity".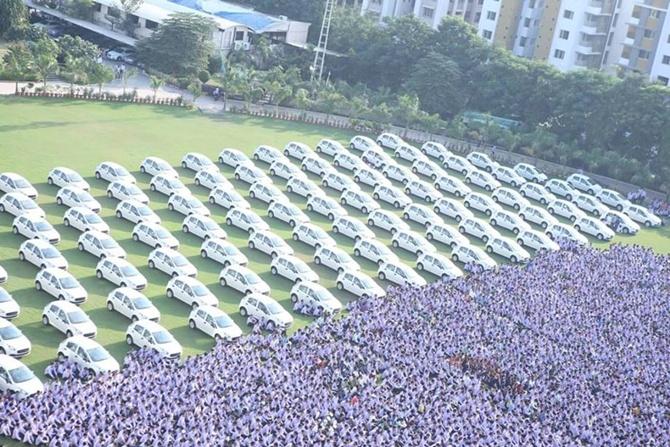 Dholakia's story is what dreams are made of. From a farming family from Amreli in Gujarat's Saurashtra region, he came to Surat as a 13-year-old. He had dropped out of school after Class IV.
His paternal uncle was already engaged in the diamond trade in Surat. Dholakia joined him.

Back then, and even now, when the diamond industry went through a rough patch, small-time traders, many of whom are farmers from Saurashtra, go back to farming. And when things started looking up, they return to sell the precious stone.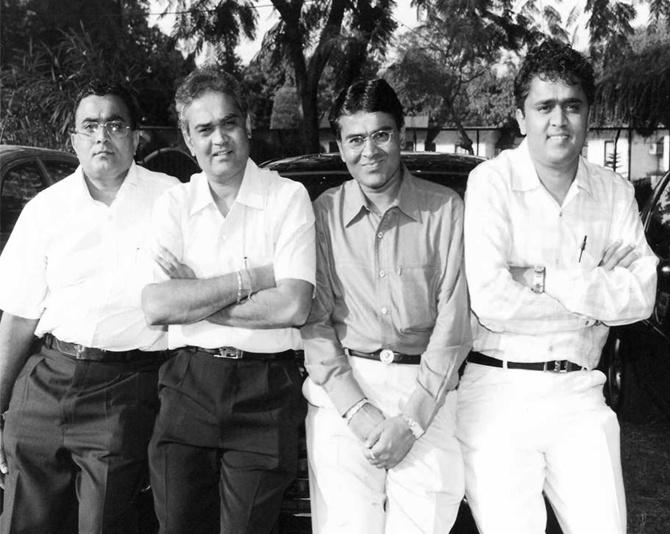 Image: (From Left to Right): Himmatbhai Dholakia, Savjibhai Dholakia, Tulsibhai Dholakia and Ghanshyambhai Dholakia. Photographs, courtesy: Hari Krishna Exports
With time, two of Dholakia brothers, Himmat and Tulsi, also joined him. Dholakia is the second of four brothers. He has a son who is studying business administration in New York.
The Dholakia brothers, meanwhile, set up their own diamond business in 1984. Seven years later, his youngest brother, Ghanshyam, also joined them. He, in fact, opened an office in Mumbai. And with that the company started exporting diamonds to the US and to various countries in Europe.
In the first year itself, the company's export touched Rs 1 crore. "Today, our employees have led us to Rs 6,000 crore worth of exports," says Dholakia.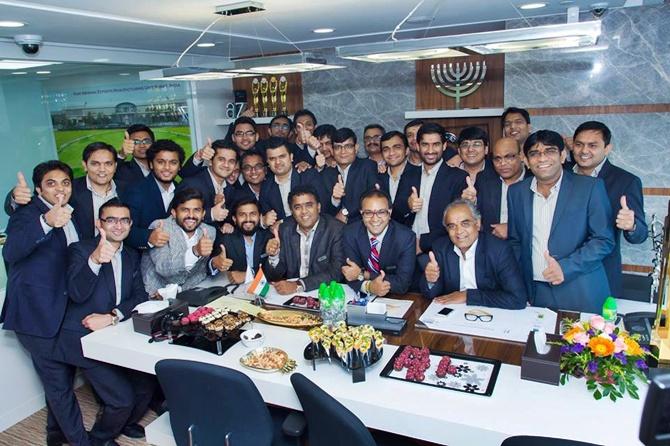 "We have always believed in motivating our employees and hence, planned a loyalty programme this time to identify over 1,200 of such employees who have contributed significantly to our growth." The company set aside about Rs 50 crore for the loyalty programme.
This is not the first time Dholakia has displayed such magnanimity. Last year, the 6,500 employee-strong company had gifted cars to 72 such employees. "Gifting cars isn't new for us. We gifted Maruti cars to three employees 18 years ago who later became our partners in the business," says Dholakia. "We see them not as our employees but as our shareholders."
But identifying "high performing" employees is also a task in itself. Dholakia keeps track of his staff's performance through an in-house software which the company has been using for the last five years.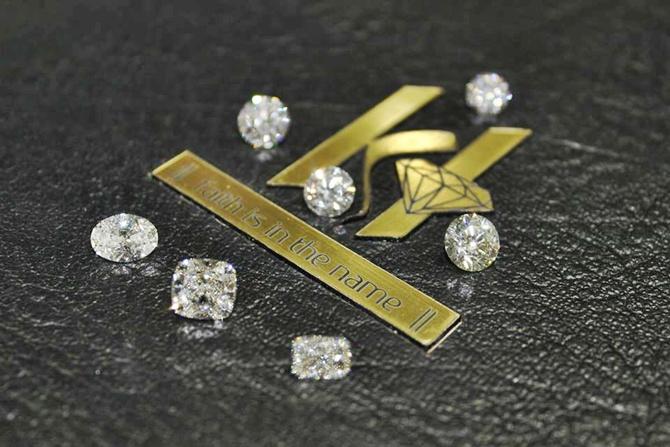 And he also works hard to keep them motivated. In an industry like diamond processing and cutting, keeping employees happy is important given that the business involves skilled labour. Dholakia understands this.
His employees also seem to know how involved Dholakia is. According to an employee who has been with the company since 2005, Dholakia goes out of his way to ensure that the people working for him remain motivated and enthusiastic about the job they are doing throughout the year.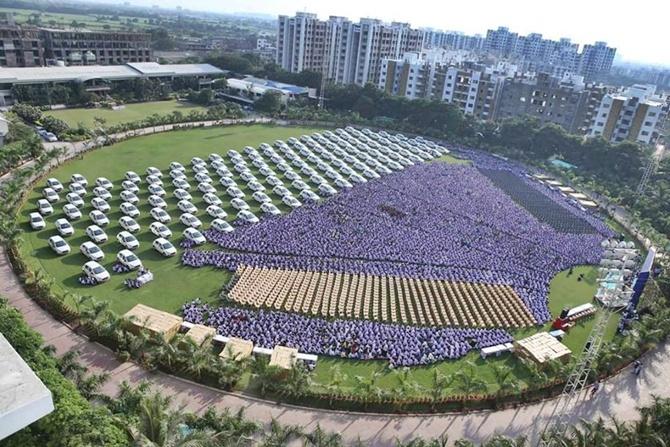 The founder-chairman, in fact, checks the company's suggestion box every day to ensure that employee grievances are addressed.
His ways have earned him laurels from the industry. The Gems & Jewellery Export Promotion Council has rated his as a three-star export house. The Surat Diamond Association has also lauded Dholakia's novel ways of keeping his employees' spirits high.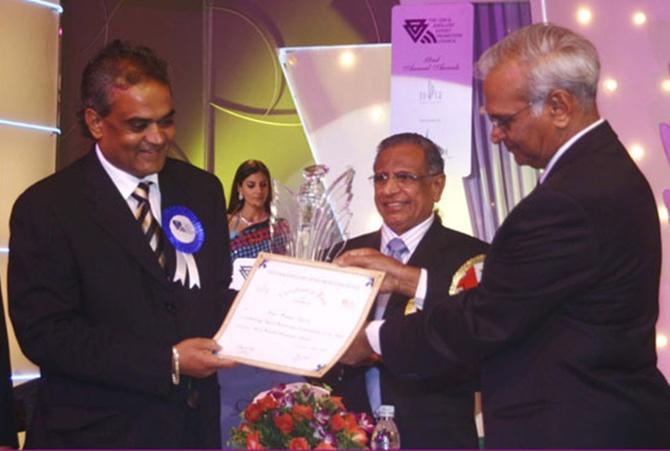 The association feels that such programmes will encourage more people to join the industry. "At a time when youngsters are shying away from joining the diamond industry, such a move could attract more manpower," says Dinesh Navadiya, president of the association.