The aircraft has to fly through five consecutive days and nights without using any fuel.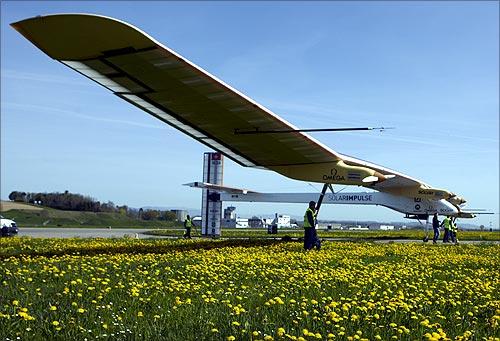 Image: Staff push the Solar Impulse's solar-powered HB-SIA prototype airplane after a test flight at Payerne airport. Photograph: Denis Balibouse/Reuters
To encircle the globe, Solar Impulse 2 (Si2), a craft that landed in Ahmedabad this week, will have to do what no airplane has ever done before: fly through five consecutive days and nights without using any fuel in order to cross the oceans from one continent to the next.
This implies the need for several technological innovations to ensure better energy efficiency and aerodynamic performance, and to deal with extreme temperatures in the cockpit, among others.

The absolute requirement for light-weight aircraft also involves new construction techniques.
Image: Swiss pilots Bertrand Piccard (L) and Andre Boschberg (R) pose after Piccard landed the "Solar Impulse 2". Photograph: Amit Dave/ Reuters
PILOTING AND SAFETY
A monitoring system constantly checks functioning of auto-pilot and detects any anomaly
A man-machine interface provides the pilot with a sensory alert if the bank angle goes beyond 5 degree limit
The 3.8 cubic metre cockpit volume provides space for oxygen supplies, food and survival equipment
A multi-purpose seat functions both as a reclining berth and toilet
In absence of any heating, cockpit and pilot are protected against the cold outside by high-density thermal insulation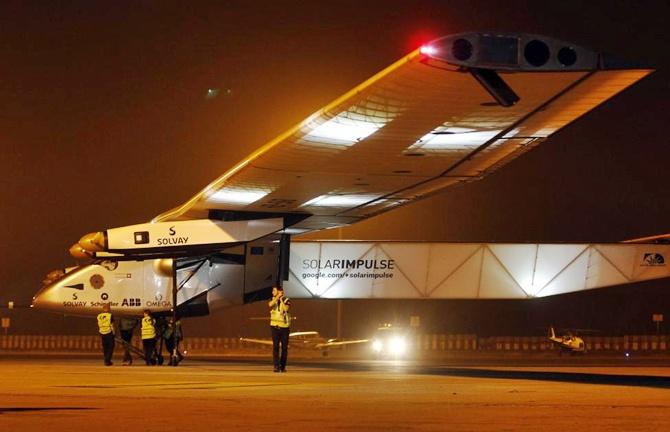 Image: A member of the ground staff holds a wind protector pipe of the "Solar Impulse 2", a solar powered plane, after it landed at the airport in Ahmedabad March 11, 2015. Photograph: Amit Dave/ Reuters
TECHNICAL SOLUTIONS
17,248 monocrystalline silicon solar cells each 135 microns thick mounted on the wings, fuselage and horizontal tailplane
Airframe made of composite materials (carbon fiber and honeycomb sandwich) - 3 times lighter than paper
Upper wing surface covered by a skin consisting of encapsulated solar cells
140-carbon fibre ribs spaced at 50 cm (20 inches) intervals give the wing its aerodynamic cross-section
Four brushless, sensorless motors, each generating 17.4 hp mounted below the wings
Energy stored in lithium polymer batteries. The solar cells accumulate up to 340kWh of solar energy per day for storage in batteries
Motors - 3 per cent energy loss versus 70 per cent in normal thermal motors
Lighting - 16 LED power landing lights consuming less than two bedside lamp-bulbs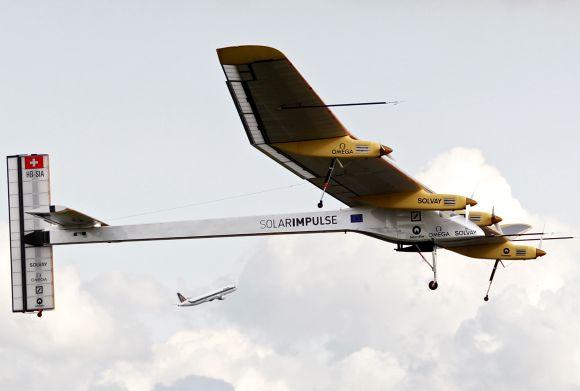 Image: Solar Impulse's Chief Executive Officer and pilot Andre Borschberg takes off with the solar-powered HB-SIA prototype aircraft during a flight from Brussels to Paris. Photographs: Francois Lenoir/Reuters
INNOVATIONS BY PROJECT PARTNERS
Baytherm Microcell for cabin door insulation by Bayer Material Science - special polyurethene rigid foam with 40 per cent smaller cell size, reducing thermal conductivity by up to 10 per cent
Bayer Material Science developed windows made of special thermoformed multi-layer polycarbonate sheet providing better than glass mechanical properties with glass-like appearance, plus safety functions such as anti-fogging due to a special coating
83 per cent of Si2's structure is made of extremely light composite materials manufactured by Decision. A new thin ply technology is used.
Ultra-light thin ply technology solution brought by EPFL and North TPT-Si2 uses carbon sandwich instead of epoxy-enhanced solid carbon
Thin, UV-resistant waterproof resin conceived by Solvay - thin fluorine copolymer film with potential use for electric cars protects Si2's solar cells
Ultra-light lighting system designed by Omega - landing LED lights protected by the same resilient plastic in Swatch watches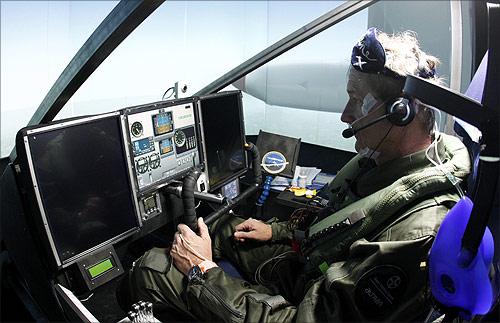 Image: Andre Borschberg sits in a life-size cockpit model of the solar-powered wingspan airplane during a flight simulation. Photograph: Christian Hartmann/Reuters
Solar cells as thin as hair innovated by SunPower - Si2's solar cells with an efficiency of 22.7 per cent are only 135 microns thick, like an average human hair
Special PVDF binder (fluorinated polymer) that increases energy density developed by Solvay for use in Si2's battery electrodes
Lithium-polymer battery cells with lower oxidation invented by Kokam
Si2's DC brushless sensorless motors have 97 per cent efficiency are manufactured by Etel, magnets and lamination stack by Vacuumschmelze
High efficiency DC/DC converters and test bench for electrical systems developed especially for Si2 built by Omega
Highly sensitive flight instrument with embedded vibration alert system developed by Omega
Vibration device for pilot awareness conceived by EPFL
Electrocardiogram monitoring pilot's fatigue and vigilance level innovated by EPFL
Tailor-made autopilot for heightened safety designed by Altran
Intelligent fibres used in pilot's clothing for a stable body temperature conceived by Solvay