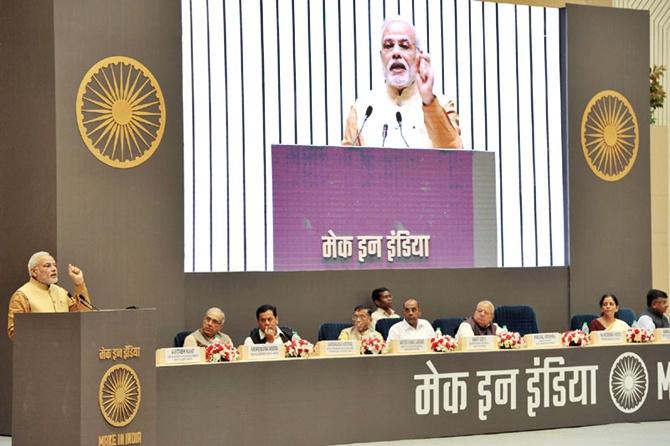 Image: Prime Minister Narendra Modi at the launch of the Make in India Mission at Vigyan Bhavan in New Delhi. Photograph: PIB
Even as India's business elite gathered in New Delhi to pledge their support for Prime Minister Narendra Modi's ambitious 'Make in India' manufacturing campaign, Hari Ballabh lost his job to the Chinese.
For years, the small factory Ballabh worked at flattened steel into sheets that were cut into circles and passed to adjacent factories, which pressed these into household utensils.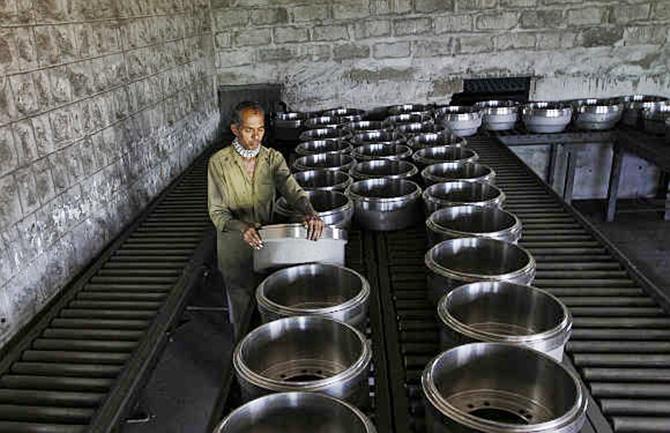 Image: A worker at a steel factory. Photograph: Babu/Reuters
"A year ago, the market was flooded by Chinese steel, which was pre-cut in standard sizes for katoris (bowls) and thalis (plates)," says Anil Singhal, a steel trader. He added the Chinese products were cheaper and of better quality. "Wazirpur's pressing units now prefer to import from China, rather than buy from an adjacent plant."
"Our plant is closing tomorrow. The owner has told us to collect our dues," said Ballabh, who arrived in Delhi 15 years ago to cold-roll steel in Wazirpur's cluster of metal factories. "A month before Diwali, 70 of us will lose our jobs."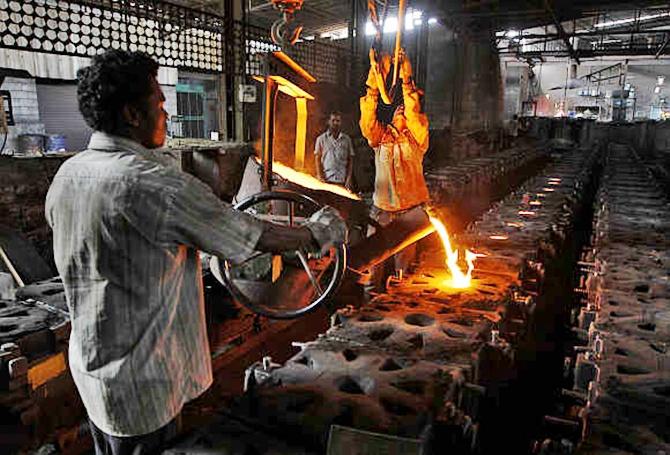 Image Workers tend to a furnace at a steel factory. Photograph: Babu/Reuters
The PM's 'Make in India' initiative urges Indian and international companies to invest in 25 priority sectors ranging from automobiles to thermal power. Yet, the unravelling of industrial sites such as Wazirpur illustrates the enormity of the challenge faced by the country's manufacturing sector.
While big-ticket investments are much needed, micro-enterprises, too, are vital. In 2010, micro-enterprises accounted for 79 per cent of non-farm employment in India, suggesting small-scale enterprises would continue to provide the majority of employment in the near future.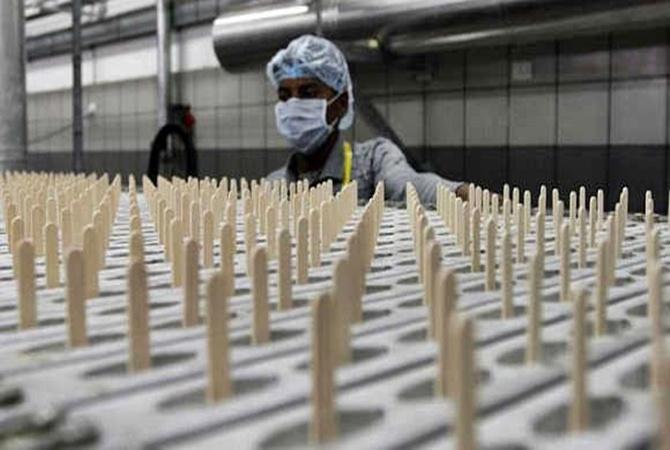 Image: A worker monitors an automatic candy making machine inside an ice cream factory. Photograph: Amit Dave/Reuters
Today, many of Wazirpur's manufacturers have become traders, a story repeated across sectors as diverse as thalis, toys and telecommunication equipment. "The Make in India initiative makes sense, but it will need trained workers," said Ballabh, adding he didn't have the skills to work in a highly automated plant. "The Chinese stuff is automated; the sheet is of uniform thickness. A lot of our work is still done by hand."
Producing a trained workforce, however, is hard work. Of India's overall workforce, 70 per cent is literate; of this 70 per cent, 25 per cent drops out at the primary level, according to the 12th Plan document published by the Planning Commission. Only 20 per cent of Indian firms provide on-job training, according to World Bank research.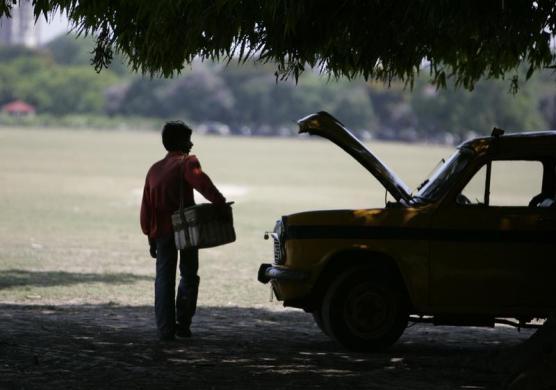 Image: Producing a trained workforce, however, is hard work. Photograph: Reuters
To train India's burgeoning youth, the government has announced a skills policy. But many, like the steelworkers of Wazirpur, say poverty makes it difficult for them to support their children through programmes offered by Indian technical institutes. "If I don't have a job," Ballabh said, "How will I send my child to school?"
If Chinese products are swamping Indian markets, Indian businessmen appear to be looking for greener pastures. On Thursday, Modi said he was pained that Indian businessmen were increasingly looking to invest abroad. No businessman should feel the compulsion to leave the country, he said.
Entrepreneurs, however, say they are unsure when the many obstacles in India will be cleared.
Image: Skills development is need of the hour. Photograph: Reuters
In 2003, Umesh Menon, a 43-year-old professor at the Entrepreneurship Development Institute of India in Ahmedabad and a consultant with the United Nations Industrial Development Organization, decided to try his luck at starting a business of his own.

"I had always told my students India was the best place to invest. But when I started, I had a quick reality check," he said. "I wanted to start a scalable business, but in India, scaling up attracted higher taxes, more inspections and more problems."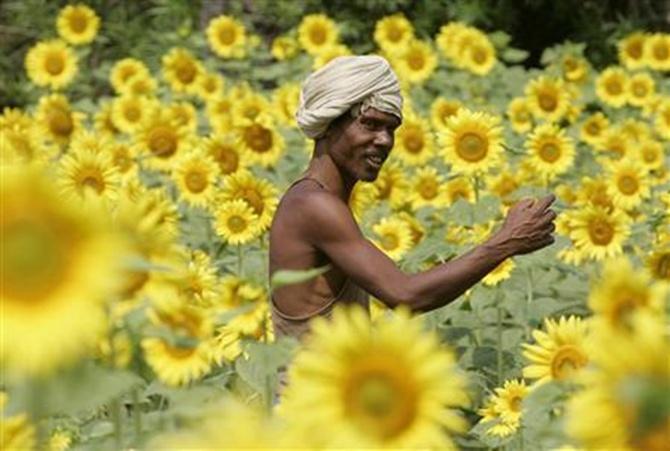 Image: Of India's overall workforce, 70 per cent is literate. Photograph: Reuters
Instead, Menon and his partners invested $50,000 in a cold-storage business in Uganda. "In 24 hours, they had registered my business and given me a welcome kit, with my clearances, licences, tax number and a driving licence, too," he said. "In India, $50,000 won't even get you through the door."
In two years, Menon had acquired 10,000 acres to start an agriculture business. Along with his partners, he also set up a bakery. In 2010, he moved to Mozambique, where he set up the country's first private hospital, along with an Indian partner.
"In India, the government only helps the big guys," he said. "We court foreign investors, but we forget our own people, who have nowhere to go."
He said the new government's emphasis on manufacturing was welcome, but fell short of concrete policy changes. "I'm encouraged by all the speeches," he said. "But we need more action on the ground."